Levein backed by players but not by nation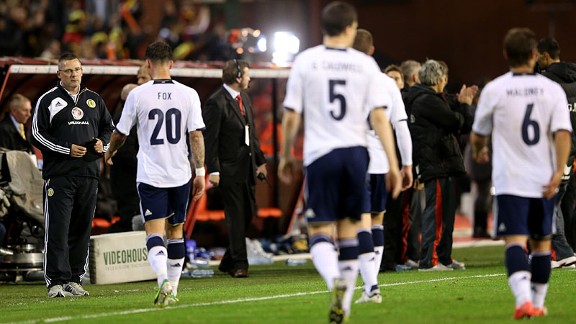 GettyImagesScotland manager Craig Levein looks dejected following defeat to Belgium
Loyalty is commendable. When footballers come out en masse in support of a beleaguered manager, it's worth taking note.

After all, cracks and fissures in a squad are always very quick to manifest themselves publicly when players and management are not singing from the same hymn sheet.

• Levein refuses to walk away

The majority of Scotland players, starting with captain Darren Fletcher, clearly enjoy working with Craig Levein. Disharmony within the ranks is not the problem here.

Rather, Levein has two more substantial difficulties to face up to. For starters, a grim return of two points from four games in Group A, has left the national team in an utterly hopeless position as regards qualifying for the 2014 FIFA World Cup. The Brazil dream is already over.

As if that wasn't enough, Levein as Scotland boss, has rarely carried the country with him. Good managers, like the most persuasive political leaders, have a way of taking the pulse of the nation and coming up with a narrative that makes everyone believe. Such a vision has been missing from Levein's almost three years in charge.

To be honest, I thought it would be very different. Levein, on the basis of his work at Dundee United, looked like an excellent appointment, and I felt the tide was about to turn positively on the quality of players front.

National team managers, by the very nature of what can be a lonely job, are judged on specific incidents and matches. For most middle-ranking European countries, a manager can't expect to stay in the post for very long, unless he's getting his team to major tournaments, or at least showing signs of building something exciting. That might not seem right but it's the way it is in the harsh realpolitik of international football.

In retrospect, the failed European Championship qualifying campaign now looks a lot more credible than what we've seen in the past few weeks. At least Scotland had the wherewithal to keep the flame burning until the last match. However, the wounds born of the strikerless formation in the Czech Republic have never healed; certainly not in the minds of the Tartan Army.

Poor officiating didn't help in the pivotal home game against the Czechs. Yet let's not forget, Scotland were comprehensively outplayed for large slices of that 2-2 draw at Hampden.

It's hard to believe Group A kicked off just over five weeks ago. The section always had a testing look about it with the prospect of the Scots finishing bottom, just as likely as a place in the top two.

Scotland, having scheduled two home games to get things going, showed insufficient guile in those matches against an ordinary Serbia and a Macedonia team whose technical nous perhaps took many by surprise.

Levein elected not to play the on-song Jordan Rhodes from the start against Serbia, preferring the selfless but ageing Kenny Miller. The Serbs, in a transitional phase, were there for the taking. Scotland seemed more intent on not losing the game, rather than going out and winning it.

The Macedonia experience was no better and it made us all wonder where the points were coming from.

Scotland's best display by far in this campaign came against Wales in Cardiff on Friday. There was much gnashing of teeth due to dodgy refereeing decisions, but the level of performance dropped considerably in the second half. The manager's decision to replace the injured Scott Brown with Charlie Adam looked questionable at the time, and so it proved in reality.

Against a superb Belgian side, Scotland had little to offer: that is the crux of the matter for Levein.

In 12 competitive matches under his stewardship, there have been three wins (against Liechtenstein, twice and Lithuania, once) all by slender one-goal margins. For Scotland to even have a chance of reaching major tournament finals, they must beat teams like the Czech Republic and Serbia, at a minimum.

Under Levein, the national team has been organised but largely devoid of inspiration.

But is there any guarantee that a new boss will make a difference? Of course the answer is no, but the SFA have to consider a few things carefully this week.

If they remain faithful to Levein, what sort of attendances will the national side attract in the remaining home games in Group A, against Wales, Belgium and Croatia?

Then, there's the vital matter of the FIFA rankings, much mocked, but ever more important now in determining seedings ahead of future qualifying campaigns. Scotland, let's remember, were a pot four team this time round. It could get even worse.

Just as Walter Smith came in, got results and improved the ranking after Berti Vogts, so it will be tempting for the SFA board to think along similar lines.

For the record, I think Craig Levein is a good manager, who one day will be back working at a club. The case for his retention as Scotland boss is flimsy at best.