Olé! Solskjaer surprises by taking Cardiff job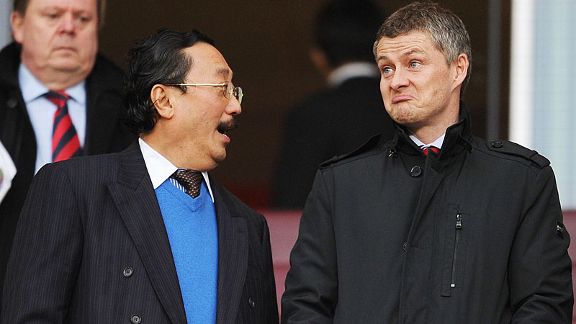 GettyImagesVincent Tan chats with Ole Gunnar Solskjaer at the Emirates on Wednesday.
It isn't hard to find a manager-owner combination that meets the description of the odd couple but they have rarely seemed this strange a mismatch. Vincent Tan is not often mentioned these days without the suggestion he would make a plausible Bond villain. Ole Gunnar Solskjaer was the footballer that even the dedicated band of Manchester United haters tended to admire: loyal, unselfish, seemingly devoid of ego and blessed with an ice-cool temperament. He was the striker they would want in their team or, failing that, on the bench.

Instead, he is the manager who will now be in the Cardiff dugout. As Solskjaer was noted for his impeccable decision-making on the pitch, it is all the more intriguing. This is an appointment to confound the predictions that Tan would struggle to attract a manager after his needless undermining of Malky Mackay; there are times when it seems there is precious little solidarity in the League Managers Association as every dismissal, no matter how harsh the sacking, never prevents a club from finding a successor.

- Morris: Brave call from Cardiff and Solskjaer

So Solskjaer's arrival lends Tan much-needed credibility and gives proof of his pulling power. The appeal of the 40-year-old is obvious: he won back-to-back league titles with Molde and lifted the Norwegian cup in his final season in his homeland. To do so at a club without a tradition of success only adds to his appeal to an ambitious arriviste such as Tan. Norwegians' recent record in England may be lamentable -- Henning Berg, in 57 days at Blackburn and Stale Solbakken, during eight months, at Wolves, were both costly failures -– but Solskjaer has rather more pedigree than his compatriots. He brings the frisson of glamour which allows an egotistical owner to bask in reflected glory.

So the question is not why Tan wanted Solskjaer, but why he chose Cardiff. A supposedly sizeable transfer budget is one explanation along with the commensurate pay rise. The latter, however, would have been part of the package at any number of clubs and Solskjaer has not been short of offers. He spoke to Blackburn 15 months ago; he also held talks in 2012 with Aston Villa and one of the great institutional clubs, even with limited funds, would have made a more logical move than Cardiff. Villa have a generally supportive owner, in Randy Lerner. Cardiff have Tan and instability threatens to be endemic.

There are tales of a player (Etien Velikonja) being signed without Mackay's approval, of Tan trying to suggest substitutions and urging the players to shoot from their own half after Mark Hudson scored a fluke goal. There is the strange situation of Alisher Apsalyamov, the 23-year-old Kazakh who went from being the work-experience kid to Tan's preferred replacement for Mackay's trusted head of recruitment, Iain Moody, before his inability to secure a work permit resulted in his removal. As if that wasn't surreal enough, Tan booed his own team off after the Boxing Day draw against Sunderland.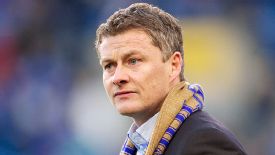 GettyImagesOle Gunnar Solskjaer was appointed as Molde manager in November 2010.
Sir Alex Ferguson's advice to Solskjaer, as it was to many of his former charges, was to pick an owner, not a club. It was counsel many heeded: in 2001, Steve McClaren, then the Scot's assistant, plumped for Middlesbrough, under the auspices of chairman Steve Gibson, ahead of Southampton (under Rupert Lowe) and West Ham (run by Terry Brown). It proved wise guidance then and remains so now: had Solskjaer followed it, then the chances are that he wouldn't have touched Cardiff with a bargepole.

Solskjaer's decision is all the more unlikely as he was one of Ferguson's disciples: at one stage in his United career he noted every single training session. In his later years, he switched his attention to the psychological side of management and kept a diary of Ferguson's team talks; he later admitted borrowing one, almost word for word, and using it to his Molde players when they lost 5-0, provoking a turnaround that led to their first league title.

He was a student of the game as a player; time spent on the bench wasn't wasted, with his intelligence apparent as he identified weaknesses in enemy ranks before he even entered the action. It was no coincidence the great super-sub arrived on the pitch prepared to make a difference.

Now he is a half-time replacement again, parachuted mid-season into Cardiff's relegation battle. He inherits a team with a solitary win in 10 games, which has only scored four times in eight matches and a club where Mackay was understandably popular.

It is an environment where lessons learned from his managerial mentor will be important; so, too, those gleaned from his actual father, the former Norway Greco-Roman wrestling champion. Now he has to grapple with Tan, the interfering owner with an inflated sense of his own importance. It pits the 'baby-faced assassin' alongside and, perhaps, against the villain of the Premier League pantomime.