As Ronaldinho declines, Pekerman prepares for a World Cup assault
One of the themes of 2013 on our side of the Atlantic has been the disparity between South American club and national team football.

The national teams look formidable, with an unprecedented strength in depth. Indeed, a few months ago Paraguay, who finished bottom of the table in the continent's World Cup qualification campaign, took a young side to Germany and came back with a 3-3 draw. It is not only home advantage that makes the South American sides amongst the favourites for next year's World Cup.

Meanwhile, the club game is, in global terms, embarrassingly weak: look no further than Atletico Mineiro's desperately poor campaign in the recent Club World Cup, where the Brazilian side, champions of the Copa Libertadores, lost to Raja Casablanca and were somewhat fortunate to beat China's Guangzhou Evergrande to claim third place.

Atletico looked well off the pace, and so did their star player, Ronaldinho, who scored two stunning free kicks but otherwise looked a pale imitation of the man who was once the undisputed best player in the world. And yet Ronaldinho -- by a convincing margin -- has been voted 'King of the Americas' in the prestigious annual survey organised by the El Pais newspaper in Uruguay.

This brings to an end the reign of young pretender Neymar, who had won for the previous two years and who managed to come second this year, despite heading off to Barcelona in mid-July once he had played such a superb role in Brazil's Confederations Cup triumph.

The award is only supposed to take into consideration performances on this continent but with Neymar receiving such an expressive vote, and Ronaldinho winning the award when he is palpably years past his best, it all points to a clear conclusion: the journalists who voted did not have many quality options to choose from.

It is difficult to see the decision to give the prize to Ronaldinho as anything other than hoping against hope. A decade ago he was so outstandingly brilliant, in a glorious, exuberant manner that seemed to express all of football's creative possibilities. Every time he played he would put us in touch with our own inner child, remind us of the deep yet simple joy to be gained from kicking a ball around. Who wouldn't want that to last forever?

- Duarte: Moura stagnates

So we keep wanting to believe that we are going to see it again; that a revival is just round the corner. In the early stages of the Copa Libertadores -- back in February, March, April and a bit of May -- it was possible to retain some of that belief.

There were odd moments of extraordinary brilliance from Ronaldinho; flashes of genius that brought back memories of his Barcelona prime. It reminded me of being 15 years old again, sitting up all night back in 1980 believing that Mohammad Ali really could make yet another comeback and dance his way all around Larry Holmes.

But, as it was back then, this proved to be a fight that was too sad to watch. There is only one winner in the battle of sportsman against time especially if, as in the case of Ronaldinho, the athlete has not been true to his own talent.

Back in April, Brazil coach Luiz Felipe Scolari arrived at the same conclusion as his two predecessors: Ronaldinho no longer possesses the physical capacity to impose himself on a top level game.

The evidence was there in the closing stages of the Copa Libertadores, when his impact was limited. Atletico's opponents in the final were Olimpia of Paraguay, whose entire wage bill would not come close to paying Ronaldinho's salary.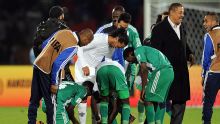 Chris Brunskill Ltd/Getty ImagesRaja Casablanca players mob Ronaldinho in search of souvenirs.
In a hard-fought, evenly matched final, the financial disparity was never apparent. Nor was the old quality evident -- magnificent free-kick aside -- when Atletico lost to Raja Casablanca in Morocco.

Even so, at the end of the game the Raja players all but stripped Ronaldinho naked, claiming his boots and shirt as keepsakes of their success. They all wanted a reminder of having been on the field, and beaten, the man who once was the best. Their generation grew up with him; they were celebrating their own childhood and so, perhaps, were the journalists who elected Ronaldinho 'the King of the Americas.'

But if Ronaldinho stands almost no chance of playing a part in the main event of international football in six months' time, the same is not true of the coach of the year, Colombia boss Jose Pekerman.

He has undoubtedly done an excellent job in steering Colombia to their first World Cup since 1998, giving an identity to a promising group of players.

Pekerman is steeped in the passing style of his native Argentina, a manner of play which has always been fundamental to the roots of the Colombian game. He was an excellent choice for the job, stepping in at a difficult time -- three games into the qualifying campaign -- and immediately making an impact.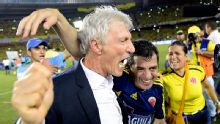 Inaldo Perez/LatinContent/Getty ImagesUnder Pekerman, Colombia finished second in CONMEBOL qualifying.
But the real test is to come. Pekerman has said that the 2014 tournament will mark Colombia's definitive entry into the ranks of the world's top footballing nations. The stakes, then, are high. Can he ensure that his players cope with the euphoria their performances have generated? It has so often been a Colombian problem in the past. And, under pressure, can he make the right decisions?

The wonderfully attractive Argentina side he put together could surely have gone further than the quarterfinals in the 2006 World Cup. There were some baffling selections -- the omission of Javier Zanetti, for example -- and, of course, there is the question of the substitutions he made in the quarterfinal against Germany, which Argentina lost on penalties.

Lionel Messi's first World Cup ended in failure, as he watched from the bench, unable to influence events: leaving him out looked like a mistake at the time, and looks worse still in hindsight. Messi was unused while journeyman centreforward Julio Cruz was introduced; Pekerman is very unlikely to admit it, but he surely blundered with his substitutions.

If he can get it right this time, then he will be in the running for best coach of 2014: a year, with the World Cup returning, when being voted 'King of the Americas' really will mean something.