Dirk Kuyt on life after Liverpool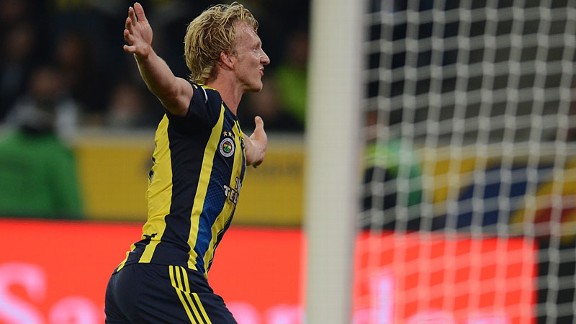 GettyImagesDirk Kuyt has settled quickly in Turkey, on and off the pitch
Liverpool fans will never forget Dirk Kuyt. The Dutch international will never forget the fans.

The hard working Kuyt was a Kop favorite for six years, departing in the off-season when his playing time diminished under Kenny Dalglish. Two days after Brendan Rodgers replaced Dalglish, Kuyt signed with Turkish giant Fenerbahce.

ESPN caught up with 32-year-old Kuyt to discuss last season, his relationship with Dalglish, why he chose Fenerbahce and his new life with his big family in balmier Istanbul.

Q: Dirk, how much did you entertain staying at Liverpool when the managerial change was made?

A: I had six wonderful years at Liverpool. But in the last season, where I wasn't playing as much as I wanted to, I took the decision to leave after the season. It had nothing to do with the new manager. He even gave me a phone call after I made the decision to go to Fenerbahce. He wished me all the best in my new career. That was very polite of him.

The last season wasn't as I had expected it. I wanted to be more involved in the game and at the stage when I made my decision it didn't look like it was going to change for this season.

Q: How difficult was last season? As you mentioned, you weren't a regular. You also didn't start in both cup finals.

A: It was hard. Every player comes to this stage sometime. I was used to playing every game, in and out, for Liverpool. The season before, I was the team's top scorer and the player with the most assists. I was ready to go one step further after a good second half of the first six months under Kenny. But new players came in and my time on the pitch was less than expected. All I could do was work very hard in training and to fight until the end, and that's what I did, although I was very disappointed not to play on those big occasions in the finals.

I think every player not playing in the team is disappointed, and so was I. At that stage I had to put my disappointments aside and give everything for the team.

Q: What was the communication like with Kenny?

A: I have to be honest. The first thing that Kenny said was that the door was always open, and it was. We always had the opportunity to walk through his door and have a chat about the problems we had. I talked a couple of times with the manager, and he always had great respect for me as a person and a player. He has tough decisions to make and at the end of the day he didn't make them in my favor. You have to accept it and try to change his mind in training and also in the minutes he gives you on the pitch.

Q: So, you made up your mind to leave and had offers from different countries. Why Turkey and Fenerbahce?

A: At a certain stage I had always thought I would be staying longer than six years at Liverpool. It changed after last season and I just wanted one more experience, another culture, another country, another mentality, another competition in Europe. Turkey and Fenerbahce came my way, and the decision came from my heart. I had the best feeling from this club and so far I'm really happy here.

Q: We know you're a family man. How have you and the family adjusted to life in Turkey?

A: Obviously it's a very big step family wise. It's a different country and culture. We were used to England, and my kids were going to an English school in England, but I have to be fair, the club really helped me in finding a good house for my family and in finding a good school for my kids. I have a wonderful wife who was already in Istanbul when I was at the Euros, and she was already preparing for this. She went to look for houses and a school with the club.

Especially for a player like me with four kids, it's important that the family settled in quickly, and that's what we've done. We are two months into our house and our children went straight into school after the summer break so they didn't miss anything. They are in a British international school and so far from what we've heard from them, they're really enjoying it. They miss friends from Liverpool but are having a good time at the moment.

Q: What are your initial thoughts of the city itself and having a blend of Europe and Asia?

A: Istanbul is a great city, a special city, because one side is the European side and the other is the Asian, and in the middle is the (Bosphorus).

Q: How would you assess the quality of the Turkish league?

A: You have to be honest. You can't compare the Premier League to the Turkish league, but also the Turkish league has many talented players. You have derby games. We have Besiktas and Galatasaray and two other teams in Istanbul. Altogether it makes it a very interesting league. I'm surprised by the quality. It's not an easy league to play in. You have to be ready.

Q: On that note, how much do you think Fenerbahce-Galatasaray will be similar to Liverpool-Manchester United? Have you heard stories about the rivalry?

A: Yeah. I know a bit of the history between the two big rivals. One of the players I played with at Feyenoord, Pierre van Hooijdonk, played at Fenerbahce for two years, so from that moment I had a special eye on Fenerbahce and especially the derby games. In this city it's the most important game of the year. The people here are very emotional and speak from the heart.

Q: And what about those passionate Turkish fans?

A: Since I've been here the fans have been amazing. Everywhere I go in the city, they're very nice. They want an autograph but they show me how much they like to see me and wish me all the success and the best, and you can see from their faces they really mean it. To feel welcome here for me and my family from the first day has helped me really settle in.

Q: Speaking of Liverpool-United, did you manage to watch the game last month at Anfield?

A: I didn't see it live. I saw parts of it, the second half. I thought Liverpool deserved more. The club has a new manager, some new, interesting players and you see the team needs a little more time. Hopefully the supporters and everyone gives them a bit of time because Brendan is a great coach, and he can build something like he did at Swansea. I'm sure if the team keeps working hard they'll get better and better.

Q: What emotions did you experience while watching the game? Were you a little sad?

A: It was a very strange feeling when you see your old team playing for the first time - especially against a team like Manchester United. Everyone knows I support LFC and I wish them all the best. I'm not the player of Liverpool anymore but I'm a big supporter and so is my family. Every game we can watch, we are in front of the telly and hope the team is winning.

Q: Between training, games and travelling, how much do you keep an eye on the Premier League in general?

A: Before I went to Liverpool I was a great fan of the Premier League. Here in Turkey you can watch almost every game live. Sometimes I have to train or play, but I can see all the highlights and watch many games live. I don't have to miss that over here.

Q: I must ask you about the weather. I would presume it's much nicer in Istanbul than in Liverpool?

A: I was quite used to the weather in England. Everyone knows there's quite a bit of rain. I have to get used to the sun here because the weather has been unbelievable. It's between 25 and 35 (degrees Celsius). My skin wasn't that much used to it, the sun [laughs], so I have to protect myself a bit more. Obviously we've been enjoying this nice weather.