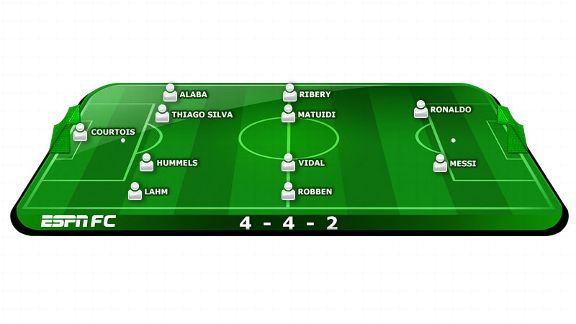 Other / ESPNFC.comEurope's Team of the Year: 2013
It says something about the number of outstanding performers in 2013 that players of the quality of Zlatan Ibrahimovic and Manuel Neuer have missed the cut for ESPN FC's European team of the year. As Christmas is a time of tradition, we've opted for a 4-4-2 formation, though our midfield monsters would ensure at least a little bit of defensive cover for our dream team.

Goalkeeper: Thibaut Courtois (Atletico Madrid)

It is hard to work out what is more incredible -- that Thibaut Courtois is still only 21 years old or that Atletico have been lucky enough to get him on loan from Chelsea for a third successive season. Like his Belgium international teammate, Romelu Lukaku, Courtois would be a fine addition to the first team of his parent club and one imagines that's exactly where he'll end up next season.

A key component of Diego Simeone's side, Courtois became the youngest-ever winner of the Trofeo Zamora in 2013, conceding just 29 times in 37 games. The year also saw him perform heroically in Atleti's historic Copa del Rey final win over Real Madrid at the Bernabeu, and help propel his side to joint top of La Liga and into the Champions League's last 16.

Defenders: Philipp Lahm (Bayern Munich); Thiago Silva (Paris Saint-Germain); Mats Hummels (Borussia Dortmund); David Alaba (Bayern Munich)


PA PhotosParis Saint-Germain captain Thiago Silva is one of the best in the world.
If Philipp Lahm is a given in any team of the year, the question is where to put him, given that he has performed so excellently in a midfield role for Bayern since Pep Guardiola's arrival at the Allianz Arena. Under Jupp Heynckes he had been at his usual impeccable standard at right-back in Bayern's historic 2012-13 season, liberated from left-back by David Alaba who made the left-sided slot his own. The Austrian defends with intelligence and attacks with power and skill, in tandem with Franck Ribery.

It was only Bayern's brilliance that saw one of their youth products, Mats Hummels, end last season empty-handed. The elegant centre-back's poise makes it easy to see why Barcelona has reportedly made him a key target to reinforce their defence next season, and Borussia Dortmund have missed him badly since he was injured in Germany's November friendly at Wembley.

The Catalans would have loved to secure Thiago Silva but Paris Saint-Germain's captain signed a contract extension, reflecting his value to the newly crowned French champions. The Brazilian has had niggling injuries in 2013, but has always come back strongly, and performed superbly in the run to the Champions League quarterfinals and his country's Confederations Cup win.

Midfielders: Franck Ribery (Bayern Munich); Arjen Robben (Bayern Munich); Blaise Matuidi (Paris Saint-Germain); Arturo Vidal (Juventus)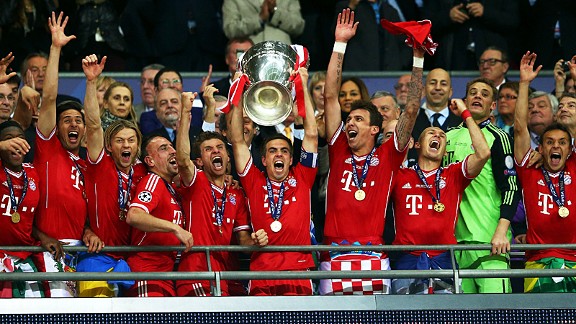 GettyImagesBayern lifted the Champions League trophy after a stellar year.
Franck Ribery may have been telling anyone who'll listen in the last few months how he should win the 2013 Ballon d'Or, but that doesn't make his year's work any less laudable. If Bayern's collective excellence might sometimes obscure the claims of individual recognition from within their ranks, Ribery has represented everything good about the German giants. Revitalised under Heynckes, he flourished as a goal scorer, creator, defensive worker and perhaps the best old-fashioned winger in the world.

What was perhaps more remarkable was that Arjen Robben matched him almost every step of the way for work rate, adding industry to his brilliance on the opposite flank during a year that was crowned by his superb winning goal in the Champions League final against Dortmund.

An astonishing capacity for work has always been a given for Blaise Matuidi, one of Europe's lesser-praised talents who was the engine of Paris Saint-Germain and France this year, playing 63 matches for the pair combined. Most recognised as a defensive midfielder, Matuidi has developed into a genuine box-to-box monster, breaking up opposition play and developing attacks with now-razor-sharp passing. His late goal against Barcelona in the Champions League quarterfinal first leg, after a booking had ruled him out of the return, epitomised his indomitable spirit.

The same could be said of Arturo Vidal, the beating heart of Antonio Conte's phenomenal Juventus. The 26-year-old is best employed using his energy in central midfield, and has markedly increased his goal output since arriving in Turin -- partly through being Juve's regular penalty-taker -- finishing with 15 last season and counting 12 so far in 2013-14 as the Italian champions look set to win a third straight Scudetto. He scored five in the Champions League campaign, including a hat trick against Copenhagen, and will be a big miss from the knockout stage. Yet he can also slot into defence if need be, as a versatile and increasingly mature presence. Juve would not be without him.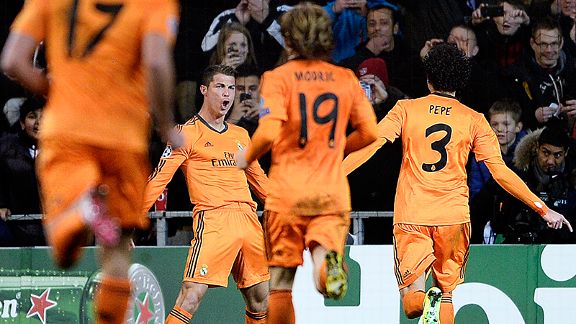 GettyImagesCristiano Ronaldo celebrates another milestone.
Forwards: Cristiano Ronaldo (Real Madrid); Lionel Messi (Barcelona)

Cristiano Ronaldo has long since been recognised as inexorable by fans and detractors alike, but 69 goals in 60 games during 2013 was remarkable even by his superhuman standards. If success eluded Real Madrid, the 28-year-old performed impeccably and built the perfect platform for club and country to flourish in the near future. He finished as top scorer in the 2012-13 Champions League and notched his 19th hat trick in La Liga, but his outstanding moment was guiding Portugal to the World Cup with a treble of awesome power against Sweden in Stockholm, a feat that made him Portugal's joint all-time record scorer, alongside Pedro Pauleta -- for now.

What is probably most striking about Lionel Messi's year -- which included guiding Barcelona to the La Liga title, of course -- is that his own overall figures will be regarded as "only" 45 goals in 46 appearances with Barca and Argentina. Granted, it was a step down from the record-breaking 91 of 2012, but given his extraordinary work rate, some sort of slowing down was surely inevitable.

A recent L'Equipe headline of "He's doing too much" above a photo of Messi holding his thigh, published shortly after the November injury that would keep him out until 2014, summed it up best. If this enforced break sees him lead Argentina to World Cup victory, it could be a pivotal moment in his career. Both he and Ronaldo are likely to see 2013 as only a warm-up to next year and its centrepiece in Brazil.