In Bolivia's top division, expect the unexpected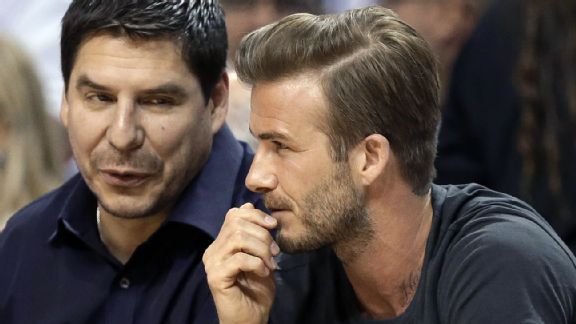 AP Photo/Lynne SladkyCould David Beckham's friend Marcelo Claure persuade him to play in Bolivia?
According to a song from the mid-'80s, you can't get a boat to Bolivia. But you might be able to get David Beckham there.

That is the idea of Marcelo Claure, a U.S.-based entrepreneur who is a friend and business partner of Beckham. Claure is also the moneyman behind Bolivar, one of the most important and traditional clubs in the land of his birth. He is apparently trying to lure Beckham out of retirement, hoping that he will be tempted to make a comeback for a couple of games in next year's Copa Libertadores, South America's equivalent of the Champions League.

It would mean a trip to Rio de Janeiro to face Flamengo, and a chance for another run out at the famous Maracana Stadium, where Beckham was clearly thrilled to play for Manchester United some 14 years ago. Or he may feel that the home games are interesting; Bolivar are from La Paz, 3,600 metres above sea level.

For the unacclimatised, this can be torture. Lungs gasp out for oxygen. But given a few weeks to get used to the conditions, it need not be a problem. In Beckham's case, it may even be an advantage; at altitude the rarefied air provides less resistance, allowing the ball to really fly. Someone who strikes free kicks as well as Beckham would even be a threat with shots from the halfway line.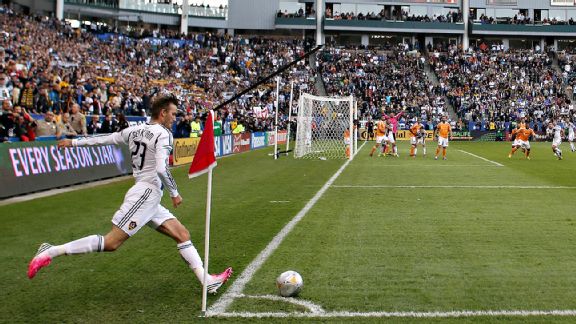 Jeff Gross/Getty ImagesDavid Beckham's set pieces could be even more deadly in the high altitude of Bolivia.
The chance exists, then, of a brief comeback, a quirky little postscript to an illustrious career. But something else has happened in Bolivia that future generations may see as far more significant -- a pointer to the future rather than a doff of the cap to the past -- a first division club appointed a female coach.

Sport Boys of Warnes, a little town on the outskirts of the lowland city of Santa Cruz, are playing their first season in the Bolivian top flight. A small club who have come a long way in a short time, they have found it tough. With three games to go in the Apertura, the first of two tournaments played over the 2013-14 season, the club parted company with coach Edgardo Malvestiti. His replacement caused something of a surprise.

It was Hilda Ordonez, a 40-year-old woman who had been the club's general secretary. And now she was in charge of a playing staff that includes the veteran Joaquin Botero, the all-time top scorer of the Bolivian national team.

Needless to say, her appointment sparked a reaction. The country's coaches association were not pleased; the problem, as they saw it, was that Ordonez did not have the necessary qualifications. They indeed have a point, though Ordonez has not been completely parachuted in.

She has years of experience as a physical education teacher, and her time with the club included a spell when she took charge of the Under-17s. It could be that, for some, attacking her lack of formal qualifications was a convenient way of masking macho prejudice.

This may well have been the case in her second game in charge. She made an inauspicious debut with a 4-0 defeat to local giants Oriente Petrolero. The next game, a visit to the intimidating altitude of Real Potosi, was a much tighter affair. Sport Boys lost only 2-1. Ordonez accused the rival coach, former national team goalkeeper Mauricio Soria, of ordering her to go back home to do the washing up. Her players were not amused and came to her defence. And to continue the upward trend, the season ended with a 0-0 draw at home to Universitario de Sucre.

That, for the time being, is the end of the experiment. In the next tournament, the Clausura, Sport Boys will be battling for every point in a bid to avoid relegation. Club president Mario Cronembold believes that more experience is called for and has appointed Nestor Clausen, a World Cup winner as a player with Argentina in 1986 and a coach with considerable knowledge of the Bolivian scene, to take charge in the coming campaign.

Nevertheless, something important has taken place. There have, of late, been a number of female club presidents in South American football. The idea of a female coach, however, seemed harder to contemplate. But now it has happened.

Hilda Ordonez may have been in charge of Sport Boys Warnes for only three games and may have added only a single point to the club's total. But she showed that it can be done. A woman can be the boss of a first-division men's team without the football world sliding off its axis. An opportunity like that presented to Ordonez might once have seemed impossible. But no longer.