David Moyes must be decisive in January
It was called the "secret" room and sat at the end of a corridor at Everton's Finch Farm training base. Only a small handful of staff were allowed near, let alone in it.

All four of the room's walls were lined with whiteboards, each covered in the names of players, divided by age, position and location; every one a potential transfer target. Some were colour-coded, according to price and availability, and were constantly updated as names were added and removed.

In all, perhaps 1,000 players were mentioned on those whiteboards, all of them being monitored to some extent, all of them being permanently assessed. The scale of it, described in Michael Calvin's excellent book "The Nowhere Men," was remarkable.

Young players, old players, new players, familiar players, right-backs and left-backs, scheming midfielders and flickering strikers: they were all here. The most serious targets were the subjects of as many as 50 reports, drawn from a dozen different scouts.

- Man United target Koke
- Comeback win at Hull

From those names, the-then Everton manager, David Moyes, and his recruitment team would choose who they would spend the club's money on. Moyes has always been conscious that, as a manager, he is not spending his own cash, but somebody else's. He takes that responsibility very seriously indeed and that is why he went into such forensic detail. He had to get every decision right.

Calvin described the walls of this room as Moyes' "mind map." It is a fitting parallel. One board contained a vision of next year's team and of the year after and of the year after that. This was the nerve centre of Moyes' command. This was where he predicted the future.

Moyes is, perhaps, more thorough than most managers when it comes to assessing transfer targets. That is what earning your spurs at Everton will do for you: it teaches you the value of money.

Speak to those at Goodison Park who served under him and they will tell you of his caution in the transfer market, of his determination to consider every variable before reaching a decision. And they will all tell you it is the right way to be, the best way to be.

That is understandable, but it is also an incomplete assessment because there is another side, a more negative ramification, of Moyes' eye for detail.

Twice he has signed Marouane Fellaini. When he took him to Manchester United from Everton in September, he did so -- famously -- for 4 million pounds more than he might have done had he signed him earlier in the year.

The story is well-known: the Belgian had a 23 million-pound buyout clause in his contract that expired early in August. Moyes made two bids, for Fellaini and Leighton Baines, which barely scraped past that mark for the pair. Both were rejected.

When the Scot went back to his former club later in the month, the price had gone up. He had tried to sign Thiago Alcantara and Cesc Fabregas and Ander Herrera in the meantime and all had fallen through. United had even taken a pot shot at intercepting Gareth Bale's move to Real Madrid, but to no avail.

Moyes, who had seemed so unconvinced of whether he wanted to buy Fellaini -- only, apparently, thinking him worth it at a lower price -- suddenly had to go all in to get him. United paid 27 million pounds and the club's newly installed chief executive, Ed Woodward, got the blame.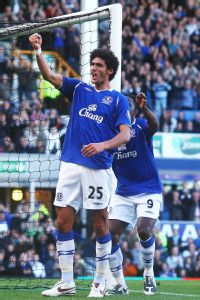 Laurence Griffiths/Getty ImagesFellaini celebrates his first Everton goal in October 2008.
But that was not the only time Moyes has paid a premium for Fellaini. He also paid more than he might have done to bring him to Everton from Standard Liege in September 2008. Everton had a deal lined up for around 11 million pounds months beforehand but Moyes prevaricated. Again, he was forced to go back and pay a little more.

At least, that time, Moyes got his man. There were countless other occasions at Everton when he missed out on transfer targets because he could not -- would not -- commit to spending the money.

It happened with Juan Roman Riquelme, possibly the least likely target for Everton in their history, and it happened with Mohamed Sissoko, too. Moyes dallied on the fee and in the meantime Rafael Benitez got on a plane, flew to Valencia, and signed the Malian for Liverpool.

This is the counterpoint to those eulogies about Moyes' striking meticulousness. It is also the context to all that vitriol heaped on Woodward for his ineptitude in the transfer market. No doubt that was a factor, but the evidence suggests that perhaps Moyes was not quite as dynamic as he might have been.

Sometimes, you need to make a decision. Sometimes, having too many options clouds your judgment. If you have 1,000 names on your whiteboards, how do you ever take the plunge and concentrate on one?

That, more than anything, is key for a club like Manchester United. At Everton, particularly in his later years, Moyes was shopping for players who would jump at the chance to move to Goodison Park: people like Joleon Lescott and Phil Jagielka and Seamus Coleman.

At United, it is different. United's targets can probably go to Manchester City and Chelsea and Barcelona and Bayern Munich as well. Quite a few of them will already be at clubs who at least nurse the ambition of competing with those sides anyway. Money is a major factor in helping convince them, of course, but so too is the feeling of being wanted, of being cherished.

An elite manager is not just a coach and a scout and an HR department rolled into one; he must be a salesman, too. How can Moyes sell a player on his club, even a club like United, when he is not absolutely sure that player is the one he wants? If he dallies, maybe Real Madrid will move in, or Chelsea, or Bayern.

Most clubs do not have a list of 1,000 potential targets. Most clubs have around a quarter or a half of that, with a much smaller number of "live" names: players they are actively pursuing. It sounds like they are not doing their job as well as Moyes, but that is not the case; they are just more ruthless, more brutal, more focused.

All of this is relevant as we head into the January transfer window. Everybody knows what Manchester United need: a midfield. Please, God, get them a midfield, if only so we can stop saying they need a midfield.

They may yet go back for Herrera, neat and tidy and energetic, but there are others out there, if the Basque decides to remain at Athletic Bilbao (and, as Moyes and Woodward will tell you, Basques often do decide to remain at Athletic Bilbao).

They could go for the big-money option and try to get Arturo Vidal out of Juventus. Or Claudio Marchisio, for that matter. There is Siem de Jong, of Ajax, a more budget alternative. Newcastle's Yohan Cabaye would be another, or perhaps Marseille's Gianelli Imbula. Moyes has been out to see Koke, of Atletico Madrid, too, but Fernando of Porto may be more what they require.

More than one specific player, though, what United really need in January is for their manager to have the courage of his convictions. It would be unfair to cast Moyes as a cowardly lion, but if he is to stamp his authority on his new club, if he is to make this his United, he must find a way to pick one or two of those thousand names and do all he can to bring them to Old Trafford.

The time for analysis is over; it is time for action.