Nominating the best and worst players outside of the Prem in 2013
As 2013 draws to a close, it's time to recognize the European stars from outside the Premier League. Among those featured are several household names as well as collection of less-heralded stars who turned heads over the past 12 months. Plus there's a mention of one man for whom 2013 was a year to forget.

Here are the standouts from this year

The obvious

Lionel Messi -- Barcelona

By any normal benchmark, Messi had a great 2013. He won La Liga, was named its Best Player, claimed the Pichichi and the European Golden Boot. By his own supernatural standards, though, it wasn't 2012. Not in terms of goals (45 in 46 as opposed to 91 in 69) but what about his influence? The second leg of Barcelona's Champions League quarterfinal against PSG springs to mind. His teammates were lost without him. Then on making a substitute's appearance, they were found again. Few players in history have acquired that aura.

Cristiano Ronaldo -- Real Madrid

What an athlete. What a footballer. What a competitor. Cristiano's refusal to accept second best can't but be admired. He has risen to the challenge posed him by Messi and hasn't relented: 68 goals in 59 games this season tells a story. He maintained his magnificently historic form even amid the bitter infighting at Real Madrid, which took its toll on others, and once again carried a nation on his shoulders and to a major tournament. That performance in the second leg of Portugal's World Cup qualifying play-off against Sweden, when Cristiano scored a hat trick, is one for the ages.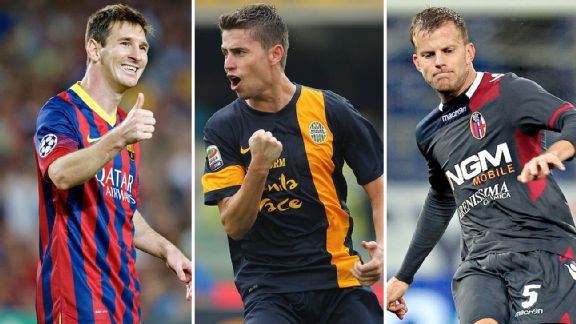 Getty ImagesFor Lionel Messi, left, and Jorginho, center, 2013 was a great year but Mikael Antonsson can't wait for it to come to an end.
Franck Ribery -- Bayern Munich

Named the best player in Europe by UEFA in August, Ribery was the bookies' favourite for the Ballon d'Or until Ronaldo's display in Stockholm and the subsequent extension of the voting deadline to decide its winner. The French winger claimed his wife had even made space for the award on the family mantelpiece. While his stats for last season look ordinary in comparison with Messi and Ronaldo's and his style of play perhaps isn't as easy on the eye, he was the outstanding player for an outstanding team that did the unprecedented in German football -- winning a quintuple in 2013.

Arturo Vidal -- Juventus

Not underrated, but still deserving more recognition outside of Italy, I think the fact that Jupp Heynckes wanted to take Vidal with him from Bayer Leverkusen to Bayern Munich in 2011 and how furious they were when he chose Juventus instead tells its own story. He wouldn't have been out of place in the team that reached the Champions League final in 2012 or 2013. Juventus' top scorer last season, Vidal, arguably the world's best box-to-box midfielder, was Serie A's most decisive player relative to his team. The Old Lady plays more in his image than Andrea Pirlo's: hard-running, intense, fino alla fine -- right to the end.

Zlatan Ibrahimovic -- Paris Saint-Germain

"A World Cup without me is nothing to watch," Ibrahimovic said after congratulating Portugal on ousting Sweden in the play-offs. He'll certainly be missed. Along with Liverpool's Luis Suarez (this year) and Atletico's Diego Costa (this season), Ibra is one of a select few who can, if not match Messi and Ronaldo step for step in goal-scoring feats, then at least stay on their coat-tails. He ends the calendar year with 42. But like Suarez, a fellow Ajax alumnus -- the closest thing football has to a school for geniuses and creative types -- he possesses a capacity for invention, the ability to do something you've never seen before that makes watching him magical. Call it Ibracadabra.

The breakouts and less obvious

Jorginho -- Hellas Verona

Departed Brazil to try to make it in Italy at just 15, Jorginho spent a year and a half without a contract, living in a boarding house, earning 20 euros a week. Signed by Hellas Verona in 2011, who had then only just got back into Serie B, he was the driving force in their midfield as they reached the play-offs and then won promotion to Italy's top flight for the first time in 11 years. His first season up there has been a revelation. The neat and tidy midfielder has been involved in 10 of Hellas' goals, scoring seven (five of which have come from the penalty spot) and setting up a trio of others. Worth 1.5m euros at the beginning of the season he is now valued at 10.5m euros and continues to attract interest from the likes of Arsenal and Liverpool. Able to trace his ancestry back to Vicenza and was called up to Italy's under-21 only for bureaucratic issues to delay an appearance, but expect the FIGC to keep pursuing him.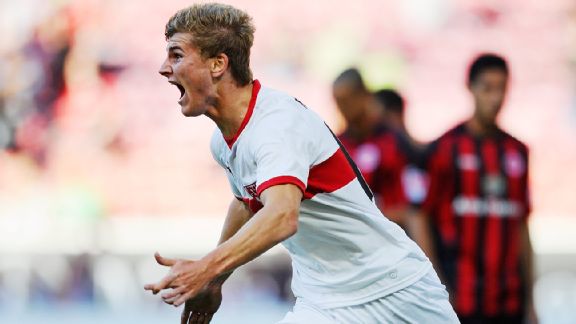 Daniel Kopatsch/Bongarts/Getty ImagesTeenager Timo Werner is already being considered for the German national team.
Timo Werner -- Stuttgart

Please make it stop. Germany just can't seem to stop producing prodigious talent. Take 17-year-old striker Timo Werner, for instance. Shortly after becoming Stuttgart's youngest-ever Bundesliga debutante, he starred in a 6-2 win against Hoffenheim, assisting two of his team's goals. The following month he was on the scoresheet himself, ensuring Stuttgart's 120th anniversary celebrations weren't spoiled by Eintracht Frankfurt as he got the equaliser in a 1-1 draw. Uber prolific through the youth ranks -- Werner has got 18 goals in 17 games for Germany's Under-17s -- there has even been talk of a call-up to the senior team ahead of the World Cup. Watch this space.

Sergi Roberto -- Barcelona

Barcelona came under fire in the summer for allowing Thiago Alcantara's release clause to become active by not playing him enough. Aware of the apparent oversight, Pep Guardiola asked Bayern Munich to pay it and the treble winners got themselves the Under-21 European championship's best player. Regrets, Barça may have a few, but the knowledge that Sergi Roberto was coming through perhaps made them prepared to let Thiago go. Another La Masia graduate with the short-passing tiki-taka education we've come to expect from this school of football, his direct, more physical approach to central midfield corresponds with the adjustments Barca are making to change up their play. He's a beast.

Filip Djordjevic -- Nantes

If one of France's great clubs, Nantes, back in Ligue 1 for the first time in four years, go into the winter break in seventh place, a lot is owed to striker Filip Djordjevic. Scorer of the fastest goal in Ligue 1 this season against Evian in early October, the 26-year-old Serb was in the midst of a hot streak. He got five in five. In all, Djordjevic has been involved in 11 of Nantes' goals. Out of contract in the summer, the well-built, opportunistic forward has no shortage of offers. He has pledged not to leave in January. "Some clubs are interested in me, but I'm not letting it go to my head," he told France Football. Lazio, for instance, see him as the possible successor to the veteran Miroslav Klose in their team.

Adrian Ramos -- Hertha Berlin

Like Nantes in Ligue 1, Hertha, another promoted side, find themselves higher than expected on their return to the top flight. Ensconced in sixth, they too can count on an unheralded goal scorer. Ramos is tied with Dortmund's highly coveted striker Robert Lewandowski on the top of the Bundesliga scoring charts. Explosive, rangy and comfortable running with the ball at his feet, he has found the net 11 times in 17 games and is responsible for 41 percent of Hertha's goals. No team is more dependent on one player in the Bundesliga. Don't be surprised if Ramos makes Colombia's World Cup squad. The likes of Radamel Falcao, Jackson Martinez and Luis Muriel are ahead of him in the pecking order; the competition is fierce but if he maintains form like this it will be difficult for Jose Pekerman to leave him out.

And finally ... a Christmas turkey

Mikael Antonsson -- Bologna

Conspicuous by his absence from Serie A's Bidone d'Oro shortlist -- the Golden Bin award celebrating the worst player of the year in Serie A -- Antonsson has not escaped our attention. Maybe it's just coincidence or sheer bad luck but the centre-back has been party to some memorably calamitous performances so far this season. Springing to mind is Bologna's 5-0 evisceration by a Gervinho-inspired Roma and Portugal's Ronaldo-led 3-2 destruction of Sweden in the second leg of their World Cup play-off. At least his club seem to hold him in high regard. Discussions over a new contract are due to open in the New Year.