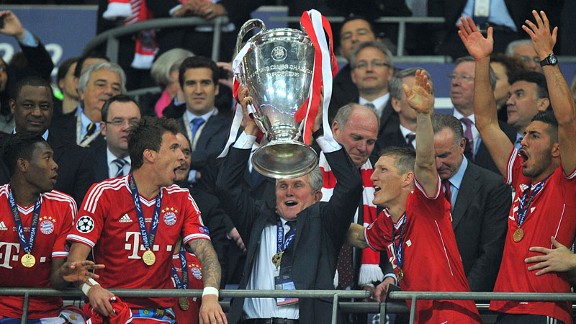 PA PhotosJupp Heynckes delivered the Champions League to Munich.
With the end of year awards season in full swing, it is time to nominate our candidates to become the European Manager of 2013.

1. Jupp Heynckes (Bayern Munich)
Completing a Bundesliga, DFB Pokal and Champions League treble.

When Jupp Heynckes described the final chapter of his career in his third spell at Bayern Munich as "a dignified exit from football," he was understating it somewhat. In 2013, the 68-year-old helped the Bavarian giants rewrite history, becoming the first German side to complete a league/cup/European champions treble.

Heynckes had initially been brought back as a safe pair of hands in 2011, accepting the post while still in charge of rivals Bayer Leverkusen. The coach's role was to be that of healer: mending tensions and divisions borne out in the tenure of the abrasive Louis van Gaal.

Perhaps Heynckes' greatest legacy is the sense of calm and focus that came to reign in the Bayern dressing room under his stewardship. It took time, with Borussia Dortmund retaining in 2012 the title that they had swiped from Bayern in 2011, but when it happened it built the platform for the team we see today. The challenge of a genuine duel at the summit of German football -- recalling the one between Bayern and Borussia Moenchengladbach when Heynckes played for the latter in the 1970s -- probably inspired the coach even more.

The form and status of Franck Ribery this year is probably the best example of Heynckes' influence. The France winger described Heynckes as "perfect for me" after his fractious relationship with van Gaal, and the evidence was plain in Ribery's play. The coach's tough-but-fair love earned the mercurial Frenchman's respect, and coaxed more industry and consistency out of a player who was easily unsettled previously. If Ribery were to win the 2013 Ballon d'Or, he would owe a huge debt to his former coach.

Ribery became Heynckes' Bayern in microcosm: hugely motivated, energetic, entertaining and an insatiable winning machine, whose record-breaking year was even more remarkable in the context of overcoming the disappointment of losing the 2012 Champions League final at their own stadium. Like another great, Sir Alex Ferguson, Heynckes retired at the top and left a legacy of success. If his replacement Pep Guardiola can come anywhere close to this year's achievements, the Spaniard will surely be a shoo-in for 2014's best manager.


2. Diego Simeone (Atletico Madrid)
Credentials: Winning the Copa del Rey; turning Atletico into title challengers.

It started in inauspicious surroundings for Diego Simeone as the head coach of his former club, on a cold Saturday night in Malaga -- then flying high in La Liga -- back in January 2012. He had arrived as the fourth permanent appointment to the job in less than three years, two days before Christmas.

Going back to the genesis is key in explaining Simeone's success today. As it turned out, the baby steps taken at La Rosaleda on that winter evening were a perfect trailer of what Simeone's reign grew to become. Atleti drew 0-0, punching above their weight and already displaying the doggedness for which Cholo was famed as a midfield player in a near-20-year career.

He had a reputation as a primarily defensive coach from his time in Argentina, especially with Estudiantes, with whom he won the Apertura title in 2006. Atleti didn't concede a goal for Simeone's first six La Liga games in charge, but he managed to retain their typical attacking verve, too.

By the time Atleti steamrollered Marcelo Bielsa's highly-fancied Athletic Bilbao in May 2012's Europa League final in Bucharest's National Arena, they were fully cast in Simeone's image. Many of the players who participated in the Bucharest triumph are still cornerstones of the side, notably goalkeeper Thibaut Courtois, the defensive partnership of Joao Miranda and Diego Godin and midfielders Gabi and Arda Turan. In short, Simeone has provided a stability that few Calderon regulars thought possible.

It has been achievement after achievement since Simeone arrived, but 2013 was a pinnacle. Atleti beat Real Madrid in the Copa del Rey final, their first victory over their neighbours since 1999, and in the Bernabeu to boot. They repeated the trick in a September league meeting that announced them as a genuine title contender, and they go into the winter break level with Barcelona at the top of La Liga.

This season, Simeone has even worked his magic minus Falcao, with the combative Diego Costa leading the way. It seems fitting that Atleti's centre-forward mirrors so much of what made their coach a success as a player.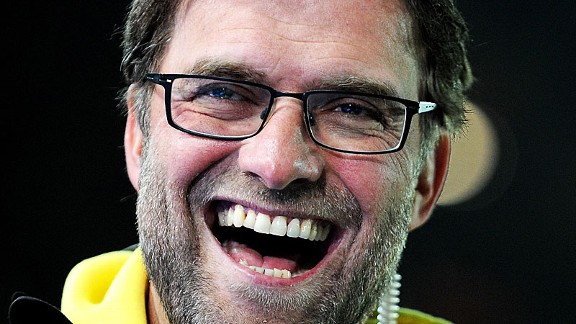 GettyImagesJuergen Klopp continues to impress at Dortmund.
3. Juergen Klopp (Borussia Dortmund)
Credentials: Getting to the Champions League final; showcasing a brilliant attacking style with Dortmund.

If the DFL Supercup seems scant reward for another memorable year for Borussia Dortmund, it's because it doesn't tell even half of the story. BVB lost their Bundesliga title to Heynckes' rampant Bayern, but gained international recognition. With it, the charismatic Klopp himself went mainstream from his previous cult appeal; from Sepultura to Metallica, to borrow the coach's heavy metal nomenclature.

It was in the Champions League that Klopp wowed the world, as his Dortmund team reached the final by beating a diverse range of opponents. Having won a group containing Real Madrid, Manchester City and Ajax in the first half of the campaign, Klopp outwitted Shakhtar's Mircea Lucescu, Malaga's Manuel Pellegrini and Real Madrid's Jose Mourinho on the way to Wembley, proving there are tactical smarts behind the smiles. If Dortmund had made capital of some early chances in the final, Klopp's exciting side might have followed Ottmar Hitzfeld's 1997 vintage in winning the trophy.

The fairy tale has a way to run yet, and despite a difficult, injury-hit end to 2013, Dortmund are set fair for another run at the Champions League in the new year having got through another unforgiving, and thrilling, group. They now have a favourable last-16 tie against Zenit St Petersburg on the menu.

In late October, Klopp signed an extension to his contract, tying him to the club until 2018. "It's an honour that some big clubs rate my work at Dortmund," he said at the time. "But I'm not the type of person who wonders whether the grass is greener elsewhere."

If he sees the deal through, the coach will have served an entire decade at the Signal Iduna Park. Few BVB fans are likely to complain if that happens to be the case.