Premier League Manager of 2013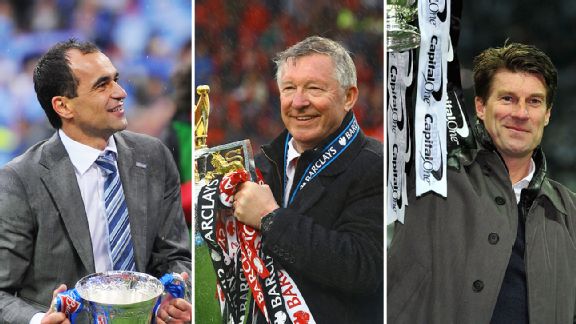 Getty ImagesRoberto Martinez, Sir Alex Ferguson and Michael Laudrup all took home trophies in 2013.
With the end of year awards season in full swing, it is time to nominate our candidates to become the Premier League manager of 2013.

1. Roberto Martinez (Wigan/Everton)
Credentials: FA Cup win with Wigan; stunning start to life as Everton boss.

How can a manager who suffered relegation from the Premier League in 2013 be considered among the list of candidates for Manager of the Year? Remarkably, Martinez has perhaps the strongest claim to the prize despite his demotion with Wigan last May, as his efforts at two clubs this year are notable for differing reasons.

The harsh truth has long been that no-one could have kept a side like Wigan in the Premier League for the long-haul, with their relegation a probability that has been looming large for many a year.

That Martinez gave them the parting gift of the FA Cup trophy and is now looking like a better Everton manager than David Moyes says it all about the abilities of this Spanish tactician.

Many observers suggested Everton chairman Bill Kenwright had made an error of judgement when he claimed he had hired Martinez on the back of his promise to get the Toffees into the Champions League for next season, yet that lofty ambition does not look so unrealistic now.

Their 1-0 win at Old Trafford in early December was an obvious highlight from the first half of the season, with their draw at Arsenal a few days later arguably even more impressive, as they out passed and outmanoeuvred the table-topping Gunners for the majority of the game at Emirates Stadium.

"I've always said that the Champions League has to be an objective forEverton," stated Martinez earlier in December. "The club has a winninghistory, we've won nine league titles in the past and we need to getthat feeling back, to try and bring expectation to the fans.

"Obviously we are not working with the budgets and the finances the other six top Premier League clubs are working with, but I've always felt we need to be creative enough to one day to challenge for a Champions League position. It could take one year or maybe longer, who knows, but that has to be the ultimate aim.

"It's pleasing to be able to compete with these teams and we need to make sure we carry on improving going into the second half of the season."

2. Michael Laudrup (Swansea)
Credentials: League Cup win with Swansea, ninth place finish in Premier League.

It is hard not to be impressed by the efforts of Laudrup as his Swansea team play a brand of football that is pleasing on the eye and effective in equal measure.

The Swans' Capital One Cup win last February crowned a rise for the Welsh club that has been as enchanting as it has been inspirational and while ambition may have been inflated to unrealistic levels after last season's successes, Laudrup and his players remain a match for anyone in the Premier League on their day.

"It highlighted the quality of the Premier League when we travelled to Swansea feeling as if we were in great form and we came up against opponents who played some absolutely brilliant football," stated Newcastle manager Alan Pardew, after his side lost 3-0 at the Liberty Stadium at the start of December.

"When you look at the Premier League and compare it with others around Europe, you just don't see teams in the position Swansea are in producing football like that. There are occasions when you have to hold your hands up and say the opposition were a little better and deserved to win and that was one of them.

"We all know the kind of football Swansea try to play and when they get it right, they are a tough side to play against. Michael Laudrup was a truly wonderful player in his prime and I was fortunate enough to see him on a few occasions. He's also doing a great job at Swansea now."

Arsenal manager Arsene Wenger is also a huge admirer of Laudrup, with some suggesting the Dane could be a contender to succeed the Frenchman at the Emirates Stadium when he opts to take the next step forward in his career.

"They are a team where the level of expectation is higher than the years before so everybody wants them to be performing in the top seven or eight, which they have the quality to do. They buy well, play attractive football and have become a very good team," said Wenger. "Michael Laudrup has enjoyed a fantastic start to his time in English football. He continues to make progress and when you see Swansea winning 3-0 away from home against Valencia [in the Europa League in September], you know that this club are clearly doing something right."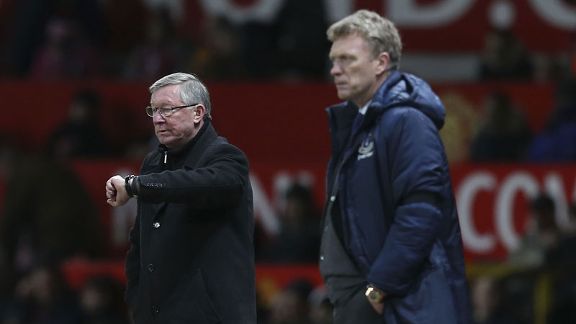 GettyImagesDavid Moyes hasn't quite matched up to Sir Alex Ferguson.
3. Sir Alex Ferguson (Manchester United)
Credentials: Guided his team to yet another Premier League title.

Ah Sir Alex, you remember him don't you? He was the chap who won trophy after trophy in the days when Manchester United were the dominant force in English football.

His departure from the big stage this year sent shock waves through football that will be felt for many to come, yet amid it all, his brilliance
guided United to a 20th English title. That achievement alone confirms Fergie's half year of work in 2013 was more profitable than any of his rivals.

What has happened since his retirement has disappointed many, with some suggesting Ferguson's decision to release a controversial book criticising many of his former players and colleagues has diluted his reputation unnecessarily.

Others have argued Ferguson's apparent eagerness to accepts plaudits and platitudes aplenty in the shape of lifetime achievement awards, the renaming of streets in his honour and a book promotion tour that added fuel to the fire created by his literary exploits, are evidence that his desire to remain in the spotlight continues to burn brightly as he approaches his 72nd birthday.

The reality must be that stepping away from a job as huge as the one he held onto for a remarkable 26 years is a chore few mere mortals could come to terms with. The loss of power, influence and prominence would challenge anyone in Ferguson's position and few have experienced the withdrawal from public life he has enjoyed and endured in recent months.

In many ways, his legacy has been enhanced by the troubles endured by David Moyes as he has tried to fill his boots at Old Trafford in recent months, yet when the dust settles on controversies Ferguson's comments and words created in the second half of 2013, the legend he created over two and half decades at one club will remain.

The greatest manager of them all deserves his place among the game's deity and for a mere five months work, he makes the cut in the Manager of the Year shortlist.