Half-term report: Premier League overachievers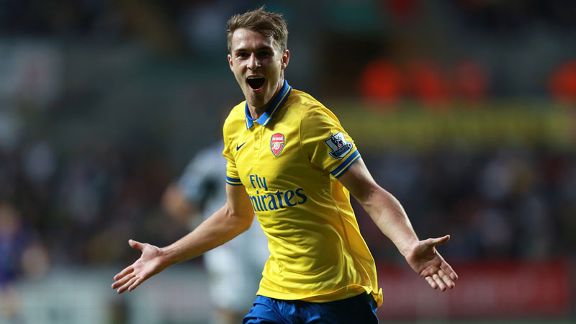 PA PhotosAaron Ramsey has proved hugely successful as a goal scorer for Arsenal this season.
As 2013 draws to a close and the Premier League approaches its halfway point, ESPN FC picks out each team's most impressive player so far.

Arsenal: Aaron Ramsey

He may no longer be the favourite for the Footballer of the Year award but Aaron Ramsey remains the most improved player in England. Arsenal's summer attempts to sign a centre-forward failed, yet as the Welshman scored more goals than most strikers, it scarcely mattered. He proved prolific while chipping in with plenty of assists, displaying an enviable engine as he burst from box to box while generally appearing the kind of all-action, high-quality midfielder that seemed to have gone out of the game.

Aston Villa: Fabian Delph

It has taken four years but Fabian Delph is finally enjoying the breakthrough season Aston Villa anticipated when they bought him from Leeds in 2009. He has become the dominant presence in Paul Lambert's midfield, allying his considerable power with moments of quality. A belated first league goal for the club clinched the unlikely win at Southampton, and Delph was particularly impressive in the opening-day triumph at Arsenal. It was no coincidence that one of Villa's worst performances, in the 3-0 defeat to Manchester United, came when he was suspended.


Cardiff: Steven Caulker

Perhaps some Cardiff supporters would nominate Steven Caulker purely for his derby winner against Swansea. Truth be told, however, there are other reasons to be impressed by the defender. Since his summer signing from Tottenham, he has formed a solid partnership with Ben Turner in a well-drilled rearguard. While it seemed harsh when captain Mark Hudson, a stalwart of their promotion-winning campaign, was benched to accommodate the newcomer, manager Malky Mackay's decisions to buy and select Caulker have been justified.

Chelsea: Oscar

A theme of Chelsea's season has been the surfeit of flair players competing for the three places behind the sole striker. If Juan Mata was the creator in chief last season, now that mantle, along with the No. 10 role, has passed to Oscar. After his return as manager, Jose Mourinho was quick to install the Brazilian in the most prestigious position in his side. While many are bemused at Mata's marginalisation, it is a decision that has been vindicated by Oscar, with his blend of tactical awareness, hard work, invention and goals. While his form has dipped a little in recent weeks, he remains the brightest star in the Chelsea galaxy.

Crystal Palace: Mile Jedinak

From Julian Speroni at one end of the pitch to Marouane Chamakh at the other, plenty of Crystal Palace players have enhanced their reputations in Tony Pulis' reign. In the dark days under Ian Holloway, however, one footballer played to a consistently high standard while others around him floundered. Even as Palace lost nine of their first 10 games, Mile Jedinak led by example and, if the Australian has been less prominent since then, it is because he is no longer the lone beacon of excellence.

Fulham: Scott Parker

It irritates Scott Parker's detractors that he is often spared the criticism levelled at his colleagues. Yet there is a reason for it: Parker's constant commitment means that, while others underachieve, he tends to produce a consistent level of performance. So he has in a difficult campaign for Fulham. It was no surprise when, with the Cottagers becoming embroiled in a relegation scrap, the captain's armband was given to the midfielder.

Everton: Seamus Coleman

With the benefit of hindsight, Seamus Coleman set the tone for the transformation of Everton by scoring on the opening day of the season. The Irishman has always been an eager attacker; under Roberto Martinez, however, he has even more licence to get forward and, as a result, has reached new heights. Coleman is arguably the outstanding right-back in the Premier League at the moment and, while players such as Gareth Barry, Ross Barkley and Romelu Lukaku have all made considerable contributions to Everton's encouraging start, he has been consistently terrific.

Hull: Curtis Davies

It is strange to think that Curtis Davies had not played Premier League football for two seasons, or that Hull faced little competition for his signature last summer. A few months on, Davies looks both one of the bargains of the season and one of the best centre-backs not owned by the elite clubs. He has been a rock at the back as Hull have kept a series of clean sheets and has emerged as a leader, sometimes captaining his new club. While Tom Huddlestone is the new signing who has attracted the most attention, Davies has arguably been even better than the former Tottenham midfielder.

Liverpool: Luis Suarez

While it is often tempting to brand players unstoppable, it is usually untrue, but perhaps not in the case of Luis Suarez. Pity the poor defenders who have been tormented by the pace, persistence, skill and audacious shooting of Liverpool's Uruguayan. Suarez sat out the first five games of the league campaign and is still the division's runaway top scorer -- indeed, he has twice as many goals as anyone else except Sergio Aguero. He rarely even scores once a game anymore, preferring to deal in multiples. Norwich are favourite victims and they conceded four to him, all exquisite. But, with 19 goals in 12 games, plenty of others have suffered.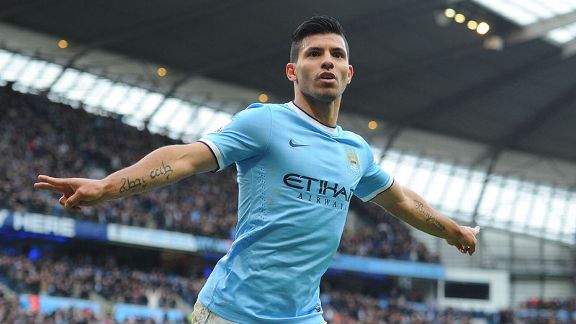 PA PhotosSergio Aguero could make a welcome return to the matchday squad.
Manchester City: Sergio Aguero

The sober, cautious Manuel Pellegrini is not a man who tends to get carried away with his comments, so when he described Sergio Aguero as one of the three best players in the world, it was an indication of how highly he rates his Argentine striker. Even though Aguero scored 30 goals, including a title-clinching winner, in his debut campaign in England, the Manchester City forward did not hit the heights he reached this season. The quicksilver striker dovetailed beautifully with Alvaro Negredo in a potent partnership and scored 18 goals in 16 games before suffering a calf injury. Among others, Manchester United, Everton, Tottenham and Arsenal were unable to contain him.

Manchester United: Wayne Rooney

Whatever else David Moyes has got right or wrong, it is indisputable that the Manchester United manager was correct to insist that Wayne Rooney was not for sale in the summer. United's campaign has been troubled enough; without their talisman it could have been disastrous. A criticism of Rooney in past seasons is that his goal tally has masked some indifferent performances. There has been a role reversal this season: respectable as his haul is, it does not reflect the full scale of his contribution. With Robin van Persie suffering injuries, with a mediocre midfield and with too many supposed flair players underachieving, Rooney has been vital.

Newcastle: Loic Remy

Plenty prospered during Newcastle's glorious November but Loic Remy's excellence has had an added significance: he kick-started the revival on Tyneside. At a time when speculation was mounting about Alan Pardew's future, the Frenchman began delivering crucial goals, netting both in the 2-1 win at Cardiff, followed by one each in the wins over Tottenham, Chelsea and Norwich. Borrowed from QPR, Remy has brought pace and a predatory instinct to what could otherwise have been a blunt attack.

Norwich: Leroy Fer

It was something of a coup for Norwich to sign Leroy Fer, who had almost joined Everton six months earlier, and the Netherlands midfielder has brought power and pedigree to the City midfield. Goals have been at a premium for Chris Hughton's side this season and Fer has shown an ability to chip in from deeper positions. And while he only seems to score at the end of games, it is a sign he has the stamina and desire to outlast flagging opponents.

Southampton: Dejan Lovren

Southampton conceded 26 goals in their first nine league games last season and three in the equivalent period of the current campaign. An 866 percent improvement isn't purely down to Dejan Lovren but the Croatian has made a huge difference as Saints have tightened up at the back. Besides forming a fine partnership with Jose Fonte, he has adapted to Mauricio Pochettino's style of football, with its high defensive line and particular demands on the centre-backs, and proved a threat in the opposing box. He scored Southampton's winner at Anfield and set up Adam Lallana's equaliser at Old Trafford.

Stoke: Asmir Begovic

Asmir Begovic is an unlikely record-breaker but his 106-yard, 13-second goal against Southampton in November earned him a place in the history books. Bizarre as it was, he doesn't get this nomination for his goal scoring but his goalkeeping. While Mark Hughes is trying to change Stoke's style of play, some things stay the same: City's last line of defence remains formidable and they continue to keep clean sheets. Begovic began as he meant to carry on with a defiant display against Liverpool in August, and he has maintained that form. It is little wonder he continues to be linked with bigger clubs.

Sunderland: Ki Sung-Yueng

It isn't an easy task identifying a Sunderland player who has flourished this season but Ki Sung-Yueng has added intelligence and energy to the midfield. While many of their 14 summer signings have either underperformed or disappeared, the South Korean looks their best recruit (indeed the surprise, for some, was that Swansea let him go out on loan), and he was particularly influential in their annual 1-0 win over Manchester City. And in a year of few highlights, he provided one with the Capital One Cup quarterfinal winner against Chelsea.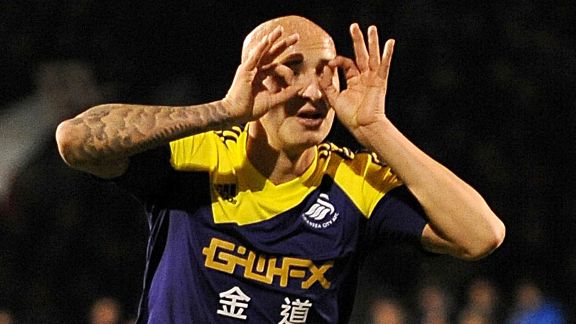 PA PhotosJonjo Shelvey looks to be a successful signing for Swansea.
Swansea: Jonjo Shelvey

Mention Jonjo Shelvey's season and one game springs instantly to mind: September's 2-2 draw with his former club Liverpool where, improbably, he contrived to contribute to all four goals. It summed up a player with considerable ability but an unfortunate habit of shooting himself in the foot. The 3-0 win over Newcastle, in which he scored and seemed to head-butt Mathieu Debuchy, was another case in point. But over the campaign as a whole, he is very much in credit, bringing considerable energy, a real range of passing and an eye for goal. His terrific winner at Fulham may prove one of the most important strikes of Swansea's season.

Tottenham: Jan Vertonghen

When a club spends 110 million pounds on seven new signings, it is logical to expect that one of the expensive arrivals will be the outstanding player. Not in Tottenham's surreal season, however. That Jan Vertonghen joined in 2012 almost makes him one of the old guard. Until a knee problem ruled him out, the Belgian also looked Spurs' finest performer. For a reluctant left-back, he is a particularly good one, attacking with the exuberance of a winger, and when he played in a central role, their defensive record was excellent.

West Brom: Gareth McAuley

When West Bromwich Albion's attacking players, whether Stephane Sessegnon, Shane Long, Saido Berahino or Morgan Amalfitano, have been good, they have provided eye-catching excellence. But in a season where too few have been consistent, Gareth McAuley has been a bastion of dependability. Albion's reigning player of the year may be their best-kept secret; others are better known but there is a reason The Hawthorns reverberates to the sound of his name every home game.

West Ham: Winston Reid

The one saving grace for a team without a scoring striker is that, in many games, they don't concede, either. West Ham's defensive record has been excellent, especially before an ankle injury sidelined Winston Reid. They kept six clean sheets in the 10 games the New Zealander started and he chipped in with the crucial breakthrough in the surprise win at Tottenham. Many a Sam Allardyce side has contained imposing central defenders, and Reid is the Hammers' best.