Half-term report: Premier League underperformers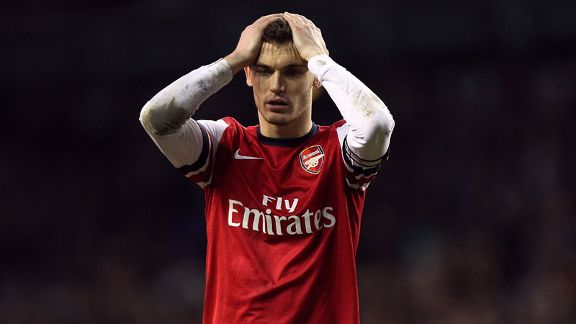 PA PhotosThomas Vermaelen has endured a miserable 2013.
As 2013 draws to a close and the Premier League approaches its halfway point, ESPN FC picks out each team's most disappointing player so far.

Arsenal: Thomas Vermaelen

Dropping a player apparently wanted by Barcelona isn't the obvious path to improvement, especially when he is the captain, but the seeds of Arsenal's revival lay in Arsene Wenger's decision to pair Per Mertesacker and Laurent Koscielny in the centre of defence. Thomas Vermaelen was the odd man out and the Belgian's few first-team starts have been unhappy. He deputised for Mertesacker in the 1-0 defeat at Manchester United and came on for Koscielny in the 6-3 thrashing at Manchester City, when four goals were scored during his time on the pitch as Arsenal descended into disarray. While that was not purely Vermaelen's fault, he has an uphill task to ensure he stays in the team when the Frenchman is fit again.

Aston Villa: Christian Benteke

The first month of the campaign rather resembled last season. Then Christian Benteke went from flood to drought with no warning. The man who couldn't stop scoring now can't start again. He has gone three months, 10 games and 719 minutes of first-team football without finding the net. The Belgian battering ram is no longer the destroyer of defences and isn't playing with the same sense of bullishness and bravado. Instead, there are some Aston Villa supporters who prefer to see Libor Kozak in the side as Paul Lambert's team, like their star striker, are finding goals a rarity.

Cardiff: Peter Odemwingie

On the plus side, Peter Odemwingie completed a transfer without turning up in the car park of a club he wanted to sign before a deal had been agreed. On the negative, a man who delivered 15 Premier League goals in a season for West Bromwich Albion has mustered just one so far for his new employers. Odemwingie has not been threatening enough and, while he has mainly operated on the flanks, Cardiff are likely to need more goals from their wingers if they are to survive.

Chelsea: Ashley Cole

A byword for consistency for many a year, Ashley Cole has had an in-and-out season. Unusually, he has spent some of it out of the Chelsea team. The left-back was dropped after the defeat at Newcastle and has not been seen in the Premier League since, with the right-footed Cesar Azpilicueta playing out of position in his stead. It followed some indifferent performances from Cole and, while the Chelsea strikers have come in for more criticism this season, it was telling that the ever-analytical Jose Mourinho axed a man he bought during his first spell in charge.

Crystal Palace: Adrian Mariappa

Adrian Mariappa's two previous seasons of Premier League football, with Watford and Reading, culminated in relegation. Should he complete an unfortunate hat trick, his early difficulties in a Crystal Palace shirt will be a contributing factor. Mariappa was a particular culprit for the dodgy defending in the defeats to Liverpool and Fulham. It was unsurprising when Tony Pulis began his reign without Mariappa in the side and, while an injury to Dean Moxey has handed him another chance, it will be a feather in the new manager's cap if he can turn Mariappa into a Premier League footballer. And not just for this season.

Fulham: Bryan Ruiz

Perhaps Fulham's failings under Martin Jol were encapsulated by one man: Bryan Ruiz was one of the flair players the Dutchman favoured but who neither used his quality to win enough games nor tracked back enough to help the more prosaic talents. The familiar criticism of Ruiz is that he doesn't score enough goals and, although the one he has got, against Cardiff, was superb, the quality cannot compensate for the shortfall in quantity. It was telling that Rene Meulensteen began his reign by dropping the Costa Rican and bringing in the more industrious and effective Giorgos Karagounis.

Everton: Nikica Jelavic

It is tempting to wonder how Everton's season would have developed had they not signed Romelu Lukaku on deadline day. It is likely, given that Arouna Kone has been first out of form and then injured, that Nikica Jelavic would have been seen rather more often. And if the Croatian seemed to suffer an acute case of second-season syndrome in the previous campaign, there have been few signs of recovery in his third year at Goodison Park. His goal drought has continued and he has shown few signs of recapturing the sharpness he displayed immediately after signing from Rangers.

Hull: Danny Graham

The punchline to many a bad joke, it is hard to question Danny Graham's effort but easy to criticise him for his inability to do a forward's principal job and put the ball in the back of the net. When Graham finally scored to end a 342-day wait for a league goal, he didn't celebrate, as it came against his former club Swansea, so Hull still haven't seen him wheel away in delight. It isn't Graham's fault that Steve Bruce's main striking targets eluded him in the summer but the inability to find a goal scorer has been the difference between an encouraging and an outstanding start. Tellingly, no team has had fewer goals from its specialist strikers, and Graham has been the prime culprit.

Liverpool: Iago Aspas

It is just as well for Liverpool that Luis Suarez and Daniel Sturridge have proved so prolific. The other two senior strikers on their books are Fabio Borini, on loan at Sunderland, and Iago Aspas, who arrived with the tag of "the new Michu" after a breakthrough season in La Liga but has resembled some of Liverpool's past forward failures rather more. It hasn't helped that he has had to operate as a winger, and has been less versatile than they expected, but a lightweight player seems to lack the power required and the sense was that Brendan Rodgers persevered with the 7.7 million-pound man for too long before dropping him.

Manchester City: Joe Hart

The time came for Manuel Pellegrini to recall Joe Hart but memories of his early-season errors are slow to fade. His mistakes came at a cost, with City's defeats to Cardiff, Aston Villa and Chelsea -- all by one goal -- including a Hart blunder. Fernando Torres' last-minute goal at Stamford Bridge, which was Hart's fault, was a three-point swing in the title race in itself. And while Pellegrini's faulty maths was a factor as Bayern Munich won their Champions League group-stage tie, it is worth remembering that the goalkeeper was culpable when Franck Ribery and Arjen Robben scored at the Etihad Stadium.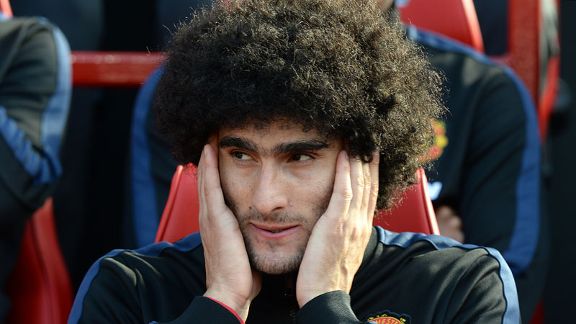 PA PhotosMarouane Fellaini has proved a major disappointment since his switch from Everton on deadline day.
Manchester United: Marouane Fellaini

Even without the burden of a sizeable price tag and commensurate expectations, it would have been a season to forget for Marouane Fellaini. Factor in a 27.5 million-pound fee that makes him one of the most expensive players in Manchester United's history and it is both disastrous and damning for David Moyes, who signed one of his former Everton players and saw him flounder. The nadir for Fellaini came in the Manchester derby demolition when Yaya Toure and Fernandinho, both quicker than him, highlighted his shortcomings, and both Tom Cleverley and Phil Jones leapfrogged him in the queue for midfield places even before wrist and back injuries compounded a difficult start to life at Old Trafford.

Newcastle: Papiss Cisse

It was a question of which Papiss Cisse Newcastle would see this season: the goal machine who propelled them to fifth place in 2011-12 or the goal-shy striker whose struggles helped explain their 16th-place finish in May. The answer, sadly for United, has been the latter. A forward who scored in both predatory and spectacular style immediately after his arrival is still awaiting his first league goal of the campaign and Cisse has deservedly lost his place in the team. He has had a bit-part role at most in their memorable wins over Tottenham, Chelsea and Manchester United.

Norwich: Sebastien Bassong

Norwich's defensive record was a major reason they survived last season. It is also why they are imperilled in the current campaign. Sebastien Bassong had a terrific debut campaign at Carrow Road but the centre-back has failed to replicate that form. He was especially awful in the 7-0 defeat at Manchester City but, as Norwich have been subjected to several hammerings, Bassong has been found fallible more generally. The hope must be that their recent improvement at the back continues.

Southampton: Gaston Ramirez

Strange as it sounds now, when Mauricio Pochettino was appointed in January, Gaston Ramirez was expected to be the beneficiary. The ambitious, attacking style of one South American could have suited another. Instead, the Uruguayan is yet to start a league game this season and Adam Lallana, James Ward-Prowse and Steven Davis all seem preferred in the No. 10 position now. Others are better suited to Pochettino's high-energy pressing game but, when Ramirez has been involved, he hasn't been as inventive or incisive as was expected.

Stoke: Kenwyne Jones

There can be few more frustrating footballers than Kenwyne Jones. Compared to Didier Drogba on his emergence but lacking the same significance to Stoke than the less gifted but more reliable Jonathan Walters, the target man has spent far too much time flattering to deceive. A hat trick -- albeit against Walsall in the Capital One Cup -- was an indication of his ability but a subsequent spell in the team was fruitless as Jones reverted to underachievement.

Sunderland: Emanuele Giaccherini

There is no shortage of disappointments at Sunderland, many of them players recruited in the summer. Yet while Cabral represents Wearside's vanishing man and Charis Mavrias, Valentin Roberge and Modibo Diakite have been poor, little was expected of them. Emanuele Giaccherini, in contrast, was the flagship signing, an Italy international who had won back-to-back Serie A titles with Juventus. Yet Sunderland's best result of a sorry season -- the Wear-Tyne derby win over Newcastle -- occurred with him on the bench. A particularly poor display in August's defeat at Crystal Palace set the tone as Paolo Di Canio's regime unravelled.

Swansea: Pablo Hernandez

Michael Laudrup has been famously successful at signing players from Spain. The surprise is that the import with the greatest pedigree and who seemed the lowest risk has underachieved the most. Pablo Hernandez arrived from Valencia as a Spain international and as Swansea's club-record buy. After a season-and-a-half in Wales, the sense remains that the rather cheaper pair of Nathan Dyer and Wayne Routledge are better options on the flanks. Hernandez has again struggled to find his best form in an injury-hit season.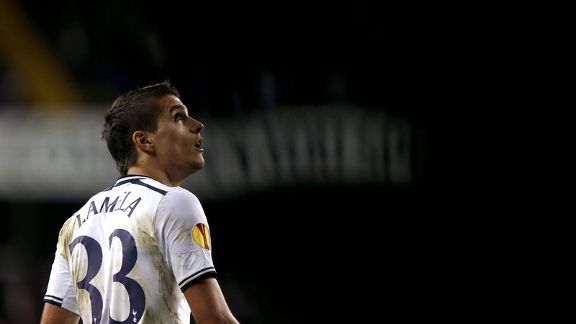 PA PhotosErik Lamela has failed to live up to his price tag at Tottenham.
Tottenham: Erik Lamela

Erik Lamela did not set the 30 million-pound fee that has made him the most expensive player in Tottenham's history. Nor, indeed, was he responsible for the decision to spend such an extravagant amount on a winger who, like the best two wide men Spurs already owned, favoured the right flank. Nevertheless, the Argentine's move has been disastrous so far and his impact has been negligible. His sole goal came against the Moldovans FC Sheriff. He had to wait three months for a first league start and it came in a 6-0 defeat. It is little wonder Aaron Lennon and Andros Townsend tend to be preferred when they are fit.

West Brom: Nicolas Anelka

Nicolas Anelka made a prolific start to his West Bromwich Albion career. If the statistics don't show it, that is because his goals came in preseason friendlies. In competitive games, he has been altogether less productive. Anelka is yet to open his Albion account and, minus the searing pace he had at his peak, has been unable to compensate. Steve Clarke attempted to use him as a No. 10, a switch that failed, and Anelka has not been used since spurning a golden chance at Anfield at the end of October. The wholehearted Shane Long is an altogether more compelling choice in attack. There were stories at the end of August that Anelka was announcing his retirement; perhaps it would have been better if he had.

West Ham: Kevin Nolan

While Modibo Maiga has been hapless and unable to deliver the goals West Ham required in attack, that may not surprise too many of the regulars. The greater problem, arguably, has been that Kevin Nolan has been so ineffective. The Hammers captain could never be called a great footballer; over the years, however, he has been an excellent finisher. But since finding the net against Cardiff on the opening day, Nolan's drought has gone past the four-month mark. Perhaps he is missing his brother-in-arms Andy Carroll but, in the striker's absence, it was all the more important that Nolan deliver goals. And as he isn't, it raises the question of whether he should be in the team at all. To compound an ignominious campaign, the boyhood Liverpool fan got himself sent off at Anfield and banned for three games for a seemingly spiteful hack at Jordan Henderson.