The magic of Christmastime football
Oh, what a night. Late December 1963. What a very special time for ... well, football actually.

The wild blizzard of goals in England's top division on the day after Christmas that year was not, of course, the inspiration for The Four Seasons' big hit, but the lyrics fit perfectly. Ten games produced 66 goals, suggesting the players may well have prepared on mince pies, a lashing of roast and a few whiskeys rather than pasta and fresh fruit.

Fulham hammered Ipswich 10-1 while across London Blackburn Rovers smashed eight goals past West Ham at Upton Park. Manchester United were hit for six at Burnley, Chelsea won 5-1 at Blackpool and Liverpool thrashed Stoke 6-1 at Anfield. There was a 4-4 draw between West Brom and Spurs while the Wolves-Villa and Forest-Sheffield United games produced 3-3 thrillers. As one commentator famously remarked: "Where were the defenders? But frankly, who cares?"


PA PhotosBryan Douglas scores Blackburn's second in their thrashing of West Ham United on Boxing Day of 1963.
Indeed, the only "normal" games were Leicester's 2-0 win at home to Everton and Sheffield Wednesday beating Bolton 3-0.

This, of course, was football gone gloriously crazy.

Fifty years later much has changed, but the tradition of Boxing Day football goes on -- much to the surprise and, in some cases, disbelief of foreign stars who think English football has taken leave of its senses. But today's players, their weight and body fat levels constantly monitored by an army of fitness and conditioning coaches, cannot indulge themselves ahead of such a crowded and demanding holiday fixture schedule.

Take Liverpool, who have a testing game at Manchester City finishing at 7 p.m. local time on Thursday the 26th followed by a day of travel down to London to play another vital game at Chelsea less than 48 hours later. Stoke have to play away at Newcastle, then trek down to Spurs to play two days later. Barely time for a warm down in between.

With the pace and intensity of games at this level, that schedule will severely test the recovery rates of any player required to start both those games.

The advantage is with the top clubs which have bigger squads and can rotate their starting lineup, a luxury the likes of Hull, Cardiff and Crystal Palace cannot afford.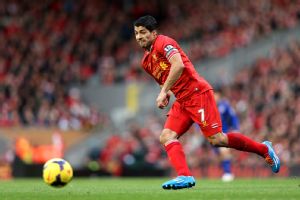 Clive Brunskill/Getty ImagesLuis Suarez and Liverpool are in great form, but their upcoming schedule – which includes matches at Man City and Chelsea – will really test them.
What does it mean for the players? Most will spend half an hour with their kids on Christmas morning before heading out to training as normal. Usually, they are allowed to go home for Christmas lunch -- but no alcohol or chocolates -- with their families. Then it will be back on duty.

Swansea, playing at Chelsea on Boxing Day, and probably Manchester United (at Hull) and Sunderland (at Everton) will be among those teams who have to travel to the team hotel miles from home on Christmas night. Certainly, English players accept all this as part of the job and it's just one reason why they are paid the big bucks.

Indeed, I have spoken to a few who love the holiday games with their special atmosphere at a decisive phase of the season.

But there are a few others who believe such a heavy and hectic programme in the middle of the campaign takes too heavy a toll on players' legs -- and is one reason England teams look laboured at summer tournaments.

That debate will rage on, but don't hold your breath waiting for a midseason break in England. The fact is the fans love Christmas football. The huge crowds prove it and, in this instance, the paying customers come first.

Yet half a century on, safe to say that Fulham won't be winning 10-1 or Manchester United losing 6-1 as they did in that bleak mid-winter long, long ago.