What a difference a year makes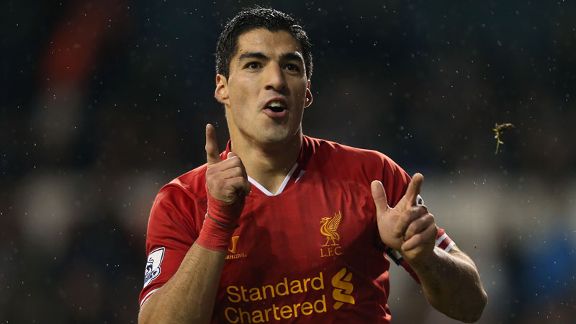 PA PhotosLuis Suarez has been Liverpool's leading light since returning from suspension.
Football achievement is usually measured in seasons, yet this group of players, managers and one club has had a 2013 to remember, for reasons both good and bad.

Luis Suarez

Captain, leader, legend? Luis Suarez is on an unerring path to redemption. Back in April, such a thought seemed beyond the realms of possibility. Branislav Ivanovic had the bite marks to prove that Suarez was a pox on English football, and Liverpool were risking their reputation on retaining such a problem player.

He then spent the summer agitating for a move. Even many of Liverpool's loyal fans lost their love for him. Real Madrid and then Arsenal failed to prise him away, and Suarez had to continue his suspension at the club he had told the media he no longer wanted to play for. Public contrition was required, and it was delivered. He has delivered a deluge of further apologies through dazzling football, and has behaved himself, too.

You may hate him, and you have good reason to do so, but you simply cannot ignore him. Since his suspension, he has plundered Premier League goals at a hitherto unprecedented rate. He is by far the best player in English football, and was recognised as such by last week's Football Supporters Federation awards. He even speaks to the cameras now and, in the absence of Steven Gerrard, is currently Liverpool captain. Suarez might prove Roy Keane's idiom that the best captains are always their team's best players.

Can he keep it up?

Roberto Martinez

He began 2013 with a 4-0 New Year's Day punishment by Manchester United, landlocked in 18th position in the Premier League. His Wigan Athletic team never climbed higher than 17th for the rest of the season, and their relegation was confirmed by truly chaotic defending at Arsenal.

And yet it is difficult to think of a hotter managerial property in British football and perhaps even beyond. Martinez has not reached such heights by his undoubted charm alone. Wigan's FA Cup win was the steamiest romance of the year, delivered by slaying the giants of Manchester City.

Still, Everton looked to be taking a significant risk in turning to a relegated manager to replace the solidly overachieving consistency of David Moyes. They have been rewarded with richly entertaining and radical football plus genuine hopes of a Champions League position. Everton, unfashionable for so long, have become a hipsters' choice to invoke. Martinez may soon find himself on the shopping list of much bigger clubs.

Ashley Cole

At 33, he is the youngest of England's tarnished "Golden Generation" of the previous decade and had long been considered his country's only true world leader in his position. At the start of 2013, he was also set to win his 100th cap, collected against Brazil in February, and soon expected to outstrip David Beckham's outfield record of 115. However, Cole's refusal to take part in any centurion ceremony reasserted the difficulty of his character, and provides a subtext to his current problems at Chelsea.

Jose Mourinho brought Cole to Chelsea at great cost in 2006, after a move from Arsenal that almost defined controversy. The signs are that the returned coach has lost all faith in Cole. They now appear to have no relationship whatsoever. Cole took his manager's blame for Newcastle's victory in early November, and has been used only grudgingly since -- a right-footed left-back in Cesar Azpilicueta now plays instead. Cole's estrangement, self-imposed or otherwise, was confirmed by his presence at Arsenal's Christmas party; back in 2005 he attended Chelsea's bash rather than Arsenal's. And beyond that, most now expect Leighton Baines to be England's starting left-back in Brazil.

Joe Hart

Like Cole, Hart entered 2013 with the comfort of being far and away first choice for club and country. There had already been wobbles at Manchester City, but Hart's prodigious talents and strong character were expected to carry him through. Yet they have not. He has suffered a horrendous year that he will be glad to put behind him.

Hart was never awarded the faith of Roberto Mancini, and it is widely accepted that the Italian would have bought another goalie had he stayed at Eastlands. Mancini's replacement has hardly been much better disposed.

Hart has only just recovered the goalkeeper's jersey at City after Manuel Pellegrini dropped him unceremoniously following a series of high-profile errors. Those mistakes took in the full spectrum of a goalkeeper's duties while Hart began to look haunted by his continuing attraction to calamity. He also had to bear the indignity of being second fiddle to a keeper as mediocre as Costel Pantilimon.

He can, though, console himself with his country's continuing inability to locate another goalkeeper anywhere near his quality and potential.

David De Gea

Perhaps De Gea's exalted status is a mark of the continuing confusion of regime change at Manchester United, for there are far greater problems afoot for David Moyes. But that would be unfair on a young man who has made a huge leap in this calendar year.

Casting the mind back to the turn of the year, the Spaniard was seen as the weak link in Sir Alex Ferguson's attempt to win a 13th Premier League title. On Jan. 21, United surrendered a lead at Tottenham deep into injury time and De Gea took the blame. Former United defender Gary Neville led the charge, taking apart De Gea in a "Monday Night Football" montage in his role as a pundit for Sky Sports. Such heavy criticism seemed unjust at the time -- the game was played in snowy conditions, the ball had been icy and Nemanja Vidic was equally culpable.

De Gea has hardly made an error of note since. His fellow professionals voted him into the team of the 2012-13 season and, among a group of players who have largely responded poorly to Moyes, De Gea, just 23, has become a wholly dependable United stalwart.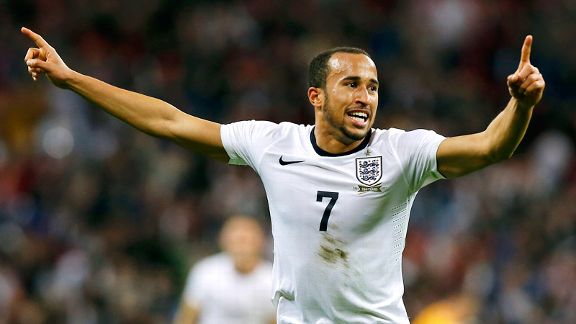 AP Photo/Sang TanAndros Townsend propelled himself to stardom in England with his performance against Montenegro.
Andros Townsend

Two years ago or so, when they were together at Tottenham, Harry Redknapp could barely remember the name of Spurs' young winger. Andre Villas-Boas hardly seemed much more aware when Townsend was sent on loan for the ninth time in a short career.

QPR was almost certainly the last such move because, in Rangers' sewer of a season, Townsend was the shining light that gave brief hopes of survival. He proved pacy, direct and possessive of a powerful shot on either foot; it was strange that AVB had not trusted him to be a counterpoint to Gareth Bale. Instead, he had to serve as some kind of Bale replacement. When the Welshman departed for Real Madrid in the summer, Townsend's thrilling early-season form won an England chance that he grabbed with both hands.

Pivotal in the 4-1 win against Montenegro and inspirational in the following game against Poland, Townsend was key to England qualifying for next summer's World Cup. Now everybody knows his name. And, barring injury, he will be on the plane to Brazil.

Southampton Football Club

The removal of Nigel Adkins in January looked an unseemly business. Dastardly chairman Nicola Cortese had sacked an Englishman doing a passable job of keeping Saints surviving in their first Premier League season for eight years. Worse, he was being replaced by an Argentine who did not even speak English.

However, Mauricio Pochettino's style of play swiftly began to win admirers, including Sir Alex Ferguson, who declared Southampton the best team to visit Old Trafford in his final season in charge. Saints stayed up with a little to spare, and began this season as a surprise package brimming with energy and excitement. Cortese has backed his man with some big spending, and even the Englishmen sound foreign: Both Adam Lallana and Jay Rodriguez won their first international caps while Rickie Lambert scored the winner in the revival of England versus Scotland.

There has been a minor slump as winter takes hold, but Southampton are now a template for progressive, ambitious clubs prepared to take big decisions.