Breaking down the Prem's must-see festive fixtures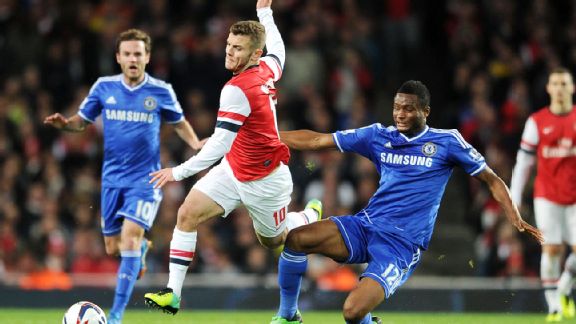 David Price/Arsenal FC via Getty ImagesChelsea has beaten Arsenal already this season, albeit in the Capital One Cup. Monday's clash, meanwhile, has big Prem implications.
When Arsenal manager Arsene Wenger renewed his calls for a winter break to be introduced into the Premier League earlier this month, he did so with the proviso that the Christmas fixtures would remain sacrosanct.

While many in the game believe that English clubs suffer for the lack of a mid-season interlude, which all the top European leagues will enjoy over the next few weeks, Wenger is not alone in appreciating the importance of festive football to the English soccer brand.

"When everyone stops playing football across the world, the only country that has top-level games over Christmas is England and it is a part of the culture of the game the country can never lose," argues Wenger. "These Christmas games are special."

This may be the only time of the year when highly paid soccer stars are forced to make sacrifices and miss out on time with their families purely for our viewing pleasure, so settle back and lap up these yuletide crackers.

Arsenal vs. Chelsea (Monday, 3 p.m. ET/8 p.m. GMT)
Few would have backed Arsenal to be involved in the battle to be the Christmas No. 1 spot in the Premier League at the start of the season, but Wenger's men get their chance to challenge for that honour when they entertain Chelsea.

Chelsea have a decent record at Emirates Stadium after a comfortable Premier League win last season was backed up by an equally convincing triumph in the Capital One Cup in October, but victory in this showdown will mean more than both of those recent successes.

Jose Mourinho's Blues would move ahead of Arsenal with a victory in North London and the Chelsea boss will know that a third successive defeat for the Gunners will fuel the suspicion that their fine form over the first half of the season cannot be sustained.

Verdict: Arsenal looked jaded in their 6-3 drubbing at Manchester City last weekend, but they have had nine days of recovery time and should be buzzing for this clash. A high-scoring draw could be the end result.

Thursday, Dec. 26 (kickoffs 10 a.m. ET/3 p.m. GMT unless stated)
Hull vs. Manchester United (7:45 a.m. ET/12:45pm GMT); Aston Villa vs. Crystal Palace, Cardiff vs. Southampton, Chelsea vs. Swansea, Everton vs. Sunderland, Newcastle vs. Stoke, Norwich vs. Fulham, Tottenham vs. West Brom, West Ham vs. Arsenal; Manchester City vs. Liverpool (12.30 p.m. ET/5.30 p.m. GMT)

THE KEY GAMES
Hull vs. Man United
David Moyes' United dare not make any more slip-ups, and the early kickoff time provides an additional challenge for both teams to overcome.

Lunchtime kickoffs in St Stephen's Day games are notorious for producing low-key matches that lack genuine atmosphere, so United need to come out of the blocks quickly and hammer home their authority.
Verdict: United to get the job done

West Ham vs. Arsenal
If the wheels are to fall off the Arsenal title charge, Upton Park may be the venue that witnesses their biggest disappointment of the season so far.

At least that is the script that under-pressure Hammers boss Sam Allardyce will be hoping to follow, yet the more likely scenario must be that Arsenal will have far too much class and trickery for their hosts to contend with. Arsenal have excelled at sweeping aside modest opponents this season and should repeat that trick with West Ham.
Verdict: No trouble for Arsenal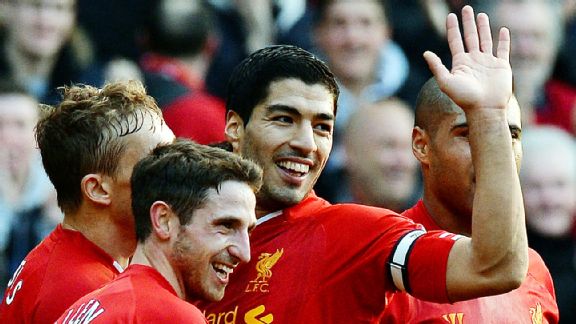 PAUL ELLIS/AFP/Getty ImagesLuis Suarez has guided Liverpool to unimaginable heights this season. But can the Reds win at Man City's home fortress?
Manchester City vs. Liverpool
The first big test of Liverpool's title credentials was passed with flying colours as they spanked Tottenham 5-0 at White Hart Lane last weekend. Now for a contest that offers the potential to propel them to a whole new stratosphere.

No team has left the Etihad Stadium with their dignity intact this season as City have run riot every time at their fortress-like home. Could Luis Suarez be the man to gun down Manuel Pellegrini's men? We are about to find out.
Verdict: City to win it, but only just

Saturday, Dec. 28 (kickoffs 10 a.m. ET/3 p.m. GMT unless stated)
West Ham vs. West Brom (7:45 a.m. ET/12:45 p.m. GMT); Aston Villa vs. Swansea, Hull vs. Fulham, Manchester City vs. Crystal Palace, Norwich vs. Manchester United, Cardiff vs. Sunderland

Sunday, Dec. 29
Everton vs. Southampton, Newcastle vs. Arsenal, Chelsea vs. Liverpool; Tottenham v Stoke (11 a.m. ET/4 p.m. GMT)

THE KEY GAMES
Everton vs. Southampton
The battle of the Premier League's most threatening dark horses should serve up a festive feast at Goodison Park. The winner of this contest will establish themselves as the favourites to having a crack at breaking the monopoly the "top four" have enjoyed at the top over the past few years.

Highly rated Saints boss Mauricio Pochettino is currently being linked with the Tottenham vacancy, while Roberto Martinez is doing a fine job of making David Moyes' achievements at Everton look mundane. High-energy, oozing with class and burning with desire, these two passing teams should put on a great show.
Verdict: Everton have the edge

Chelsea vs. Liverpool
Liverpool's perilously difficult Christmas schedule will continue with a trip to Stamford Bridge, yet their record at Chelsea's home should inspire them to believe that they can end 2013 on a real high.

After all, it was Liverpool that ended Chelsea's remarkable 86-game unbeaten record at the Bridge -- much of those results coming during Jose Mourinho's first spell in charge of the Blues -- in 2008, and they have won twice more at Chelsea since then. Could they now end Mourinho's unbeaten home record as Blues boss?
Verdict: Liverpool to get a point, at least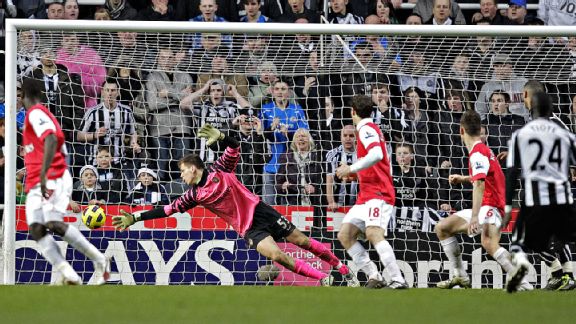 Graham Stuart/Getty ImagesRemember the 4-4 draw in February 2011 at St. James' Park? Arsenal has come a long way since and should be able to beat the Magpies.
Newcastle vs. Arsenal
Newcastle's remarkable achievement of overturning a 4-0 half-time lead to score a quartet of unanswered goals and snatching a point in February 2011 is one of the greatest games in Premier League history. The stakes will be equally high in this clash.

Alan Pardew has got his Newcastle side firing on all cylinders in the second half of 2013, and after beating Tottenham, Chelsea and Manchester United in the last few weeks, they will fancy adding Arsenal's scalp to their record.
Verdict: Arsenal have enough to get a victory

Wednesday, Jan. 1, 2014 (kickoffs 10 a.m. ET/3 p.m. GMT unless stated)
Swansea vs. Man City (7:45 a.m. ET/12:45 p.m. GMT); Arsenal vs. Cardiff, Crystal Palace vs. Norwich, Fulham vs. West Ham, Liverpool vs. Hull, Southampton vs. Chelsea, Stoke vs. Everton, Sunderland vs. Aston Villa, West Brom vs. Newcastle; Manchester United vs. Tottenham (12:30 p.m. ET/5:30 p.m. GMT)

THE KEY GAMES
Southampton vs. Chelsea
Pochettino and his Southampton side have claims to being crowned as the most improved team in the Premier League in 2013 and would love nothing better than to start the new year with a win against Mourinho's Blues.

Chelsea's indifferent away form will be given a severe test against a Southampton side that pushed them hard as they went down to a 3-1 defeat at Stamford Bridge earlier this month. Victory in this kind of fixture would bode well for Mourinho's stuttering team heading into 2014.
Verdict: A high-scoring draw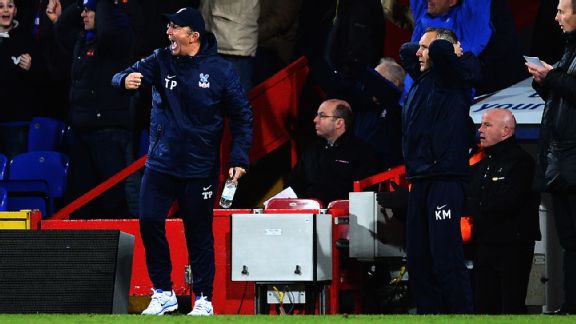 Jamie McDonald/Getty ImagesTony Pulis has inspired Crystal Palace to victories since taking over. He'll need to do the same vs. the struggling Canaries after Christmas.
Crystal Palace vs. Norwich
A must-win for both teams? It seems a little harsh to suggest as much with half the season still to play, but the games will fast run out for sides battling at the bottom of the table in the coming weeks and intensify the pressure on this drop zone six-pointer.

Palace's success in winning their first two home games of Tony Pulis' reign as boss suggests they could defy all logic and retain their spot in the Premier League. As for Norwich boss Chris Hughton, he seems to have been unfairly under pressure throughout 2013. Overcoming fear is central to success in this kind of fixture.
Verdict: Nails aplenty bitten and a victory for the home side

Manchester United vs. Tottenham
One of the classic matches in the English football calendar sees the two giants who have endured the most agony in the first half of the season put their fragile reputations on the line at Old Trafford.

The truth must be that the two teams and all who attend this game will have no idea where the drama will take them. That makes this final match of the festive-fixture programme one of the most intriguing battles of all.
Verdict: United to take advantage of Tottenham's shattered belief

TOP OF THE TABLE AT CHRISTMAS
Securing the top spot at Christmas has paved the way for title glory over the past four seasons, but festive cheer does not always end in the ultimate glory.
2012-13: Manchester United (Christmas No. 1)/Manchester United (champion)
2011-12: Manchester City/Manchester City
2010-11: Manchester United/Manchester United
2009-10: Chelsea/Chelsea
2008-09: Liverpool/Manchester United
2007-08: Arsenal/Manchester United
2006-07: Manchester United/Manchester United
2005-06: Chelsea/Chelsea
2004-05: Chelsea/Chelsea
2003-04: Manchester United/Arsenal