Chelsea test could prove pivotal for Arsenal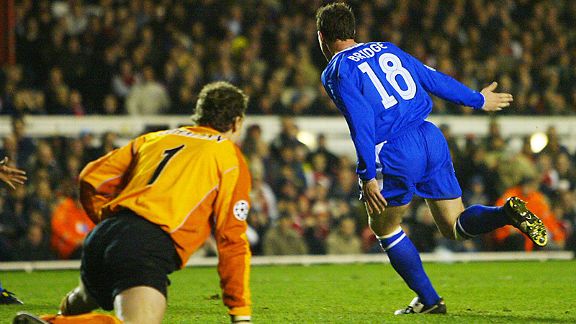 GettyImagesJens Lehmann can only look on in horror after Wayne Bridge's goal lifted Chelsea past Arsenal in their Champions League clash in 2004.
The night had been that raucous, and the match that riveting, that it was almost impossible for the players to even begin clarifying their emotions afterward. Yet amid the "delirium," as Claudio Ranieri put it, the then-Chelsea manager knew something rather decisive had happened -- and it wasn't just Wayne Bridge's winning goal.

"This victory will change something," the Italian said of his side's 2-1 win at Highbury in the 2003-04 Champions League quarterfinals. Between Arsenal and Chelsea, it changed everything.

The nature of both football and its coverage means isolated moments of relatively innocuous coincidence can become imbued with importance they don't necessarily warrant. At the same time, it is that very open quality that ensures some moments do possess a sense of portentous inevitability. Even if they are not truly significant, they carry a genuinely symbolic sense of symmetry.

The night of April 6, 2004, distilled all of that, as well as so much else.

Even on its own terms as a Champions League quarterfinal second leg and the first meeting between two English clubs in the modern competition, that evening had deeper dimensions than usual.

Arsenal were not just aiming for the Champions League trophy, but the triumph that would confirm their status as the best team in Europe at that time, and one of the finest in history. They certainly played uniquely divine football. As midfielder Edu says in Jon Spurling's book "Highbury: A History of Arsenal in N5," "that was the time for Arsenal to win the Champions League, with the crop of players they had at the time. You can sense when the time is right, and it seemed that way ... the balance lay in our hands."

The otherwise elegant balance of their season was completely disrupted. Arsenal's supreme football made them invincible in the Premier League, but not in the campaign as a whole. There was a rich irony to the fact that, in a league season when Arsene Wenger's team had not lost to a single English side, they were knocked out of the competition that mattered most by one of the clubs closest to them.

Worse, it was a club they had already beaten three times that season, having also knocked Chelsea out of the FA Cup. Those results had followed a far longer trend, which was the reason this game really had ripples. It was as if, for Chelsea, so much in the rivalry had built up to that 87th-minute winner.

By finishing off a swift one-two with Eidur Gudjohnsen to win the game, Bridge actually separated two eras. The stats for either side of that moment are striking.

In the decade before that night, Arsenal almost completely dominated their duels with Chelsea, winning 18 and losing just four of 31 games since the end of the 1993-94 season.
In the decade since that night, it has been drastically different. Chelsea have won 14 and lost just four of 23 fixtures leading up to Monday night's match at the Emirates.

It has been a reverse as resounding as Bridge's late winner was dramatic.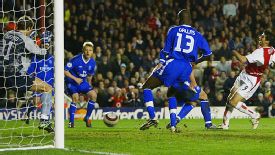 GettyImagesJose Reyes' goal appeared to be sending Arsenal through to the semifinals.
In the aftermath of that 2004 game, Roman Abramovich issued one of what remains very few public statements about his club: "Chelsea played great and I think the team showed the Russian character to hold on, to fight, to win."

Whatever the game might say about Russian character, his team certainly showed the effect of Russian cash.

There can be no overlooking the primary reason for that profound shift in dynamic. While Chelsea accelerated with the influx of Abramovich's immense resources, Arsenal were held back by the building of a new stadium.

It was something Wenger made sure to mention in his prematch news conference last week, when asked about Jose Mourinho's unbeaten record against him.

"We had restricted financial resources for years. Everybody knows that. It's simple," he insisted

There is a danger in that slightly simplistic reading of it all. The finances were undeniably the main factor in Chelsea winning so many more trophies than Arsenal since 2004, but that still does not explain the extreme nature of the swing in their rivalry. Statistically, the money should not translate into such a stark contrast between two sides who are actually so close in quality in a wider Premier League context.

To illustrate that, Chelsea actually have a worse record over the same period against Tottenham Hotspur, with 10 wins and four defeats in 23 games.

It appears there are a few other issues exacerbating the effects of the financial changes. In the Highbury mixed zone after that 2004 match, Thierry Henry said Arsenal went into the game "without being at our best physically." That is likely true, given that they had also been eliminated from the FA Cup semifinals by Manchester United just three days beforehand, but the question is whether it all had a psychological effect, too.

As recently as January 2013, Wenger said Bridge's goal "remains one of the big bad memories of our club."

It was not just that Chelsea had not beaten Arsenal in the league since 1995, it was the way they so often lost: late goals, thrashings, commanding wins, atrocious errors, unlikely scorers, comebacks. The nadir was in Oct. 1999, when Nwankwo Kanu scored goals at Stamford Bridge in the 75th, 83rd and 90th minutes to hit a hat trick and convert a 2-0 Arsenal defeat into a devastating 3-2 win.

Even Wenger's very first game against the new Chelsea, in October 2003, continued so many old trends as Carlo Cudicini spilled the ball for Henry to plunder a winner.

Initially, the 2003-04 Champions League quarterfinal seemed set to perpetuate all that. Arsenal had claimed the advantage with the away goal from the 1-1 first leg, and Jose Reyes made that more secure with an "insurance" strike in the 45th minute of the return.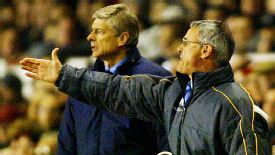 GettyImagesClaudio Ranieri was the manager opposite Arsene Wenger in their 2004 meeting.
Gradually, though, the picture began to change. On 51 minutes, Claude Makelele -- of all Chelsea players -- hit an untypical long-range strike that Jens Lehmann could only parry. Frank Lampard, one of the players who preceded Abramovich's takeover, followed up with the equaliser.

Wenger later lamented that his team were "very good in the first half" but "lacked sharpness" in the second half. That description could be applied to the last two decades between the teams, not just that match. Shortly before the winning goal, Chelsea served notice with a move that rivalled Arsenal's football. It fell short. But Bridge would go all the way.

As Spurling's book acknowledges, "you couldn't disguise the significance of that night."

Chelsea had denied Arsenal what they felt was their Champions League, and inadvertently opened the path for the man who would deny Wenger so much more. Mourinho would win the 2004 Champions League with Porto and then solidify Chelsea's superiority. And there can be no disputing the Portuguese's edge over Wenger.

It is why Monday's fixture feels so significant. For arguably the first time since 2004, the clubs appear to be in a state of flux. While Arsenal are on the rise, it's difficult to work out exactly where Chelsea are.

On the other hand, just as Wenger's team have tended to slip up when they seem set to step up, Mourinho's side have developed a capacity for claiming the right result just when things look like they're going wrong.