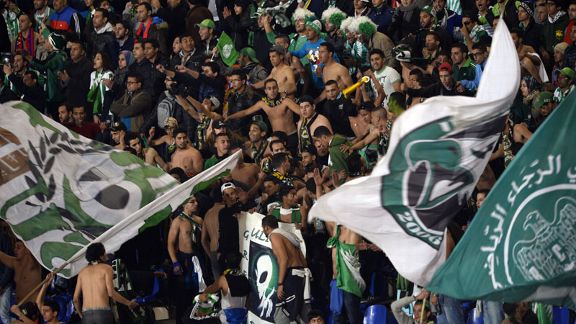 GettyImagesRaja Casablanca fans show support for their team.
Even the most patriotic local would admit that the traffic in Marrakesh does not always flow smoothly, particularly when 40,000 people are heading to the same place -- the Stade de Marrakech, for the Club World Cup final between Raja Casablanca and plucky underdogs Bayern Munich -- at the same time.

And particularly when all the roads leading to the stadium seem to be closed. Defeated by the chaos, my taxi driver eventually seeks refuge in a shopping mall parking lot.

"Why is the traffic so bad?" I ask him.

"They've closed all the roads so the king can get to the game," he says, and finally I understand the knots of people standing shivering on street corners.

"Are you going?" I ask.

"No," he says, shaking his head. "I couldn't get a ticket."

"Profitable night for taxi drivers too, I suppose," I suggest.

"Are you kidding? I'm not going to work. I'm going to watch it on the big screen at Djema el-Fna [the main square in the city]. Raja's gonna win!"

The king gets in the way later on too. After I have abandoned the taxi and trudged several kilometres down an unlit road (a veteran German journalist will later tell me that access to the Estade de Marrakech during the Club World Cup is the worst he has seen in 20 years of covering football all over the world), progress is halted by a line of police with batons and riot shields.

"Why can't we go through?" I ask Soufiane, a Raja fan who was born in Casablanca, but now lives in Marrakesh.
"We have to wait for the king to go past," he answers, seemingly incredulous that I should need to ask.

"I've never been so nervous in my life," he says when I ask him how he is feeling about the match. "It's the biggest game I can remember. And not just for Morocco, but for all Arab countries. My cousin in Saudi Arabia says everybody there is watching it too."

I ask him if Raja have a chance against Franck Ribery and friends. "We can hope," he says. "There is always hope!"
Finally the king's motorcade roars by. Everyone claps. I show my ticket and the police wave me through, just in time. Behind me a stampede develops, and I can hear batons crack against limbs. Morocco, it's safe to say, is quite excited about the game.

Earlier that day I had watched Chabab Rif Hoceima play Kawkab Marrakech on a barber shop TV in one of the maze of tiny alleys that winds off Djema el-Fna. It was a top-flight game (a 1-0 win put Kawkab second in the table), but the standard of play was sloppy and the crowd in the small, dilapidated Stade Mimoun Al Arsi looked to number in the hundreds rather than thousands.

Raja Casablanca are currently in 9th position in the Botola Pro league. On Wednesday they will return to domestic duties with a game against Kawkab in Casablanca, their Club World Cup fairy tale a faded memory, but the fans will enjoy it until then.

Once into the stadium it is clear people have come from all around to be a part of it. Abdes, Malak and Alia, sitting beside me in the stands, have driven overnight from Casablanca for the game. Alia is bedecked in a green and white Raja flag, a green and white Raja hat and green trousers. Apart from the clump of boisterous Bayern fans in one upper-deck corner, most of the stadium seems to be dressed in similar fashion. Behind the goal the Raja "Green Boy" ultras hold up pieces of card to form a mosaic that spells out the immortal legend "Make a Story."

Unfortunately, the players aren't able to write themselves into folklore. But despite Dante's spirit-dampening early goal, and the gradual realisation that this will not, after all, be the night when Moroccan footballing dreams come true, the atmosphere throughout the game is marvellous, with the home fans cheering their team on from start to finish. When Raja go close to scoring on a couple of occasions, the low, whooshing cries from the fans are suffused with hope and pride at their team's determined showing.

Abdes, a club member, says that in Morocco only Raja could make history quite like this. "It's wrong to think that Raja are a little team. We're not. We're the biggest team in Morocco, the only team that could bring the whole country together. We get crowds of 30,000 or 50,000 every game. It doesn't matter who we're playing."

Is it the biggest game in Raja's history? "Maybe. But we won the CAF Champions League in 1989 and 1999. We played against Real Madrid in the Club World Cup in Brazil in 2000 and gave them a tough game. This is like Disneyland. It's great, and of course we want to win, but it's a bonus for us, really."

I ask him what Raja's run to the final means for Moroccan football.

"Hopefully it will bring back some of the pride to Morocco. Our football has been in crisis for a long time. We haven't qualified for the World Cup since 1998. But this is real football," he says, gazing around the stadium at the chanting, bouncing Raja fans still buoyant in the face of Bayern's domination of the ball and Thiago's second goal. "Not the competition, but the supporters. This is local pride. Hopefully it can rub off on Moroccan football in general."

When it is over -- a brave 2-0 defeat -- the Raja Casablanca fans clap their team off the field. Then they clap the Bayern players. Then they clap the king when he comes out onto the podium. Most remarkably of all, they even refrain from booing FIFA president Sepp Blatter (though the Bayern fans are not so generous). A mean-spirited crowd this is not.

I ask Abdes if he is disappointed.

"Disappointed? No," he says, grinning. "We played well. I'm proud. This is Raja."

This is Raja. Amid Brazilian tears and Teutonic triumphalism, this is what the 2013 edition of this often unlovable competition leaves: the year when the local boys may be remembered more than the champions.