Future uncertain for Mineiro after Club World Cup failure
MARRAKESH, Morocco -- Djema El-Fna square in Marrakesh, so balmy and welcoming in the optimistic sunshine that shone before Atletico Mineiro's Club World Cup semifinal implosion against Raja Casablanca on Wednesday night, has seemed a grey and barren spot to Galo fans ever since.

A few short hours at the Stade de Marrakech were enough to transform plans of where was the best spot for a pre-final tajine or a postgame celebratory knees-up into grumpy discussions of how much a Raja fan might be willing to pay for a now-unwanted final ticket, or whether there were any cheap flights to be had to a less cursed European tourist destination.

Marrakesh, in short, has become Galo's vale of tears.

"The players showed a lack of respect for Raja and for their own fans," said Sergio Milagres, a Galo fan wandering unhappily around the square on Friday night. "It's so disappointing. If they had at least showed a bit of fight, it wouldn't have been so bad."

In some ways it is hard to know quite what went wrong, while in others, it is all too obvious. Mental issues were certainly at play, not least of which was overconfidence among the fans. "Tomorrow will be easy," Rafael Fernandez, a Galo supporter, had told me in a cafe the night before the game. "Then we'll beat Bayern 2-1 in the final. Fernandinho and Tardelli will get the goals."

At another table, Estevao Melo sat with his wife, Camila, both from Belo Horizonte. Camila was wearing a black-and-white hijab in a dubious tribute to local custom. "It won't be like Inter in 2010, that's for sure," said Estevao (a reference to Internacional's shock loss to TP Mazembe in a previous Club World Cup).

That cockiness was clearly visible in the stands at the Stade de Marrakech. Writing before the game, I predicted that "the duelling banjos contest between the hordes of Raja fans and the visiting Brazilian legions is sure to produce an ear-bursting din." As soon as I arrived, however, it became clear that that would not be the case at all.

- Vickery: Lack of focus dooms Brazilians
- Highlights: Raja Casablanca stuns Mineiro
- Watch: Ronaldinho's stunning free kick
- Must-see: Praise shown for Ronaldinho

While the Raja Casablanca fans screamed themselves hoarse and urged their team on to greater heights, the Galo supporters, given the price of the trip and the makeover that the club's fan base has undergone in recent years, were drawn mainly from among Belo Horizonte's more monied classes. They simply stood and complained at their team, their vocal cords seemingly unable to bear the burden of such a weighty sense of entitlement.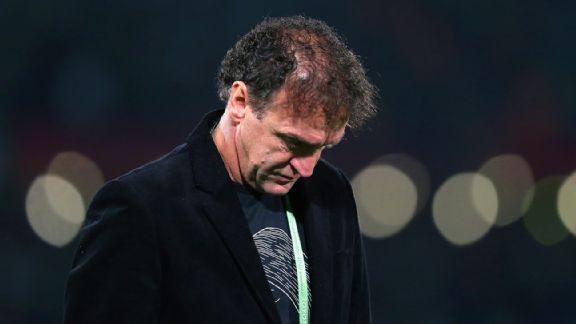 Alex Livesey/FIFA/Getty ImagesCuca had no ideas on how to save Mineiro, while his decision to announce his exit prior to the Club World Cup was also a needless distraction.

Glancing at the people around me it suddenly became clear that for a great many Atletico fans, the purpose of travelling to Morocco had not been in fact to roar the team on to Mundial glory, but instead (a) to post photos of the trip on social media sites and (b) to garner ammunition for the eternal verbal war of attrition with rival Cruzeiro fans.

"It makes a difference," said Bruno Malachias, standing next to Sergio in Djema El-Fna. "These aren't the fans that used to watch Atletico a few years ago. But it's not just Galo. It's part of the gentrification of Brazilian football."

Such intangibles make a difference on the pitch, especially when a team is in the perilous position of being hot semifinal favourites facing opposition with everything to play for and nothing to lose. Even more so when the Atletico players have more than half an eye on a potential final appearance against Bayern and have spent six months waiting for the Club World Cup to roll around by effectively twiddling their thumbs in league fixtures from July to December.

Whatever the theorising of any amateur psychologists in the crowd, it was clear out on the pitch that the vital sliver of subconscious motivation that makes tackles arrive a split-second earlier, legs pump a tiny bit quicker and the ball fly infinitesimally faster, was missing. And it would prove fatal.

Of course, there are more concrete reasons for Atletico's defeat. Departing coach Cuca, who is now off to manage Shandong Luneng, demonstrated during Galo's Libertadores run that he finds devising a team and system to (a) play away from home and (b) react to a range of tactical challenges as head-scratching and complicated as string theory. His team produced miserable away performances against Tijuana, Newell's Old Boys and Olimpia in successive knockout rounds.

Only emotional, fortune-favoured home performances got the team out of jail back then, and watching the Raja forwards frolic among the rolling plains of open space behind the Atletico defence on Wednesday showed that Cuca has not learnt that much since.

Then there was Ronaldinho. Despite the glorious spiral of his equalising free kick, Galo's creative heartbeat was generally sluggish and subdued. One reason for this is that prior to the game he had played only 90 minutes since sustaining a thigh injury in September. His lack of quickness -- a concern at the best of times these days -- was evident. He was clearly not in sync with his attacking teammates.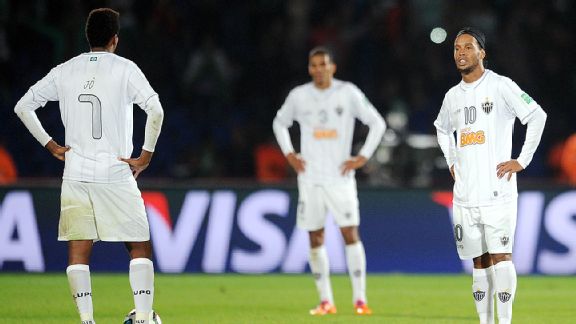 Chris Brunskill Ltd/Getty ImagesRonaldinho was out of sorts on Wednesday night, one of many reasons while Atletico Mineiro lost to Raja Casablanca.

More worrying is that Ronaldinho wasn't particularly effective in the latter stages of the Libertadores either, even being substituted early in the second half of the first leg of the final against Olimpia in Paraguay as Galo slumped to another away defeat. All that being said, it would perhaps be unwise to write off the old schemer just yet given the rebirth he has enjoyed since moving to Belo Horizonte. Interestingly, he will be out of contract with Atletico at the end of the year, though talks to extend his deal are said to be at an advanced stage.

Another Atletico weak point is their defensive liabilities, most noticeably in the form of full-back Marcos Rocha, who has long tried the patience of Galo fans. The struggles of Rocha and young stand-in Lucas Candido on the other flank are two good reasons why Atletico fans should perhaps be secretly relieved that the team will not have to face Bayern.

Whatever the reasons for Atletico's demise, there was no shortage of acrimony or self-doubt floating around after the game. The aforementioned Marcos Rocha was perhaps the worst culprit, unleashing a televised potty-mouthed tirade against Cuca upon being substituted during the match, while club president Alexandre Kalil made reference to the spectre of overconfidence after the game. "We're more humble than ever now ... if the players thought they were Peles or geniuses they won't think it now," Kalil assured. "We'll start again from square one."

So will that change come to pass?

Cuca -- who unhelpfully announced his likely departure to Shandong Luneng on the eve of the tournament -- has now gone and will be replaced by Paulo Autori, who led Sao Paulo to victory over Liverpool in the 2005 Club World Cup by playing the kind of disciplined, gritty football that Atletico rarely mustered under their outgoing manager.

Yet none of that could prevent the gloom that certainly reigned among the Galo fans on Friday afternoon. Sergio, his brother Marcelo, and Bruno had already sold their tickets. "It's a form of protest. This is worse than when we were relegated to Serie B in 2005, or when we lost 6-1 to Cruzeiro in 2011. Loads of fans have already gone home."

Shivering against the cold not far away, Cecilia and Thales Ottoni were at least trying to make the best of a bad job. "We're going to the final to support Raja. Their players and fans showed us more respect than our own team did.

"We hope they stuff Bayern."