Three Things: Luis Suarez's new contract


Three observations on the news that Luis Suarez has signed a new long-term contract at Liverpool, despite publicly declaring he wanted to leave during the summer.

- Smith: Is game ready to move past Suarez's past?

Always in the spotlight

"Let's raise a toast to no Luis Suarez questions ever again," Brendan Rodgers joked at the beginning of his news conference on Thursday. He knew it was one Christmas wish that would never be granted; even with a signature on a new contract, committing the forward to Liverpool until 2018, the questions aren't going to stop. Suarez is too much a magnet for attention.

Over the last three months, the attention has been focused on his brilliance. Since his return from a 10-match suspension, Suarez has played 11 Premier League games and scored 17 goals. He is the top flight's leading scorer and, it would seem, a shoo-in for all the Player of the Year awards going.

He picked up one on Monday night, from the Football Supporters' Federation, a body made up of fans of all clubs across England and Wales. A figure who was so divisive not so long ago now appears to be picking up the neutral vote.

Suarez has been such an inspiration that his manager is fielding questions as to whether Liverpool can win the title.

Rodgers is cautious -- and rightly so. He may have the Premier League's player of the season to date, but his squad does not have the depth of those at Manchester City, Chelsea and Arsenal. Tottenham's implosion and Manchester United's struggles under a new manager have opened up a gap in the top four for an interloper this season, and Liverpool have made no secret of the fact that they consider themselves serious contenders for Champions League qualification.

But while Suarez is a brilliant footballer, his new contract will not propel them to the title on its own. Not when Rodgers has spent half a season trying, with limited success, to figure out a defensive combination that will stop them leaking goals at the other end. Last Sunday's 5-0 win at Spurs brought Liverpool only a second clean sheet in 13 league games. Liverpool will not start to look like champions until they can add the shutouts to their attacking mastery on a regular basis.

In the meantime, there is a visit from troubled Cardiff on Saturday lunchtime, and a win will take Rodgers' side top, at least until Arsenal face Chelsea on Monday evening.

How much difference does a contract really make?

Another reason to be cautious over the news of Suarez's contract is that he was already signed up until 2016 yet still tried to leave in the summer.

Rodgers talks much of how the striker plays for the love of the game, and of his competitive edge. There is an undoubted truth to that. Liverpool's former head of fitness Darren Burgess, who has served time in the physically unforgiving world of Australian Rules Football, once remarked that Suarez was the most intense trainer he had ever come across. Burgess once recalled making up the numbers for a training match at Liverpool, and getting some special Suarez treatment.

"He booted the hell out of me," Burgess said. "I looked angrily at him, but he just gesticulated as if to say: 'When you are on the field, you are one of us.'"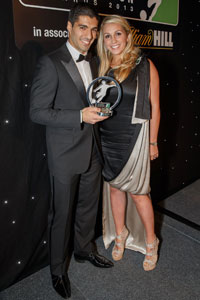 GettyImagesLuis Suarez was named Player of the Year at the Football Supporters Federation Awards this week.
Suarez does not like to lose -- it's the reason he has made it to the top and the reason he can be difficult to deal with. It is also the reason he would be unlikely to stick around if Liverpool's fortunes dipped again.

To those in the know, Suarez's wish to leave Anfield last summer was nothing to do with money and everything to do with a desire to play in the Champions League.

As it stands, his desire to grace European club football's biggest stage has every chance of being granted next season. If it is not, his new contract may be worth little more than a bargaining tool that can be used by Liverpool to jack up his transfer fee.

A chance for total redemption

Despite the doubts, Suarez, with his new deal signed, stands on the edge of great possibilities, and of completing a remarkable rehabilitation. He has stretched the support of his club and their fans to the limit during his three years at Anfield to date -- picking up lengthy bans for racially abusing Manchester United defender Patrice Evra and for biting Chelsea defender Branislav Ivanovic. He had previous, as his ban at Ajax for biting PSV Eindhoven's Otman Bakkal in 2010 showed. At times, he has made those who have backed him through the bad times look like fools.

Yet Rodgers this week said that Suarez has "matured" and he had no hesitation in handing him the captaincy at Tottenham, with Steven Gerrard injured and deputy Daniel Agger out of favour.

The message of trust from the manager could not have been more explicit. The challenge for Suarez now is to prove that he really has grown up.

If, in the process, he can end Liverpool's wait for a first league title since 1990, his place in Anfield folklore will be secured. Has Suarez really changed for the better? There is only one man who can truly answer that question -- and it isn't Rodgers.