Top Tenner: Intra-squad feuds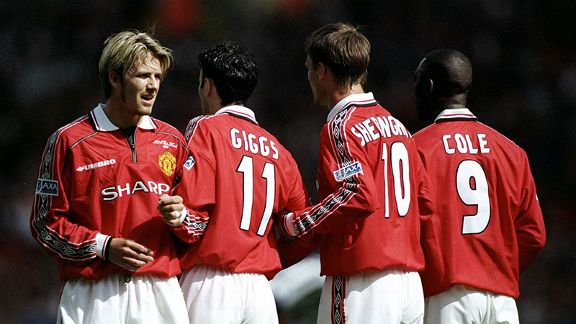 GettyImagesOn the field Teddy Sheringham and Andy Cole were part of a successful team. Off it ... that's another question.
Top Tenner takes a look back at the some of the best bust-ups that have threatened to rip a club apart.

10) Teddy Sheringham vs. Andy Cole

Team spirit is perhaps one of the most overrated elements of sport. Sure, it's probably a benefit if everyone gets on and likes each other, but on balance, it's probably better if those players are actually good at their jobs, rather than being bezzie pals. For example, Teddy Sheringham and Andy Cole were part of the 1999 Manchester United side, perhaps the greatest single-season performance in English club football history, and they couldn't stand each other.

"I would rather sit down and have a cuppa with Neil Ruddock, who broke my leg in two places in 1996, than with Teddy Sheringham, who I've pretty much detested for the past 15 years," wrote Cole in 2010. As with many feuds between footballers, it all stems from something astonishingly petty: specifically, that Sheringham didn't shake Cole's hand when the latter replaced the former in an England game in 1995.

9) Tommy Docherty vs. Laurie Brown

In much the same way as a butterfly flapping its wings in Tokyo can cause a storm in New York, this was the affair that potentially changed the course of Manchester United history. Tommy Docherty had just led Manchester United to the 1977 FA Cup final when news broke that he was leaving his wife for Mary Brown, the wife of United physio Laurie Brown. Docherty offered to resign, an offer that was turned down, only for chairman Louis Edwards to change his mind a few weeks later and sack him. Docherty sued for unfair dismissal, something he announced while sporting a black eye, given to him by the unfortunate Laurie Brown. Crowds across the country adopted a rather off-colour chant to the tune of "Knees Up Mother Brown" -- you can probably fill in the gaps on that one yourself.

8) Craig Bellamy vs. John Carver

Craig Bellamy wrote in his autobiography, about his history with Newcastle coach John Carver: "The row before the Mallorca game had started at training a few hours earlier when I parked in his space at the training ground. I was being mischievous really. A little provocative, perhaps." You? Provocative? No, stop it, Craig, we won't hear of it. This row escalated rather quickly, to the point that as the team waited for their flight at the airport, Bellamy ended up tossing a chair at (or, according to him, near) Carver. It was "quite a heavy chair," according to Carver, which brings to mind all sorts of recliners, leather armchairs and assorted furniture flying through the air in the Newcastle Airport departure lounge.

7) John Hartson vs. Eyal Berkovic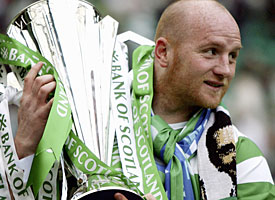 GettyImages / JeffJMitchellDespite his striking ability, John Hartson had a fiery temperament.
When players are asked about training-ground spats that make it into the public domain, they will usually dismiss it, saying something along the lines of "We have arguments every day, it's not a big deal." Well, if all training-ground disagreements end with one party booting the other in the head, the football world is even more dysfunctional than we thought.

Berkovic objected to a rather robust challenge by Hartson while both men were training at West Ham, offering a half-hearted slap at the big Welshman's legs while prone, to which Hartson responded with a full-blooded kick to the Israeli's chops. "People just thought, 'John Hartson -- that big bleeding hard nut from Swansea,'" said Hartson in 2010. "But I let myself down. The Eyal Berkovic incident really blighted my career. It's something I deeply regret."

6) Dennis Wise vs. Callum Davidson

If nothing else, you have to admire Dennis Wise's chutzpah. On a preseason tour to Finland with Leicester, some of the players were having a friendly game of cards, which rather rapidly turned into a not-so-friendly game of cards. Callum Davidson stepped in to make peace between Wise and another teammate, and all seemed well until Wise entered Davidson's room later to discuss the matter further. And for "discuss the matter further," read "punched him in the face, breaking his nose and jaw." Leicester quite reasonably sacked Wise, but, remarkably, he sued them for unfair dismissal. Even more remarkably, it briefly worked, with Leicester forced to reinstate him until an appeal upheld the original dismissal. Wise then signed for Millwall. Obviously.

5) Joey Barton vs. Ousmane Dabo

There was something pretty amusing about Smiths fan Joey Barton being quite so delighted when Marseille fans greeted him with a banner that said "Welcome sweet and tender hooligan" on it. In case you aren't a Morrissey devotee, that refers to a Smiths song with the lyrics "He was a sweet and tender hooligan/And he swore that he'd never, never do it again/And of course he won't (oh, not until the next time)." While it might have been intended (and was certainly taken) as a heartfelt tribute, it did rather sum up the sort of repeated scrapes Barton has got himself involved with down the years, followed by the round of apologies and promises that he'll never, never do it again.

You can take your pick of a few incidents from the Barton canon for this list, stubbing out a cigar in Manchester City youth-teamer Jamie Tandy's eye being a particular "highlight," but his assault on Ousmane Dabo, leaving the Frenchman with injuries like that of a loser in a heavyweight boxing fight, has to be the worst. "He says he is a man, a bad boy, but he is just a coward," said Dabo last year. "I don't want to give my truth, but the truth ... he is nasty, a traitor. Sometimes I feel people roll out the red carpet for him." To which Barton responded (on Twitter, obviously): "I see Dabo is yet to move on, I feel for him. What happened was unfortunate. Next time he should think twice about throwing his weight about."

4) Sir Alex Ferguson vs. David Beckham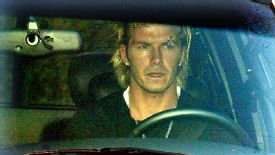 PA PhotosDavid Beckham required stitches after he was struck by a flying boot in a dressing-room incident in 2003.
A boot. An angry knight. An already-strained relationship. A cut above a handsome eye. A very carefully and deliberately sported hair band. Yes, this is the way all relationships between great managers and great players should end.

3) Brian Clough vs. Justin Fashanu

A fantastic manager he might have been, but it's easy to forget that Brian Clough could be a deeply, deeply unpleasant man as well. His relationship with Justin Fashanu, until recently the only professional footballer to come out as gay, was a case in point. It's fair to say that Clough disapproved of Fashanu's lifestyle, and he wasn't particularly coy about stating so, either. Remarkably, the following is a passage from Clough's autobiography, published in 1995, suggesting that even some 14 years later, he was perfectly happy with his treatment of Fashanu:

"I was getting phone calls telling me Fashanu was frequenting a particular club well known as a meeting place for homosexuals. That in itself didn't bother me too much -- it was his shiftiness, combined with an articulate image that impressed the impressionable, made it difficult to accept Fashanu as genuine and one of us. I called him in and put him to the test. 'Where do you go if you want a loaf of bread?' I asked him. 'A baker's, I suppose.' 'Where do you go if you want a leg of lamb?' 'A butcher's.' 'So why do you keep going to that bloody poofs' club? ... Most of the publicity surrounding Justin Fashanu since then seems to have centred on his private life. I presume he's still visiting the same places when he's in need of a loaf of bread!"

2) Johan Cruyff vs. Louis van Gaal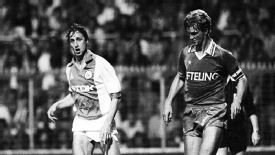 GettyImagesDutch legends, bitter rivals: Johan Cruyff, left, and Louis van Gaal, right.
Two men that should be able to stand together as Ajax legends, but who actually can't stand each other. Their feud apparently stems from an occasion when Van Gaal was Cruyff's dinner guest, and he received a phone call informing him that his sister had died. According to Van Gaal, Cruyff was upset he had left without saying thank you for his hospitality, something Cruyff denies. The spat continued for years, particularly when Van Gaal was at Barcelona, when he accused Cruyff of constantly trying to undermine him.

So when Cruyff returned to Ajax in 2010, promising to revive the club's ailing fortunes, starting with an overhaul of their formerly famous youth set-up, the last person he would choose as a general manager would be Van Gaal. Unfortunately for him, that's exactly who his fellow board members nominated for the role, and Van Gaal would have been appointed had Cruyff not blocked it, and subsequently taken his grievance to the courts. Cruyff won, and Van Gaal had to settle for the Dutch national-team job.

1) Mick McCarthy vs. Roy Keane

Look, you all know what happened. You've read the stories dozens of times. You've heard which anatomically unlikely place Roy Keane advised McCarthy to stick "it" up, whatever "it" might have been. But how could this not be Number 1? How could a country's most important player leaving their camp before the World Cup even started not be regarded as one of the great intra-squad feuds of all time? A feud that went all the way to the top -- quite literally, with Irish Taoiseach Bertie Ahern attempting to smooth things over between the pair. All to no avail, and Keane returned to Manchester to walk his dogs.

Opinion was split about who was to blame for the whole thing, and if Twitter was around then, no doubt there would have been plenty of #TeamMick and #TeamKeano business. Still, at least the incident was a boon for the arts -- a musical called "I, Keano" ran between 2005-2008 in Dublin, but, amusingly, Mario Rosenstock, who played "Keano," left the production early, during its first run.