Is football ready to move past the controversial side of Luis Suarez?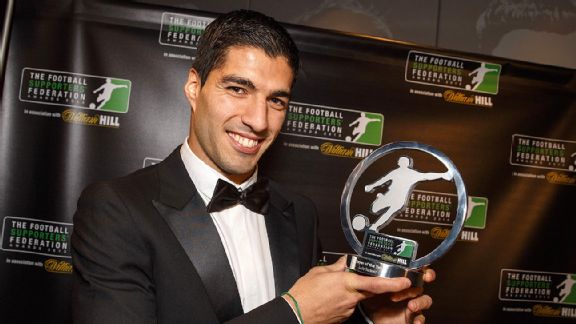 AP PhotoIn a sign of his turnaround, Luis Suarez was awarded The Football Supporters' Federation Award. However, is everyone willing to forget his past antics?
Olivia Brown has not forgotten. Or, more to the point, her father, Des, hasn't.

Olivia, you might recall, was the 10-year-old Tottenham mascot who refused to shake Luis Suarez's hand before her side faced Liverpool on Sunday. She had been egged on by her dad, who had promised her the princely sum of 20 pounds if she thumbed her nose at the Uruguayan as the two teams were introduced to each other.

Apart from the troubling evidence of Weimar Republic-style hyperinflation -- what could a 10-year-old possibly need 20 pounds for? Surely 5 pounds would have been enough? -- it is a funny little story. It was certainly taken that way. Suarez laughed, Olivia got her small fortune, Des got his message across and Liverpool's 5-0 win cost Andre Villas-Boas his job. Everyone's a winner.

Suarez was back in north London, 36 hours later, a winner again. This time he was at the Emirates -- the place he came moderately close to calling home over the course of the summer -- to be awarded the Football Supporters' Federation Player of the Year award.

It is by no means a given that players turn up for these things, by the way, and Suarez deserves credit for taking the time to return from Liverpool, along with his wife, Sofia, to attend. It may have just been a PR stunt, a ploy to win a few friends, but then there are loads who can't be bothered even to do that.

Besides, he seemed genuinely touched to have won the gong. He gave a short speech in halting, Russian-accented English (no idea why), describing how much it meant to him to win a public vote after the "difficult moments" he has had this past year.

He answered two or three questions from the evening's host, James Richardson, who teased out of him that he had hoped and prayed Uruguay would not have to play England in the World Cup. He returned to his table and finished his meal, and let it be known he would be happy to sign autographs or have his picture taken with anyone who so desired. The queue formed immediately.

What is the lesson here? Is it that we are now finally ready to assess Suarez as a footballer, rather than judging his character? Is his penitence over? Is it time -- as Martin Tyler, the Sky Sports commentator, suggested -- to put past transgressions "which he probably deeply regrets" behind him, and behind us?

Suarez, of course, will hope that it is. He is used to being talked about, the 26-year-old, but you have the sense he would prefer the old conversations to come to an end and the new one to begin.

It is much more pleasant, after all. Just where does Suarez stand in the pantheon of the modern greats? Is there a case to be made that he is the best in the world?

This is, to an extent, football's most facile debate. How can you judge whether Suarez is a better player than Manuel Neuer? By what criteria can you judge them? Was Zinedine Zidane a better footballer than Fabio Cannavaro? Or Johan Cruyff superior to Franz Beckenbauer?

The temptation is always to highlight the genius of the creator, the artist, the attacker, the man who makes the goals and scores the goals. But the dark side, stopping beauty in its tracks, requires just as much talent and is statistically more important: according to "The Numbers Game," not conceding a goal is more than twice as valuable as scoring one.

See Also:
Five Aside: Suarez scores and makes teammates better

So let's not demean ourselves by asking whether Suarez is the best player in the world. Let's ask, instead, whether he is the most in-form footballer on the planet, or whether he is -- currently -- the most effective.

The key to this one is the numbers. That is the legacy of Lionel Messi and Cristiano Ronaldo. Their prodigious individual output, their consistent ability to render all records irrelevant, has overseen a sea change in how we frame this conversation. Impressions and opinions are no longer enough. If you don't have the numbers, you're not really relevant.

Messi's and Ronaldo's numbers are frightening. The former got 91 in the 2012 calendar year; Ronaldo has 68 so far this time around. That is just the headline, too: On the way, both have shattered any number of benchmarks and bests. It is hard to remember any of their peers in the canon of greats who have scored quite so many goals, quite so reliably, for quite so long. They have shown that stars win not only games by themselves but leagues and trophies, too.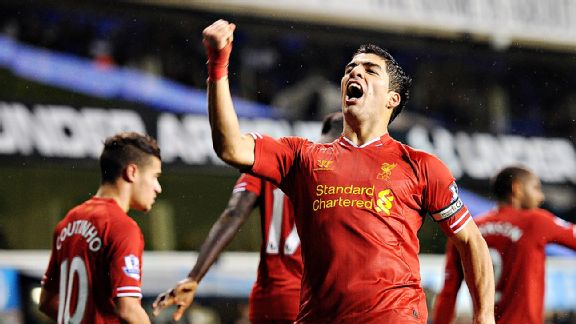 John Powell/Getty ImagesLuis Suarez is scoring at a rate that's unheard-of in the Premier League.
Suarez -- along with Zlatan Ibrahimovic and Gareth Bale -- is one of just a handful of players who can, if not quite keep pace, then certainly breathe the same air.

Ibrahimovic has 41 goals this year, Suarez 34. His long-term effectiveness, though, is necessarily hampered by the 10-game ban he received for biting Branislav Ivanovic. In the short term, his numbers are far more Messi-esque: 17 in 11 in the Premier League, well on track to become the record for the most prolific campaign in the league's short history.

If he does that -- emphasis on the if, for maintaining that level over the course of a season is rather easier said than done -- then the conversation as to where he stands in relation to Messi and Ronaldo probably could begin.

Only probably, though. Because Suarez is different. With Suarez, there is always a but.

The reason Des promised Olivia 20 pounds to snub Suarez was because he thinks "he is not the nicest character." There were plenty who were outraged by the fact he won an award from the FSF, an organisation representing fans. The fact it was won by public vote apparently made no difference.

Many cannot talk about Suarez without ending the conversation with one word: racist.

The stigma of racial abuse -- to use the Football Association's term -- still clings to Suarez. More so than the biting, it is the abuse of Patrice Evra that many find impossible to forget. They are not prepared to discuss Suarez the footballer because they cannot see past Suarez the man.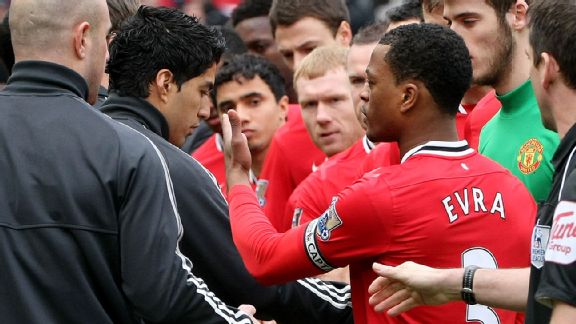 Matthew Peters/Getty ImagesLuis Suarez's racial slur to Patrice Evra paired with his refusal to shake hands in a subsequent match, cast the striker in a very negative light.
Some, like Tyler, would suggest that that is a shame, that football's moral compass has rarely been anything other than wayward, and that plenty of others who have transgressed in one way or another have been forgiven and, eventually, feted for their ability rather than scorned for their mistakes.

But that is sort of the problem. Football has a habit of letting everything go because all that matters is what you do on the field. You can do what you want to whomever you want and, as long as you score goals, we'll applaud you. This is not a particularly healthy attitude. It is certainly not one that encourages players or managers to conduct themselves in what the rest of us in civilised society would regard as a decent manner.

No, the argument that Suarez should be forgiven because he is good at what he does is nonsense. But the argument that he should be forgiven -- or at least granted a second chance -- because that is how we would all like to be treated is not.

Nobody is denying that Suarez transgressed. Nobody is arguing that he didn't deserve to be punished. At the same time, though, the question has to be asked: how long is he to be punished for? Is using racist abuse now met with a life sentence? Does using a racist term once mean you are a racist forever? Is it fair to assume he is incapable of change?

That is not how the criminal justice system works in most of the civilised world. And there is an irony that it is those who purport to be upholding liberal values who seem to be seeking the most draconian penalties.

We must assume Suarez is -- if not a changed man -- at least in the process of changing. Because what is the alternative? To assume that anyone who does anything wrong is to be forever condemned? Or is it just Suarez? Is he alone not allowed to be rehabilitated? Why? Or is it just racism? Is it once a racist, always a racist?

This is a complex, emotive subject. It is one that will vary considerably from person to person. Perhaps that, then, is the key. Not to mix that discussion -- of Suarez the man -- in with the conversation about Suarez the player. Whether you approve of the former is your own choice. If he can maintain his form over the course of the season, the debate over the latter might be comprehensively won.