Third-division side upstage mighty Bayern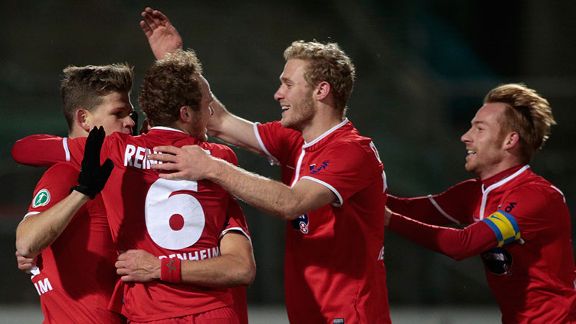 GettyImagesHeidenheim are in sight of a spot in the Bundesliga II.
It's that season again when you're being asked to vote for the team of the year. Naturally, it would be almost absurd to not go for Bayern Munich. Although you have to say that in terms of outlay and gain, Bayer Leverkusen are also strong candidates.

As are Augsburg. In fact, theirs might very well be the most amazing achievement of the past calendar year. Almost exactly 12 months ago, Augsburg were mired in a relegation spot, no fewer than 10 points behind 15th place, having won just one single league game.

Since then, Markus Weinzierl's unfancied team have played 33 Bundesliga games. They won 14 of them and collected 47 points. It feels crazy to even type this, but that is the kind of tally that could get you into Europe if you compile it over one season.

Still, there is one more candidate for the team of the year accolade I'd like to draw your attention to, mainly because I think nobody else will, as the team in question is flying under most people's radar at the moment.

To introduce the team, let's cast our collective mind back a solid eight weeks. On a sunny Saturday in mid-October, two-time East German champions and former second-division side Rot-Weiss Erfurt were playing in the 3. Liga, the third division, against Heidenheim, a club from southern Germany, based between Stuttgart and Augsburg.

Six minutes before the half-time break, Erfurt's Kevin Möhwald tried a shot at Heidenheim's goal from roughly 20 yards out. The ball was deflected by an opponent and landed at the feet of Erfurt forward Mijo Tunjic, who somehow poked it through the legs of a defender and past the goalkeeper into the path of Aykut Öztürk, his striking partner. Öztürk knocked the ball across the line to tie the game at 1-1.

As it goes without saying, it was not exactly a goal of rare beauty. It didn't even really help Erfurt's cause, because they went on to lose the game 2-1. And yet Öztürk's goal has grown in stature with each passing week. Because Heidenheim haven't conceded another one since.

Truth be told, the streak should have come to an end on the weekend, when Heidenheim were playing away at Regensburg. On the half hour, the hosts were awarded a penalty -- but goalkeeper Erol Sabanov dived to his right and kept out the meekly hit ball with ease.

A decade ago, when he was already in his mid-20s, Sabanov was linked with Eintracht Frankfurt and appeared to have a chance to belatedly break into the professional game. However, nothing came of it and he stayed in the lower divisions, finally joining Heidenheim in 2007.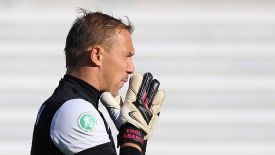 GettyImagesErol Sabanov has not conceded a goal in 682 minutes of league football.
The goalkeeper made this move for private reasons (Sabanov was born in Aalen, just 15 miles up the road), not out of sporting considerations. After all, at that time, Heidenheim were in the eight-tiered fourth division and Sabanov, at 33 years of age, was nearing the end of his career.
Or so it seemed.

But now, six often magical seasons later, Sabanov is still standing between the sticks, has not conceded a goal in 682 minutes of league football and will, barring a reversal of fortunes of biblical proportions, win promotion to the Second Bundesliga in five months at the latest.

Heidenheim now hold a nine-point lead over second-place RB Leipzig, the widely despised club bankrolled by Red Bull. They are 12 points ahead of third place, which is the play-off spot, and 14 points ahead of fourth place. And more than half of the season has already been staged.

The club's promotion from the 3. Liga will be a major coup. After all, they are not only competing against Red Bull's millions, but there are also tradition-laden teams like Duisburg, Saarbrücken and Münster in the league, or former Bundesliga clubs like Rostock, Unterhaching and Darmstadt.

Heidenheim's football team, by comparison, represents a town of only 46,000 people and never played even this high, meaning the third level, until 2009. In fact, the town is much better known for fencing than for the beautiful game (two-time Olympic gold medalist Arnd Schmitt was born here). Even Heidenheim's baseball club has had a lot more success than the footballers.

So, what is the secret behind this unlikely rise?

Some readers will stumble over the similarities between "Heidenheim" and "Hoffenheim" and suspect the presence of a wealthy benefactor. However, while money does play a role in the Heidenheim fairy tale, the club has acquired it the time-honoured way -- by asking local businessmen to become sponsors.

The city has lent considerable support, too. When Heidenheim's small, but nice football-only arena opened in 2010, one year after Dietmar Hopp had built a ground for Hoffenheim, it was mainly funded by the taxpayer and, is thus, municipally owned.

And it's not as if Heidenheim can spend money on the scale of RB Leipzig. The team's most famous player is veteran striker Michael Thurk, who played for Mainz, Cottbus, Frankfurt and Augsburg before joining Heidenheim in January last year. He was signed on a free transfer.

More typical of the squad -- in which every single player carries a German passport -- is Sabanov, the loyal goalkeeper. Defender Ingo Feistle, though no longer a regular, has been with the club since 2005, when it was still called Heidenheimer SB (in 2007, Heidenheimer SB's football division decided to leave the parent club and become independent as 1. FC Heidenheim).

Then there's 28-year-old captain Marc Schnatterer, who's in his sixth season with Heidenheim. He has had numerous offers from bigger clubs over the past couple of seasons, but has declined them all.

"Schnatti," as the fans call him, said: "I'm not one of those guys who come for only two or three years to play football and then pack their things overnight. Heidenheim has given me a lot."

He's not the only player who feels like that. The young defender Philip Heise, who joined two years ago, said: "We're almost like a band of brothers. There are no cliques within this team." A well-balanced team that is stronger on spirit than on individual class indeed seems to be the secret behind Heidenheim's consistency.

The team went into 2013 six points behind a promotion place. It then greeted the new year with four straight wins and was suddenly in contention. Only an unexpected scoreless draw on the last day of the season at home against Kickers Offenbach knocked the team out of the play-off spot.

But spirits never sagged and the team carried their good form into the new season. On Sept. 3, Heidenheim won away at Saarbrücken to climb into first place -- and that's where they still are. "Now we want to finish the year with a good result against Duisburg at home," goalkeeper Sabanov said with an eye toward the coming Saturday. "Then we would've really had a super 2013."