Spain suffers setback in World Cup qualifying
I hate to say, "I told you so," but I have to. Last week, in contending that Spain coach Vicente Del Bosque dropping Juan Mata was totally inexplicable, I pointed out in my column that "there are just enough problems for there to be a hint of vulnerability."

Moreover, I said that "this is a group in which no slip-ups will be permitted and where, should France get any kind of result, Del Bosque's men would be left with the challenge of winning every remaining group match, including the return in Paris."

Almost all the feedback I received was that I was wrong, and that's putting it politely.

I'd hazard that still fewer found any logic in the argument once Belarus were spanked 4-0 in Minsk.
But here we are after France tied Spain 1-1 on Tuesday.

The reigning world and European champions have failed to win for the first time in 25 qualification matches and, what's more, they performed in a style which is almost completely alien to them.
Want more? Well, they should have lost.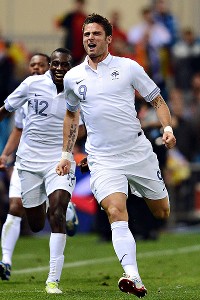 Franck Fife/Getty ImagesOlivier Giroud headed an equalizer four minutes into stoppage time to earn France a 1-1 draw with Spain in Group 9 qualifying on Tuesday.
I've got total sympathy for Spain's scorer, Sergio Ramos, when he told the press after the match, "We're left looking pretty stupid given that the game was 'over' and we had the three points in hand, but we still allowed them to equalize."

His point is fair. It's true to Spain's longtime DNA that 1-0 in an important match is more than ample and to gift two points away to Olivier Giroud's 94th-minute goal is, in the view of everyone associated with La Roja, a heinous crime.

However, having acknowledged that, the fact is that France created by far the better chances, Iker Casillas had much more serious work to do in goal, Les Bleus squandered some real goal opportunities and I, for one, remained pretty sure that there was still a chance of an equaliser when the 90th minute had come and gone. (By the way, I've a good suspicion that an honest mistake by the assistant ref cost France a goal in the first half, too.)

Let's get one thing straight, though. While I remain convinced that it was an error in many senses to leave out Mata, a reliable member of the squad who is in sparkling form, I'm not going to attribute this bad result to his absence.

The tale which does need telling is of a Spain side which, despite averaging nearly 70 percent possession, often gifted the ball away needlessly (a vice which cost the equaliser when two horrible mistakes gave France the chance to counterpunch, but more on that later). Further, the DNA of the past five exceptional years of Spain dominance includes one very important component of La Roja -- the late goal.

Recently, I wrote about the utterly remarkable habit this squad has of scoring just before halftime when the other team dozes, and in the last 10 minutes when the opposition is dragging itself around the pitch both mentally and physically. So to lose these two crucial points to a 94th-minute goal is bad enough, but for Spain to look nothing like scoring a second or third when Didier Deschamps' team had run itself ragged throughout the match is literally astonishing.

So, giving the ball away, conceding a late goal, not scoring late themselves, missing a penalty, playing without a conventional central striker until late, late in the match, not picking Mata, filling a hole in defence with a converted midfielder and abandoning Del Bosque's hugely successful "double pivot" system in order to do so ... it all adds up to a great deal of analysis and assimilation for Spain's coaching team.

Right now it's probably important to anticipate those whose attention span is short and to point out that Spain are wholly capable of going to Paris in March and producing the result they require. Moreover, if you restrict yourself to Group 9 analysis, it's fair to say that France have the tougher run-in with interesting-looking ties away in Georgia and Belarus, plus that now hugely tantalising rematch with the world champions in the Stade St Denis early next year.

However, that's not the key point.

What former coach Luis Aragones and Del Bosque have put together over the past five years is a contender for the greatest era in international football. Best ever? Don't know, don't care. But right, right up there in terms of trophies, will to win, self-reinvention, hunger, attitude, planning and, above all, football philosophy.

Given that there is also a World Cup qualifying playoff, I remain convinced that not only will these two sides reach Brazil for the next World Cup, I still believe it will be Spain in first position and France via the playoff.

So my point is that watching Spain fail to hit so many of their self-set marks has been fascinating. The key question is: Why were so many basics of the Spain philosophy either ignored or abandoned?

Why drop Mata? Why use Busquets at the back in a position where, in my humble view, he is NOT comfortable. And why, then, abandon the "double-pivot" midfield axis which has been crucial not only to Spain controlling matches but also constantly converting a single-goal lead into victory?

Part of my contention that Spain went into these two fixtures looking a little vulnerable was based on player availability and player form.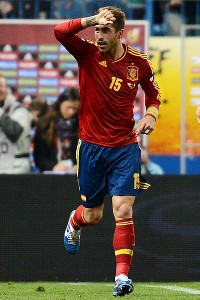 Franck Fife/AFP/Getty ImagesSergio Ramos opened the scoring for Spain.
No Gerard Pique, no Carles Puyol. That was food for thought right there.

Then the dearth of goals from strikers -- Fernando Torres no longer an automatic first choice for Del Bosque, David Villa in search of match time for club and country, Fernando Llorente absent, Mata absent and Roberto Soldado short of a goal or two. Throw in the bad luck of both David Silva and Alvaro Arbeloa having to go off injured and you get the kind of "sod's law" problem which is guaranteed to crop up when you least need it.

But this is also the time of year when, recently, Spain have either had to dig very deep to get themselves out of trouble or, worse, have been badly beaten.

Take a look for yourself. September, October and November of 2010 saw them lose 4-1 to Argentina, drop a 2-0 lead to Scotland before Llorente's late winner, then suffer a 4-0 humiliation from Portugal. In August, September and November last year, La Roja lost 2-1 in Italy, beat Chile 3-2 after having been 2-0 down, suffered a tepid 1-0 defeat to England at Wembley and then drew 2-2 in Costa Rica after falling 2-0 behind.

We ask far, far too much of our modern elite footballers -- nearly 11-month performances year after year and there will be times when even the greatest are physically and mentally vulnerable.

I must admit I liked Del Bosque's immediate remark, even in the bitter moments instantly after watching Group I domination vanish into thin air, when he pointed out that although his team had been "far too open," he also asked for France's excellent efforts to be taken into account.

He was right. Les Bleus worked like Trojans, pressing, harrying, attempting to refind position after Spain broke the lines and then haring forward in numbers as if their lives depended on it.

During Spain's dominant era only a couple of teams have really, genuinely tried to play them toe-to-toe in competitive fixtures -- Russia twice under Guus Hiddink and Italy in the Euro 2012 final. Score lines? 4-1, 3-0, 4-0.

France incrementally played open, attacking football in Madrid and avoided even the hint of that kind of mauling.

While there were tactical and technical flaws dotted across the evening, what it led to was a spectacular match. Some of the best players in the world increasingly abandoning structure and tearing at each other in the kind of end-to-end football you see in playgrounds ... and the English Premiership.

Those of you who take an interest in what I report and broadcast will know that the absolute nonsense of so-called "boring" Spain was a sore point with me, particularly in the summer. At their best, Spain do control games but always with attacking intent. This, precisely, was the kind of football the short of appreciation and the blunt of mind were yearning for when they called La Roja's style "boring" in failing to appreciate what it's like to play again and again against banked defences of 10 men.

So, what did it get Spain when they opened up and played without a double pivot, chasing after the ball like puppies with a ball of wool? Loss of control of the match, loss of control of the group and an outside (albeit distant) chance of not defending their world crown.

Sloppy it was. To have a corner with seconds remaining but not keep the ball up there and not to win another dead-ball situation was poor. But for Juanfran to try and dribble instead of passing in the breakdown which led to Ribery's lovely cross and Giroud's expert headed goal was simply against the philosophy that embodies Spain.

The blame is not his alone. After all, he'd watched senior colleagues play like that all night; he was in a team where two midfielders were playing up front (Santi Cazorla and Cesc Fabregas), another was playing at centre back (Busquets) and he, himself, is a relatively recently converted winger.

Spain remain magnificent -- in concept, depth of talent, coaching and match execution. I think that if they reach Brazil, they will be very, very strong bets to win the next World Cup, too. In fact, I believe they will win that tournament. However, a string of strange decisions and actions has left them wondering, just a little bit, how tough it is going to be to get there.

I guess the rest of the world is enjoying the moment. Vicente del Bosque and his absolutely exceptional players most definitely will not be.