AVB light fades from sight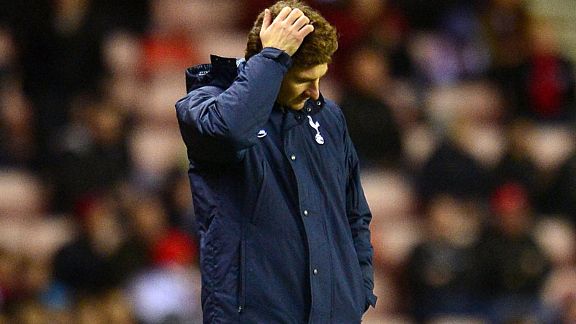 GettyImagesAndre Villas-Boas has suffered a whirlwind period in charge at Spurs.
The crestfallen shake of the head said it. As red-carded Paulinho sloped down the White Hart Lane tunnel, Andre Villas-Boas stood stock still. The usual frantic hand gestures and bellows of instruction were absent, the crouch of contemplation long gone. He knew. Liverpool had removed his remaining grains of credibility; less than 24 hours later, Spurs had removed him from his position.

A fortnight before, he had been combative with journalists. This time he was cordial with his tormentors. There was no point in continuing the facade. Villas-Boas will have known that his team's performance had allowed him no avenue of defence or attack.

The one-time ingenue is surely finished in English football after 30 whirlwind months, and at just 36. Porto's bright young thing announced himself with a treble in 2011, but has attracted trouble ever since. The signs on Sunday were of a team unable -- and possibly unwilling -- to follow his lead. Spurs were clueless, shapeless, feckless. Their performance rendered their manager defenceless.

He failed to reach his objectives last season and there seemed little sign of him achieving them this season, either. A lack of public support for him has been deafening.

On Sunday, March 3, Spurs fans had reasons to believe; Arsenal had been beaten in the North London derby and were being looked down on. A Champions League place was within Tottenham's grasp.

"We are on an upward spiral in terms of confidence and they are in a negative spiral in terms of results -- and to be out of that negative spiral is extremely difficult," said Villas-Boas. His words were prophetic of his own eventual downfall. That began a week later at Anfield, in an error-strewn defeat to Liverpool.

The month of Sundays continued with a catastrophe against Fulham. Villas-Boas and his team eventually missed their target of fourth, and would have to enter the next season without Gareth Bale. Villas-Boas and Bale had been close. Like Falcao at Porto and John Terry at Chelsea, the leading man was indulged. The Europa League, a tournament he targeted after winning with Porto, proved a drain, and that was lost in a disastrous defeat at Basel. Too many fronts, nothing to show for any of them.

Franco Baldini's arrival as director of football in the summer was rubber-stamped by Villas-Boas, but the Italian is believed to have swiftly lost faith in the manager. On Sunday, Villas-Boas checked himself when asked who had brought in the 110 million-pound haul of players. It still implied that he was not himself responsible for a group that rendered him a Frankenstein squad, laden with midfielders but lacking in attacking talent.

Erik Lamela is the club's most expensive signing, yet has seemingly been given the treatment of a close-season snip from Colchester. One observer recently caught sight of him on the subs bench looking into space, utterly disinterested in the game going on ahead of him. If Lamela was Baldini's signing (and he came from Roma, the Italian's previous club), then Villas-Boas has not bedded him into the squad. Responsibility for that failing must be shared, but the manager carries the can. There were problems far beyond that issue.

The limp final stand was rich in the gobbledygook that Villas-Boas peddles to the press. This was the second "expressive scoreline" that he had suffered. It was an "expressive result" for Liverpool. Villas-Boas speaks English fluently -- his grandmother is from Cheadle on the edge of the Manchester sprawl -- but he expresses himself like a Babelfish translation of Portuguese business-speak.

In the earthy surroundings of a training ground, it is always likely that such linguistic quirks will not easily translate to team spirit and tactical understanding. Tottenham's disjointed play all season has been illustrative of such a theory. Inverted wingers frequently run into traffic, Roberto Soldado has looked lonesome without service. Meanwhile, Englishmen like Michael Dawson and Kyle Walker have suffered distinct drops in form.

Villas-Boas' fall at Chelsea was painted with him as the victim of a club riven by in-fighting. Tottenham is not such a club, yet Villas-Boas suffered similar problems. The idea of him as junior Jose Mourinho is now a wholly inappropriate comparison. Mourinho is a man-manager who matches that with a fearless ability to switch his teams around when a match is going against him. Villas-Boas, his gruff tones swamped in technical discourse, is neither of those. The two defeats that signed his P45 for him -- 6-0 at Manchester City, 5-0 to Liverpool -- can be paired as two matches in which an early setback was not responded to.

He arrived in England as hot property, but his arrival from Porto seemed premature at the time. Villas-Boas departs English football as much a stranger as he arrived. He eventually made himself unwelcome.