Onyewu happy to wait for his day in the sun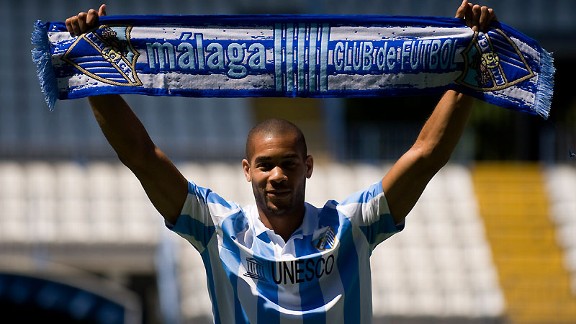 GettyImagesOguchi Onyewu: Joined Malaga on loan in August
He's moved around Europe with such frequency that Oguchi Onyewu admitted, light heartedly: "I don't know how many countries I've been in."

Let us fill you in, 'Gooch. It's seven.

But he has good taste.

When the imposing central defender joined Malaga on loan in the summer, he completed the impressive feat of signing for teams in the continent's three powerhouse leagues - England's Premier League, Spain's La Liga and Italy's Serie A. Having begun his career with Metz in France's Ligue 1, the only major division missing from Onyewu's resume is Germany's Bundesliga. He still has time.

Far from being weighed down by the constant uprooting, the philosophical Onyewu continues to enjoy his Phileas Fogg like existence. His glass, perhaps of sangria, is half full.

"I have a very open personality," Onyewu, 30, said in a telephone interview. "I don't have tunnel vision in any sense. I think that any kind of transition in life can only help you grow. And I feel thankful and blessed that there have been such a number of coaches in different countries who have deemed me fit to be able to play in their style."

Manuel Pellegrini, the vastly experienced Chilean at the helm during Villarreal's halcyon days and at Real Madrid prior to Jose Mourinho's reign, is the latest.

As the US international would admit, though, early last spring he couldn't have anticipated a shift. He established himself as a regular at another Iberian side, Sporting Lisbon, and the fans quickly took to him. Onyewu's aerial ability was a welcomed presence in Sporting's box, and he even contributed four goals. Sporting, one of three giants in Portuguese football, reached the Europa League semi-finals.

"Onyewu was a big name for the defense," Nuno Raposo, who covers Sporting for A Bola, a sports daily in Portugal, said in a telephone interview. "They expected him to be important, and in the end he was important. He had a good season. The supporters liked him very much."

The feeling was mutual. When Onyewu departed for Malaga, about 300 miles southeast of Lisbon, he used Twitter to send a message. "Your confidence in me will not be forgotten regardless of where I go in my career," part of it said.

A knee injury, this time to the right knee, kept Onyewu on the sidelines for two months nearing end of the season. Surgery was a success, and Onyewu said the operation had nothing to do with manager Ricardo Sa Pinto and Sporting deciding to let him go.

Raposo offered no definite reason, and Onyewu's assertion that the club simply wanted to go in a "different direction" was backed up by Sporting's immense dealings in the summer. More than a dozen players were sold, sent on loan or given free transfers, including Onyewu, Portugal right-back Joao Pereira and attacking Chilean midfielder Matias Fernandez.

Central defenders Khalid Boulahrouz, the experienced Dutch international, and Marcos Rojo, an Argentinean international, arrived, and Brazilian Xandao, who reportedly drew interest from Lazio, remained with Sporting on loan. Sporting was reluctant to part with the versatile Daniel Carrico since the former Portuguese under-21 international was a product of the youth system, said Raposo.

Sa Pinto ultimately didn't last much longer than Onyewu. He was fired this month after Sporting, already stuttering domestically, fell 3-0 to Hungary's Videoton in the Europa League.

"It was obvious the directors and the coaching staff alike came to a consensus that they were going to look for other options than me," Onyewu said. "That was to my surprise."

The search for a new club was on. Teams from Spain, Germany, England and Belgium "showed interest," according to Onyewu, and no, he wasn't particularly itching to return to the Premier League to overturn a difficult loan spell at Newcastle.

"If people want to get hung up on when I was there, when I was 24, that's their ignorance," Onyewu said. "I've grown and matured. I took my time and fortunately landed in a good situation with a good club."

Onyewu, yes, considers Malaga a good club. Thought to be a potential challenger to Real Madrid and Barcelona when it was bought by a Qatari sheikh in June 2010, a Middle Eastern owner hasn't, in this case, led to sustained joy.

Euphoria came in the wake of spending about €60 million ($78 million) in the summer of 2011. Reality struck last season when four players, among them Spanish international Santi Cazorla and Dutchman Ruud van Nistelrooy, claimed they weren't paid, and other teams said they hadn't been paid transfer fees by Malaga. Despite the upheaval, Malaga managed to finish fourth and earn a spot in Champions League qualifying.

Cazorla, central defender Joris Mathijsen and forward Jose Salomon Rondon have since left, and van Nistelrooy retired. This summer's imports came courtesy of loans or free transfers.

"From the outside everyone heard about financial issues with the club," Onyewu said. "I really can't comment on those issues because I wasn't present when it was happening. When I came everything was fine, and I was assured there were no more issues in that sense. Since I've been here it's been smooth sailing.

"In regards to new players, I think we've acclimated very well. One of the strengths of this team is that we have a really good group of guys and we get along. We have a good time and the results have followed."

Malaga has lost once in all competitions, October 7 to Atletico Madrid, and has surrendered a league low four goals. For now, it sits third, five points behind Barcelona and three ahead of Real Madrid.

If only Onyewu, whose knowledge of Portuguese and French has diminished communication barriers, could get involved. He has yet to make an appearance.

Not playing yet has been hard, but nothing like the time a more serious knee injury marred his stay with AC Milan or when Onyewu first began his European sojourn with Metz 10 years ago. The latter, not the former, Onyewu says, was the toughest period of his career.

"I know I'll get my opportunity and I've spoken to the coach, and it's inevitable for it to happen," Onyewu said. "When it does it's for me to lose and for me to grab with two hands. And obviously now I have no (basis) to say anything; the team has been playing great."

How special would it be for Onyewu to line up at the San Siro on November 6 when Malaga visits Milan in the Champions League?

Becoming a regular would help him reclaim a spot with the national team, too. Once a mainstay, Onyewu hasn't been a member of the squad since June and missed the historic 1-0 win in Mexico in August. Last week manager Jurgen Klinsmann omitted Onyewu for World Cup qualifiers against Antigua & Barbuda and Guatemala.

"Jurgen doesn't need to call me (when he makes) his decisions," Onyewu said. "He's the coach and he has his reasoning, which is fine. I'm actually more focused on getting my spot here, and after that, everything else will fall into place."

Spoken like a worldly veteran, wouldn't you say?