Top Tenner: Goal Droughts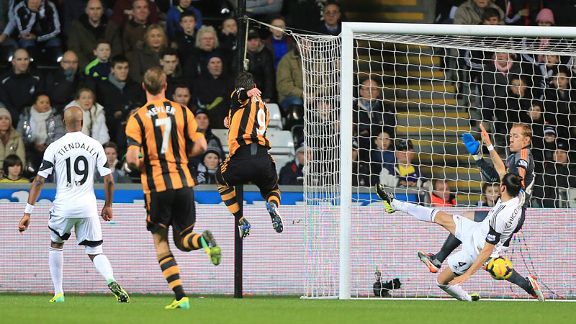 PA PhotosDanny Graham ended his drought with a strike versus his former club Swansea this week.
10 -- Des Walker
Centre-backs usually get their goals from corners, unless they're some free-kick maestro like Ronald Koeman. Of course, that would require them to actually go up for corners, but Des Walker didn't bother with that. So concerned was he with defending that the only time Forest fans could recall him advancing forward was to mark Niall Quinn, helping out in defence for Manchester City. Then, one misty New Year's Day, in an astoundingly tedious game against Luton, Walker loped forward for reasons passing understanding and lashed a shot into the top corner, some 300 games after making his debut. He never scored another in the following 360 games of his career.

9 -- Chris Sutton
When Chelsea bought Chris Sutton from Blackburn in 1999, they shelled out 10 million pounds. Let that figure just swish around in your brain for a little while. This was after a season in which Sutton had scored just three times, his campaign wrecked by a series of injuries, and one which ended with Blackburn's relegation. Most people might have told you that it wasn't a hugely wise investment at the time, so this isn't smug 20/20 hindsight. And that hindsight has pretty good reason to be smug, since it took Sutton eight league games to score his first goal for Chelsea, and ... that was it. Nada. Nowt. Nothing more. They shipped him off to Celtic at the end of the season, at a remarkably modest loss of just 4 million pounds.

8 -- Garry Birtles
In the 1980s, Nottingham Forest had a handy knack of selling players to Manchester United for big money, where they would flounder, stay for a year or two then be quietly shipped off or sold back. Peter Davenport and Neil Webb were two such examples, but Garry Birtles was perhaps the worst. Part of Forest's double European Cup-winning side, United spent 1.25 million pounds on Birtles in 1980, only for him to embark on a heroic goal drought, going nearly a full year without league tally. He was sold back to Forest for 300,000 pounds a couple of years later.

7 -- Ade Akinbiyi
Leicester thought they had a foolproof plan. Back when Emile Heskey wasn't quite regarded as a national joke, Liverpool paid 11 million pounds for him, so the Foxes needed a replacement. Akinbiyi, who the season before had been purchased by Wolves to fill the boots of their own departed hero, Robbie Keane, was recruited for the princely sum of 5.5 million pounds. Including him on this list is cheating a little bit, because his goal droughts in 2000-01 weren't actually that bad. Nine games here, eight games there, but it was the sheer power of his ineptitude that shone through, as some kindly soul has compiled here. Akinbiyi of course famously broke one of those droughts with a goal against Sunderland, and celebrated like Bruce Banner midway through transformation. Not that it did Leicester any good -- they were relegated by 12 points the following season, and some magician somehow got half their money back from Crystal Palace for Akinbiyi.

6 -- Coventry City (1919-20) and Hartlepool (1992-93)
It isn't just players that can have barren spells. Sharing the rather dubious record of going the most consecutive games without scoring in the English leagues are Coventry and Hartlepool, who each went 11 games without finding the net in 1919 and 1992, respectively. That Coventry side lost their first nine games of the 1919-20 season, but at least managed to score in a couple, before their goalless run commenced. And you know when they snapped the streak? In a 3-2 win over Stoke, their first of the season, on Dec. 25, 1919. A Christmas miracle! Remarkably, they avoided relegation that season by two points.

5 -- Fernando Torres
Imagine you're stressed at work. There's loads to do, you're the only one who seems to be doing it, your boss is a megalomaniac, the printer's broken and Jonty in sales has just barked to the whole office that he "smashed" the presentation. All of it's enough to make a person not do his job terribly well. Now imagine all of those stresses with 40,000 people watching you every week, after your boss has just paid 50 million pounds for you. There's a reason footballers are paid so much money, and this is one of them, but for nearly four months in 2011, Fernando Torres looked dead behind the eyes. Liverpool fans will be quick to tell you that his form was already going south before they palmed him off on Chelsea, but those four months, 13 games and 730 minutes before he finally bagged one against West Ham (nearly being tackled by a puddle in the process) were painful.

4 -- Andy Carroll
And then there was the other half of that genius transfer. Really, Liverpool and Chelsea might have been better off chucking 85 million pounds into a big metal dustbin and setting it on fire. At least they would have been warm. Carroll not only went three months without scoring for his new club, but delayed his debut by falling off a bar stool after a particularly enthusiast bender. When he eventually did get on the pitch, he took 11 games to score, finally bagging a couple against Manchester City, although he did manage to score once for England in the middle there. That didn't exactly open the floodgates, as Carroll just three goals before the following April. But at least he justified his fee after that, eh?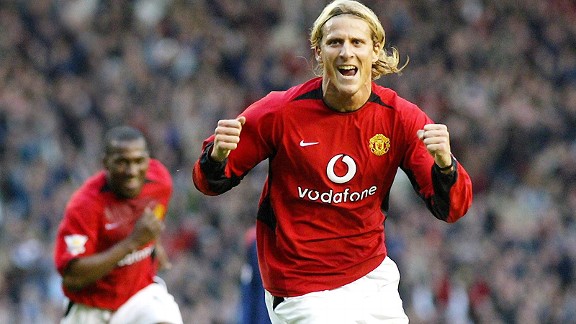 PA PhotosDiego Forlan: Remembered for his goals in some parts of the globe, and his drought elsewhere.
3 -- Diego Forlan
If you stopped watching football in 2004, then for some reason tuned back in for the 2010 UEFA Cup final, you'd wonder what the hell had happened in the intervening years to turn Diego Forlan from a punch line to the man who scored both goals in the European final. Forlan looked like he was going to Middlesbrough when he left Independiente in 2002, but they were gazumped by United at the last minute. "The thing is, they offered more money than Middlesbrough," he explained, rather honestly. Nine months and 22 Premier League games later, he was still waiting for his first goal (although he did have one in the Champions League -- a penalty against Maccabi Haifa), before finally popping up with an equaliser against Aston Villa.

2 -- John Jensen
As Arsenal fans watched Euro '92, they must have nodded appreciatively as John Jensen not only won the tournament with Denmark, but scored a belting goal to give them the lead over Germany in the final. It seemed they had a goal-scoring midfielder to replace David Rocastle, just sold to Leeds, on their hands. Ninety-eight games later, they were still waiting for that goal-scoring midfielder, before Jensen finally broke his duck, curling in a beauty against QPR. They made T-shirts to commemorate the occasion.

1 -- Frank Womack
Full-backs aren't on the pitch to score goals. Particularly full-backs back in the first quarter of the 20th century, when their job was to stay firmly in their own half and watch as the 32 goals each game averaged fly in, and possibly try to prevent the 33rd. Still, you would have thought that if someone had played more than 500 games, he would at least score a goal or two by accident. Not Frank Womack, who is believed to be the outfield player with the longest scoring drought in English football. Some 511 games, mostly for Birmingham, without a single league goal. That's ... that's almost impressive.