Irish fall-out opens Trap door
To the outside observer, a certain confusion at how exactly things have got so ugly between Ireland and manager Giovanni Trapattoni is understandable.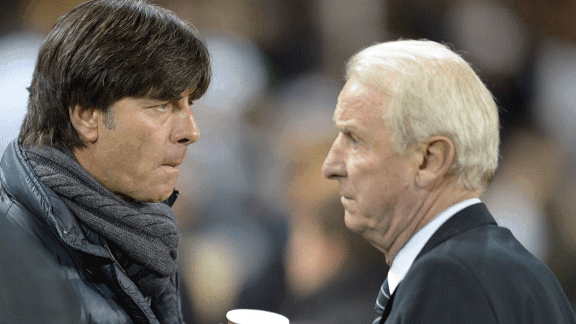 GettyImagesOut with the old, in with the new: Giovanni Trapattoni is hanging on to his job, while Joachim Low continues to thrive


On the surface, after all, we're talking about a mid-tier football country with no real history of achievement. Since Roy Keane retired, it's even doubtful whether Ireland have had a player approaching anything like world-class.

By contrast, Trapattoni has often surpassed world-class. One of the greatest managers the game has ever seen, he only added to his lengthy list of achievements by making history with Ireland: a first qualification in 10 years and only the fifth ever. So far, so good.

The only problem is that, since the very moment Ireland touched down in Poland in June, Trapattoni has been making history of a very different kind. His last five competitive games have produced the worst ever performance by any team in the European Championships as well as a record competitive home defeat, the most recent 6-1 reverse to Germany.

In the fourth of those games, meanwhile, Kazakhstan came painfully close to becoming the lowest ranked side to ever beat the Irish.
It says a lot that, just four months after Trapattoni was talking about a real surprise at the Euros and even replicating Greece 2004, the general talk around Ireland right now is of a very different kind of surprise with many backing the Faroe Islands to take points off the team. One of the most defensively resolute sides in the build-up to Poland have become something resembling a rabble. The scale of the turnaround has been remarkable. And this, really, is the ultimate root of all the ugliness.

As the trepidation around the Irish team grows, it isn't the fact that they have lost to teams as exceptional as Spain, Italy and Germany. It is, as even John O'Shea admitted on Friday night after the utter humiliation at the feet of Jogi Loew's team, the way in which they lost those games. Given some of the bizarre approaches and decisions – not least playing long-ball football against a team as lowly as Kazakhstan or failing to fill the midfield with bodies against Spain – it's hard not to think Trapattoni is now avidly decreasing their chances of getting results in such games; the ultimate failure of any manager.

Worse, this also goes a lot deeper than defensive football. It's how Trapattoni has treated players. The number of those he has alienated is into double figures. Worse, the majority of those that are still in the squad no longer believe in him. With almost every day that the team is together, a new story comes out, with the latest being Darron Gibson's withdrawal, James McClean's angry tweet and Stephen Kelly's row with assistant manager Marco Tardelli on Sunday.

There are a few important points out of this.

First of all, the stories are now simply too plentiful for blame to put at the feet of the players. Instead, there's one common denominator in every story: Trapattoni intransigence. Secondly, that's obviously not ideal in a football country with such a limited pool as Ireland. Thirdly, though, it's worth pointing out that all three of those players mentioned above appear in the Premier League.

Because, as small as Ireland is, it's a wrong to simply write them off as a country that should just be grateful to be graced by the presence of a manager as previously successful as Trapattoni. The Italian has at his disposal a number of players who regularly appear in one of the two best leagues in the world, in England, as well as a squad as a whole that is at least the equal of frequent qualifiers like Greece and Slovenia.

Trapattoni, however, refuses to believe that there is enough tactical or technical quality in the team to play anything far beyond the most reductive and rigid 4-4-2 long-ball approach. Worse, he often says so in public; not exactly doing much for the players.
A common refrain of Trapattoni is that Ireland don't have a "Leo Messi or Cristiano Ronaldo". Of course, you don't need a Messi or Ronaldo to beat the Faroe Islands.

The very fact that is open to question illustrates how ugly things have really got. On Friday, after the evisceration against the Germans, a visibly angry Trapattoni said that he certainly wouldn't be resigning if his team failed to beat the Faroes and arrogantly told journalists that "they know nothing about international football".

All of that, however, may well be taken out of Trapattoni's hands. On Monday morning, the Irish Independent reported that the Football Association of Ireland are on the verge of sacking him and, after so many recent humiliations, a win in the Faroes won't make any difference.

Either way, the problems are that deep in the squad. Something is now fundamentally broken. The solidity that was previously there has gone. After four and a half years, it's possible that it's just the natural end of a cycle; that same message simply can't have the same effect. The majority of other European nations, after all, routinely change managers after the two-year cycles of qualification campaigns are completed – even after successful tournaments.

Ireland, of course, didn't enjoy the latter. And the fall-out is still being felt.