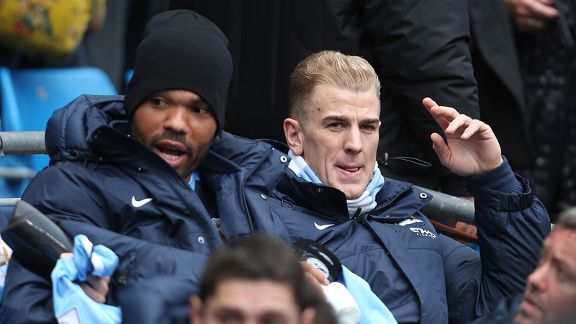 PA PhotosEnglish players such as Joleon Lescott and Joe Hart have been marginalised at Man City.
"I was very proud so many of them were picked for the England squad. It has happened in Italy with Juventus before, but I think it is unusual here in England. To have six City players is something everybody at the club, myself included, is very proud of.

"I believe it is important we have the English mentality. I want the core of the squad to be Englishmen, and we have signed English players, despite what sometimes gets said by the media. I had to smile when some people said we were not helping the England cause by signing players from other countries" -- Roberto Mancini, Sept. 11, 2010.

Four days earlier, Joe Hart, Joleon Lescott, James Milner and Gareth Barry were selected to start in Switzerland by another Italian, Fabio Capello. He then brought Adam Johnson and Shaun Wright-Phillips off the bench in a 3-1 victory. Only twice has an England team featured more players from the same club: the record seven from Arsenal who began 1934's "Battle of Highbury" against Italy, and a septet of Manchester United players who figured at some stage of the 2001 win over Albania.

And three years after Mancini championed the locals, there is a stark role reversal. It is no longer a question of how many City players there are in the national side, but of how few Englishmen line up at the Etihad Stadium. The likelihood is that none will start on Saturday against an Arsenal side who have rediscovered their fondness for the natives. Manuel Pellegrini was already favouring an outfield comprised only of imports before Hart made one mistake too many for the Chilean's liking and Costel Pantilimon was promoted. If the sense is that Hart may earn a reprieve should the Romanian err, the prognosis for some of his countrymen is bleaker.

Wright-Phillips and Johnson were sold by Mancini and the latter's replacement, Scott Sinclair, surely will not play for City again. Meanwhile, Lescott has been relegated to the status of fourth-choice centre-back. He is in the final year of his contract and an extension is improbable in the extreme. Micah Richards was the regular right-back for much of the title-winning campaign of 2011-12, but the combination of his injuries and Pablo Zabaleta's excellence means he spends much of his time on the bench now. City's longest-serving player is a popular figure around the club, and a new deal is on the table. Richards may reluctantly decline it if he feels he needs first-team football elsewhere.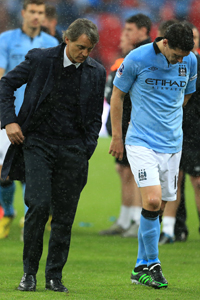 PA PhotosGareth Barry was loaned out by Manchester City following the departure of Roberto Mancini as manager.
Mancini was an admirer of Jack Rodwell; as he is invariably hamstrung, it is harder to ascertain if Pellegrini shares that view, but Javi Garcia appears ahead of him in the midfield pecking order and, when pressed about the former Evertonian, his answers have been rather vague. Milner was the surprise scourge of Bayern Munich on Tuesday and displaced Samir Nasri in the strongest side for some of last season, yet appears only fourth in line for a spot on the flanks.

Only Pablo Zabaleta and Matija Nastasic were in finer form for City last season than Milner, when Barry was also among their better performers. The past, however, counts for little under the new regime. Barry was unceremoniously exiled to Everton, with the manager's mind seemingly made up before he arrived and Garcia preferred.

The Spaniard, of course, is known to Pellegrini from their time in La Liga, and it is legitimate to wonder if the Chilean's unfamiliarity with English football extends to lack of awareness about certain English players. The underused Richards and Milner are versatile enough to have played in the middle of defence and midfield, respectively, for significant portions of their careers but have been pigeonholed as wide men. Ignorance may mean they have been ignored.

Yet if the locals are marginalised, the feeling is that questions about their plight irritate the manager. Pellegrini is adamant he doesn't judge players by their passports and, from the first, has stressed he is a meritocrat. Perhaps the lack of English footballers at a club owned by a sheikh from Abu Dhabi and managed by a South American is a parochial concern. Certainly when City overwhelmed Tottenham 6-0, there were few complaints about the absence of Englishmen from the starting 11. The outfield 10 who demolished Manchester United 4-1 were all entirely foreign, too, and barring the emergence of English equivalents of Sergio Aguero, Alvaro Negredo, Yaya Toure, Vincent Kompany, David Silva and Nasri, it is unarguable that imports should comprise the majority of the team.

Yet if Pellegrini sees out his three-year contract, it is possible to imagine a squad, minus Richards, Lescott and, should a new goalkeeper be signed, Hart and packed full of Spaniards and South Americans. Again the question can be posed: Does it matter? Mancini might say it does. He, Carlo Ancelotti and Jose Mourinho are three foreign managers who have won the Premier League title while valuing a homegrown core.

The fourth has been more ambivalent. Arsene Wenger's early success was built on his British back four, but, after Ashley Cole's 2006 departure, all-foreign Arsenal sides were familiar sights. Now, however, he has a generation of young Brits, spearheaded by Aaron Ramsey but including five Englishmen -- Theo Walcott, Jack Wilshere, Alex Oxlade-Chamberlain, Kieran Gibbs and Carl Jenkinson -- who have all signed long-term contracts in the past 12 months. There is an English heart at the Emirates Stadium again. For better or worse, there might not be one at the Etihad for much longer.