Is experience key in the Premier League title race?
Jose Mourinho is fully sure. Winning a title doesn't ultimately come down to quality but conviction.

"To play when you have no pressure, to play when you want to finish third, fourth, fifth -- that's easy," the Chelsea manager said last week. "To play with pressure and responsibility to try and win the title is more difficult."

That theme of the "responsibility" required to lift a league trophy, and grasping the nettle in the games that really matter, is one Mourinho has been warming to of late. He has mentioned it several times in the past few weeks, and made a particular point of it after his side's resolute 3-1 comeback against Southampton.

- WhoScored: Defensive improvement needed for Blues

That may well be just the first mind game of this developing title race, given that Chelsea don't seem to have the ultimate quality of Manchester City or the form of Arsenal, and it no doubt suits the Portuguese to send out a few ripples regarding the one advantage he enjoys above almost everyone else.

Mourinho is one of only two managers in the division, along with Arsene Wenger, to know what it takes to win a title. He is one of the few who can speak with any authority on what it takes.

That knowledge could yet be powerful given that, otherwise, this is a season of so many unknowns.

It is a feeling only deepened by the fact there hasn't yet been a single round of fixtures when all of the top sides have won. That unpredictability continues to make it all feel so open, as if there is very little you can really place all that much value in to stay the course.

It was telling that, after Arsenal drew with Everton and thereby failed to win at home for the first time since the opening day, Wenger was still asked by some whether he was capable of a challenge right until the end.

That may be unfair, but it is also conversely one of the few inevitabilities of this campaign. Unlike virtually any season for the last two decades, there is no lasting truth to fall back on. We no longer know an Alex Ferguson Manchester United are primed to maximise anyone else's mistakes. The Scot previously set the baseline, but now it is wavering all over the place. It still feels as if anything is possible.

That is undeniably refreshing after so many seasons in which revenue conditioned the final table, even if it feels much longer than 32 years since the other extreme: Aston Villa winning the 1981 league despite losing seven of their last 10 games.

This campaign figures to be somewhere in between, as reflected by the character of the competitors.

With every challenger, there are positives and negatives. It remains extremely difficult to know which will be more exacting.

Chelsea, for example, have Mourinho's winning experience and mentality but also an imbalanced squad. Their structural flaws have seemed to allow a different problem to arise every two weeks, from attack through the centre to the backline.

Manchester City, by contrast, possess a group that have won the league together as well as the potential for the highest-quality football -- but also a capacity for the most calamitous dips and a manager in Manuel Pellegrini who hasn't yet won a European title race.

A lack of trophies is not the only question David Moyes faces. His United squad may have 80 league medals among them but also a 13-point gap to overcome. It is difficult not to think they should forget the league this year.

Memory, however, may yet be Arsenal's main problem. Although they have the squad balance, the form, and the lead, they do not have any recent experience of making the most of those attributes. Wenger has not stayed in a title race past Easter Sunday since the Invincible season of 2003-04.

Not one club has that knowledge running through the team and coaching staff; a knowledge Gary Neville recently argued can bring the necessary composure and thereby concentration at testing times.

"You had the experience to navigate the landscape of a title-winning season. It was like being a 5,000-meter runner who has four laps to go but is running comfortably and knows he is the quickest finisher in the pack; you might not be over the finish line, but you're still in control of the race and understand the destiny is set."

Not one club offers that feeling of fate at the moment either.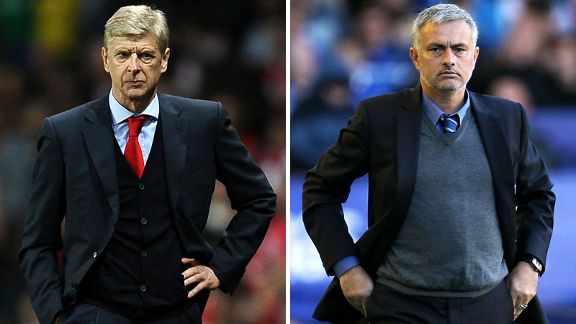 PA PhotosArsene Wenger and Jose Mourinho are playing to their strengths in an open title race.
Arsenal's 1-1 draw with Everton was arguably a case in point, a reminder of how much the club have forgotten as regards what is required. With both City and Chelsea slipping up the day before, Wenger's side had the opportunity to go seven points clear; to really take charge; to stand on the neck of their competitors. They squandered it.

Compare it to a relatively similar situation last season, when Roberto Mancini's City lost to Southampton and Ferguson's United had the opportunity to fully pull clear against the same club in Everton. They took it.

This is not to say that Arsenal will not win the title as a consequence of dropped points like that, but it could be a concern if anyone else develops that necessary durability. Mourinho insists it is possible to instill it in a squad, as he did in 2004-05 with a Chelsea group that had never won it before either. Didier Drogba had never even lifted a trophy, but the Portuguese brought something else up in him.

"I gave Didier as an example," Mourinho said last week. "When I put real pressure on him, the animal was always coming from the dark ... when I put real pressure on him, I knew the answer was coming.

"It's a process. It's not something you do with a click, but I want them to feel like I feel. In my career, I've only finished first or second. If I'm not there, I'm not comfortable."

That is the other issue. Mourinho is possibly the closest to a sure thing in football since Ferguson.

If he can transmit that to a relatively transitional squad, it can make a difference. If not, this could be one of those campaigns where pure football quality outweighs conviction or where there are a quantity of twists.

For the moment, it's hard to be sure.