It takes more than a name change to build a global brand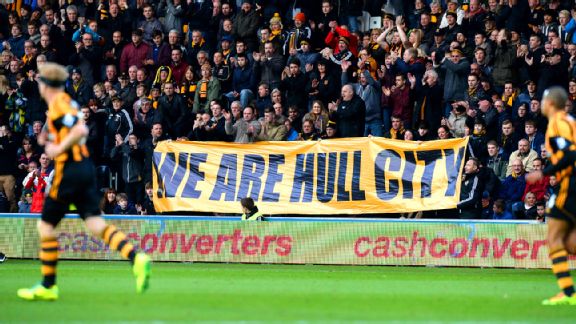 Tony Marshall/Getty ImagesAfter Hull City's owner suggested a brand change to Hull Tigers, the club's fans made their discontent well known.
Before reading this article, please complete this brief questionnaire.

Question 1: Do you like football?

Question 2: Do you happen to live in a country that is not a small island slightly to the north of France?

If you answered yes to both questions, then there is sad news to impart. It is hard even to say it. It's probably best if you sit down. Would you like a cup of tea? Probably not, seeing as you don't live in Britain. Right. Here we go.

Ready?

OK. Well, the thing is, Assem Allam -- owner of Hull City -- seems to think all he has to do to get you to give up the football team you currently support and follow his side is remove the word "City" at the end of their name and replace it with the word "Tigers."

Assem Allam, it seems, believes you will fall for that most transparent of marketing ploys.

He thinks you're the sort of person who will see the name Hull Tigers and think: "I like tigers. They are sleek jungle predators. I will support this team, because of my love of tigers." It is the sort of logic you might apply to dealing with a 4-year-old. But you are an adult.

He is not alone. Vincent Tan, owner of Cardiff City, seems to share his opinion. Judging by his decision to change the colour of Cardiff's shirts from blue to red on grounds of superstition, he evidently does not credit you with being a discerning consumer, capable of making an informed decision based on who plays the best football, or has the most success, or a team full of superstars. He thinks you make choices based on what colours you like, nothing more sophisticated than that.

These are just the most recent examples, the most craven, but whoever you support -- and wherever you live, but especially in an area the Premier League considers a target in its endless quest for expansion -- there is abundant evidence that the club you support does not give you a vast deal of credit.

Everton, for example, changed their badge because they felt the Latin motto was too complex. They thought people might just like a nice picture of a tower. Arsenal, similarly, have simplified their badge -- no more Latin, no more antique heavy artillery, no coat of arms -- so that it looks like a nice, friendly manga cannon.

It's not just badges. Liverpool changed the type of red in their kit a couple of years ago -- to a more sun-kissed colour -- because they were concerned that the old red would put people off wearing it. That sounds a little like they think you're quite shallow, doesn't it?

Indeed, it could be said that much of the relentless drive for marketing revenue that has so obsessed football for so long is predicated on a relatively low opinion of how fans work and who they are.

To an extent, it's your own fault. It's all of our faults, in fact, because that's kind of what being a fan is. It is wilfully surrendering your right to be treated as a consumer, capable of taste and discernment, and deciding to approach this one aspect of your life with the emotional, not the rational, side of your brain.

You might be the wisest person imaginable in the rest of your existence, but it is a fair bet that if you actively support one football club, you are not deploying the full range of your awesome mental arsenal. You are allowing yourself to be subject to bias and prejudice. You are permitting yourself to be fooled and, to some extent, financially exploited.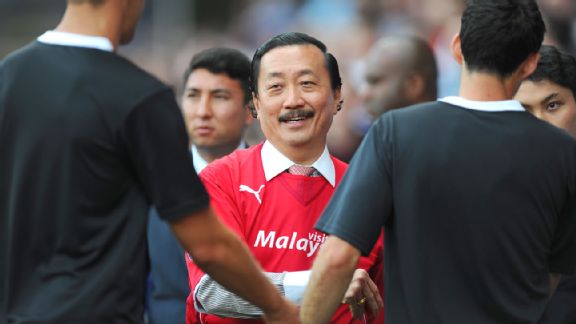 Stu Forster/Getty ImagesCardiff City owner Vincent Tan hasn't won any popularity since changing the club's colors.
The word that is used to explain this is loyalty. Your club can do almost anything and you will continue to support them. They can sack a fine manager because he does not get on with the chairman. They can appoint an incompetent in his place. They can sell their best players to make a quick buck. They can burden your side with debt. They can mortgage the future so you have the privilege of being owned by them. They can price a pie at five pounds.

And you will, by and large, swallow it all.

Occasionally clubs go too far -- moving to Northampton, for example, or trying to burn down the ground for the insurance money -- but, for the most part, they can act with complete impunity and they can accuse you of that most cardinal of sins, disloyalty, if you desert.

Worse, actually: your fellow fans, your fellow consumers (and that is what we all are, because we are none of us born supporting a club. It is always, to some extent, a choice) will scorn you if you so much as mention it. They see us as cattle, and so we respond by cutting ourselves up as steak.

There are others who buy into this idea, of the fan-as-fodder. There is a stark contrast between the sort of analysis television channels have long served up to football supporters and that offered to followers of cricket and rugby. It is starting to change, but it has always been assumed football fans just cannot handle technical, detailed breakdowns of play.

More seriously, the players do too. They think that if they kiss the badge when they score, you will be hoodwinked into believing them to be loyal, stalwart fellows, ardent believers who would happily die for the cause. They think this even if they are spending their time privately trying to convince their agent to get them a move, or are holding the club to ransom over an improved contract.

(A side note: this is where the doctrine that you must mistrust the media comes from. Yes, journalists get things wrong. Occasionally deliberately, but ordinarily in good faith. But a lot of the time they get things right that people would really rather you didn't know. These people then deny them, and the journalists get the blame. As one leading manager puts it: "Football is a lie.")

But this does not change the fact that the way Allam, Tan and all the others view you is unforgivable. It is, in fact, an inversion of the reality. Because, in this case, it is not you who are not acting sagely, but them.

Their mistake is this, and it is simple: they believe there is a short cut to popularity. They think renaming or rebranding or recolouring their club is all they need to do to become a blue-chip global brand. They think it is that easy. And that is a quite staggering misreading of the situation.

Manchester United are not popular because they play in red. They are not popular because they have an eye-catching badge. They are not popular because of their nickname. They are popular because they have won more league titles than anyone else. They are popular because they have constructed teams brimming with wonderful players. They are popular because they capture the imagination.

It is the same with Liverpool. They are popular for their history -- which they very rarely mention -- and for the sense of tradition. Arsenal are popular because, in the last 17 years, they have been breathtaking to watch. Chelsea's appeal is the strength of the squad constructed by Jose Mourinho, the remorselessness, the success. Manchester City and Tottenham, Everton and Newcastle, each a step lower in terms of international profile, have their charms, too, be they individuals or reputations.

And here is the second mistake made by Allam and Tan and the others who have tried to take a short cut to conquering the world before them. Not only do they not realise that winning friends across the world is a process that takes decades -- either that, or if we're honest, hundreds of millions of pounds -- but they do not see that it is a zero-sum game.

Yes, there are those in Indonesia, say, who follow Portsmouth. There are pockets of support everywhere for every club. But in terms of establishing a fan-base that can actually make you any money, if you want in, someone else has to go. There are not loads of people out there who currently have no interest in football who are suddenly going to be converted because there is a team named after a tiger. It is not quite a closed shop, but it is one of a finite capacity.

To boost your overseas revenues, you essentially have to persuade people that they feel more affinity to your team than Chelsea, or Arsenal, or Manchester United. And you know how you do that? A clue: it is not by giving them a new badge.

It is by making them better to watch than everyone else, by giving them a tinge of glory. You do that by slowly and surely building a club up, improving it, attracting better players. You make people want to watch, want to see them win. There is no way around it, no matter how low your opinion of fans seems to be.