Davy Klaassen could be the new Bergkamp for Ajax and Netherlands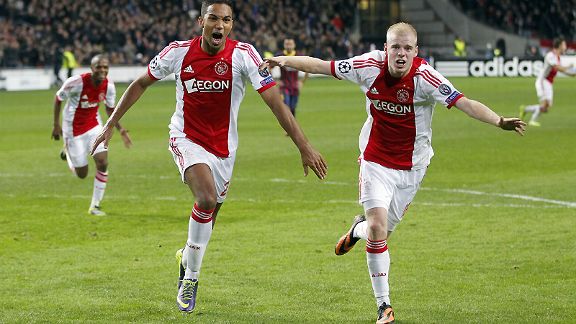 GettyImagesAjax youngster Davy Klaassen (right) could be a real star.
In July 2012, after Ajax had played a pre-season friendly against Norwich City at Carrow Road, a few Arsenal fans, who happened to watch the game, went over to Frank de Boer and told him that Davy Klaassen reminded them of Dennis Bergkamp. The Dutch coach couldn't have agreed more. De Boer himself compared the youngster to the famous ex-Gunner, and the similarities go far beyond physical. Davy -- tall, pale and blond -- has the quality of touch and vision that makes him capable of becoming Bergkamp's heir. "We know about Davy's capabilities, and everyone is impressed at how well he uses spaces on the pitch", de Boer said back then.

Klaassen is not just another young talent who has graduated from Ajax's famous academy, he has always appeared destined to develop into a world class player. He was the leader and the captain of the Ajax Under-19 side that reached the final of the 2011-12 NextGen Series, scoring a brace in the 6-0 demolition of Liverpool in the process. Two years ago, when he was just 18, playing for the reserve side, Davy got a surprise call-up from De Boer to be part of the senior squad for the Champions League clash with Lyon. He played for the final five minutes -- sent onto the pitch in order to help keep possession of the ball and ensure a valuable goalless draw.

- Barkley, Ederson and a touch of Klaassen

Five days later, he played in the Eredivisie for the first time, and it proved to be a dream come true, with Klaassen finding the net against NEC Nijmegen after just 42 seconds, making him the fastest scorer on his debut in the history of the club; he needed just two touches of highest quality to do so.

His contract was extended until 2016, fans sang his name right from the off, and a couple of games later discussions began in Amsterdam as to Klaassen's best position on the pitch; not only had he proved himself as a support striker, but also as a playmaker and a more conventional central midfielder, alongside Christian Eriksen.

Last year was supposed to be his breakthrough season, as preparation games like the one versus Norwich suggested he was ready, but fate decided differently. Klaassen suffered a groin muscle injury in August 2012 and the problem persisted for much longer than initially expected. Even when everything finally seemed to be fine in January, there was a significant setback in the healing process, and the youngster didn't play again until the summer.

Such physical difficulties could also have a psychological side-effect, but Klaassen took his injury with a dose of good humour, referring to his never ending visits to the doctor as an "eight-to-five job". Much more importantly, he gained a lot of confidence in the process as he became aware of how much some of Ajax's great cared about him. Bergkamp, assistant coach under De Boer, took Davy under his wing, consoling him and making jokes to keep his spirits up. Johan Cruyff, the biggest Ajax legend of them all, arranged for him to be treated by his former doctor in Barcelona, and even personally paid Klaassen an unexpected visit while he was in Catalan capital.

Thus, instead of mentally falling apart, the prodigy fully understood his importance to the club. He couldn't wait to repay everyone for their faith, and once finally fit and healthy again at the start of the season it didn't take him long for him to do so.

During the first two months, he was given a run out in the reserve side, Jong Ajax, in the Dutch Eerste Divisie, but with Eriksen snapped up by Tottenham in the transfer window, a place in midfield was up for grabs, and that's where De Boer chose to use Klaassen's talents. The 20-year-old was given his full debut against Utrecht in early October, and duly scored his team's second goal in a 3-0 win, anticipating a rebound off the goalkeeper in the penalty area.

He never looked back, and now his place as a starter is no longer in doubt.

Despite being employed in a much deeper role than he previously occupied, Klaassen still finds time and space to score almost at will, and remarkably each goal is different. Against Heracles, Klaassen found the net with a bullet header, timing his run to perfection to meet a cross from the left. He scored another header at ADO Den Haag a week later, but this time it was a gentle, aesthetic lob over the keeper.

On Saturday, Klaassen made headlines all over the country with a hat trick that resulted in a 4-0 thrashing of NAC Breda, the team against which Zlatan Ibrahimovic scored the most famous goal of his Ajax days. Klaassen's first was a deftly placed, low shot from the edge of the box into the far corner; the second a brilliant one-touch volley; the third truly Bergkamp-esque, receiving the ball on the move and rounding the goalkeeper in the style so reminiscent of his great predecessor.

His best game to date, though, is arguably against Barcelona in the Champions League. Klaassen made his full debut in European club football's premiere competition with a good display in a 1-0 win over Celtic. Three weeks later, he looked assured beyond his age and experience, taking on and outplaying a much more famous pale genius in midfield, Andres Iniesta, in a 2-1 triumph over Barca that enabled Ajax to dream of a qualification to the next stage. The Dutch club need to beat AC Milan at San Siro on Wednesday in order to go through.

Klaassen watched from the bench during Milan's visit in September, when a controversial refereeing decision gifted Mario Balotelli an unjust penalty in injury time at Amsterdam Arena and robbed Ajax of a deserved victory. Now, Klaassen is out for revenge, saying: "It is exciting that we need to win, and I will try and do my very best".

The youngster will step onto the same pitch upon which Bergkamp tried to prove himself two decades ago in the colours of Inter and the Arsenal legend is not concealing his admiration for Klaassen's talents. "He is such a good boy. I hope he will enjoy a great career like I had", Bergkamp said last week, before witnessing the hat trick against Breda.

Once Klaassen took his season tally to six goals in eight games -- and from midfield let's not forget -- voices were heard calling for Netherlands coach Louis van Gaal to test him out ahead of the World Cup. The rising star, who has represented his country at every level up to under-21, has attempted to play down the clamour and insists he is only concentrated on Ajax for the time being, but he can't avoid dreaming of playing on the biggest stage of them all in Brazil in the summer.

If he makes it, one hopes the travelling experience across the Atlantic Ocean will be as smooth as possible. After all, Bergkamp's infamous fear of flying intensified because of a bad flight to the United States for the 1994 World Cup. Until now, that appears to be the biggest difference between the non-flying Dutchman and the young pretender.