Will Moyes' honesty prove the best policy to halt decline?
There are managers who talk a great deal without saying very much and then there is David Moyes. The antidote to some of his loquacious counterparts at the other clubs has an economical use of the English language. He is at his most eloquent when he is at his bluntest.

- Miller: Manchester United: Who stays, who goes?
- Mitten: Trouble as Man Utd's players struggle to adapt under Moyes

The Manchester United manager is a straight shooter, a feature that makes it difficult when certain questions are asked. It was entirely in character, however, that there was no attempt to dodge or deflect blame for his side's slump. They are 13 points behind leaders Arsenal, they have suffered back-to-back home defeats and their title challenge is effectively over while Advent calendars are half unopened.

"I take complete responsibility for the results," he said. "Fortunately they've been good in the Champions League but they've not been good in the Premier League. I would like them to be much better."

Moyes' analysis of United's shortcomings was typically honest, rendering it revealing. "I think there's a bit of everything [that we] could do with doing better," he added. "We'd like to generally play better, but we'd like to pass it better, we'd like to create more chances and we'd like to defend better when those moments arrive so I think it's all around we're trying to improve."

As passing, chance creation and defending are fundamentals, it indicated a scale of their problems. The Scot could have added scoring -- Sunderland, who prop up the table, have struck more often at home -- and is particularly concerned that late goals, that recurring theme during Sir Alex Ferguson's reign, have proved elusive. "In recent games we haven't quite finished the games the way we would like to," he conceded. "We've tried to make changes to improve it and that hasn't quite happened."

In more ways than one, "Fergie Time" has finally come to an end. "Moyesy Time" has been altogether less rewarding for United. The biggest single difference between the champions and a team languishing in ninth, between one that dropped only 25 points in the whole of last season and one that has dropped 23 already, is all too obvious, especially to Moyes. The slide has coincided with his arrival.

"I think the biggest transition is the manager who was here for 26 years has now moved on and a new manager has come in," he said. "So it's a transitional period for the whole football club, not just for me or the players."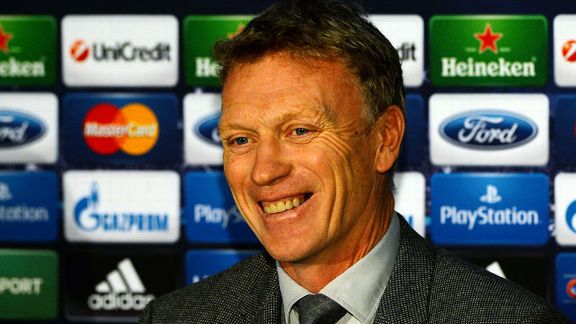 GettyImagesDavid Moyes has been honest about Manchester United's failings this season.
Yes, the players. The malaise, especially in the midfield, renders it all the more incongruous that the same group, albeit with Paul Scholes and without Marouane Fellaini and Wilfried Zaha, finished their final campaign under Ferguson with 89 points. Given Fellaini's failings, the regularity with which an underpowered midfield is exposed, the signs the aging defenders are creaking and the inability of the many men rotated in and out of the team to nail down a regular starting spot, they make an awkward issue for a manager as candid as Moyes.

"I believe the squad is good enough," he said, aware that he could scarcely proffer any other answer but striking a rare false note. A summer-long quest to add marquee players, match winners and men who would be automatic choices indicates otherwise. "The squad is big enough," Moyes added. The quantity of players was not in doubt; the quality is. Nevertheless, United's strength in depth will be tested when they host Shakhtar Donetsk on Tuesday. There is a chance the injured Nemanja Vidic and Patrice Evra will join Michael Carrick on the sidelines. Maybe Robin van Persie, too, given the Dutchman played the full 90 minutes against Newcastle when Moyes had hoped to use him for only an hour.

A point is required to top their group, a win needed to revive morale. A Shakhtar victory, besides probably condemning United to a last 16 tie against Real Madrid, Barcelona, Bayern Munich, Atletico Madrid or Paris Saint-Germain, would be the first time they have suffered three successive defeats at Old Trafford in Moyes' lifetime.

Sir Matt Busby's United were beaten by Manchester City, Burnley and Blackburn on their own turf in 1962. They went on to win the FA Cup that season although, in a less encouraging omen, they finished 19th. Nevertheless, the more pertinent parallels with the Busby years come with the struggles of his successors, Wilf McGuinness and Frank O'Farrell.

More than most, United have reasons to be aware that sustaining success under different managers is difficult. Liverpool managed it and although Bob Paisley lost five of his first 16 league games after replacing Bill Shankly, he won 10 of the others. His side still sat second, whereas Moyes' team are marooned in mid-table. Instead of the dynasty Ferguson envisaged, there is early evidence of decline.

But the Ferguson era determines the climate around the club. "It's tough because the expectancy is to win all the games," Moyes said. And, as he knows all too well, neither he nor United are meeting expectations.