Can Kaka still make his mark on a World Cup?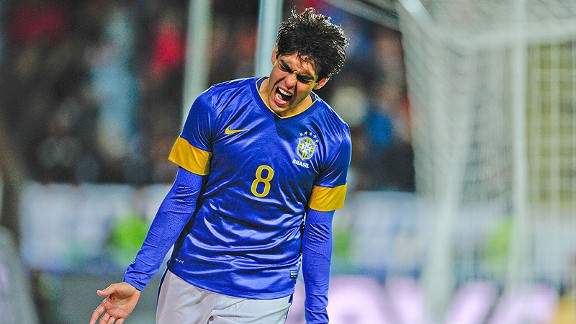 AP Photo/Bjorn LindgrenJust like old times: Kaka scored a goal and set up another in a friendly against Iraq in Sweden last Thursday.
During the 2006 World Cup in Germany, the only time Kaka was not seen filming everything around him was when he was on the pitch playing for Brazil. He had expected to record some treasured memories -- forming the much-hyped "magic quartet" with Ronaldo, Ronaldinho and Adriano.

After the tournament, however, those images could not have made for easy viewing. Kaka produced a man-of-the-match performance in the opening game, scoring the only goal against Croatia. Thereafter, it was downhill all the way. In truth, the team was top heavy. The presence of so much attacking talent gave Kaka marking duties, which soon wore him out. Come the quarterfinal against France, he was so ineffective that he was replaced some 15 minutes left in Brazil's 1-0 defeat.

Still, at 24, Kaka had time on his side to realize his ambition of making his mark on a World Cup. True, he had a winner's medal from the 2002 tournament, but he had been taken to South Korea and Japan for experience, and had hardly played. If 2006 had not been his moment, 2010 should have seen him at his peak.

But it turned out to be another disappointment, individually and collectively. Kaka was the leader of the attack in Coach Dunga's side, expected to grab the tournament by the throat and carry the team to victory. Kaka had his moments, such as setting up goals against Ivory Coast and Chile. But he could not score himself. His closest effort came in the quarterfinal against the Netherlands. Brazil was a goal up when his curled shot to the far post was tipped by the Dutch keeper. Had it gone in, Brazil would likely have made it to the semifinals. Instead, Kaka made little further impression as Holland hit back to win 2-1.

For Kaka, then, there was just one chance left -- that of being the wise old head guiding the younger generation to glory on home ground in 2014.

As recently as a month ago, it looked nothing more than a pipedream. Kaka's form in the South Africa World Cup had hinted at physical decline, a perception that the next two years did nothing to dispel. After joining Real Madrid in 2009, he was unable to find the form that had made him such a hero to the Milan fans. Undermined by knee and groin injuries, he was unable to play for long periods. And when he did make it onto the pitch, he seemed to lack the sudden burst of acceleration that had made him such a formidable force.

In the queue for a first-team place behind Mesut Ozil, Kaka's chances of getting a game looked even more remote when Real Madrid signed Luca Modric from Tottenham. Club coach Jose Mourinho saw Kaka as surplus to requirements. Real would have been delighted to get the Brazilian off their wage bill, but Kaka's injury history made it unlikely that a rival club would make a major investment in him. Real Madrid, then, would have to put up with their disappointing No. 8.

Eyebrows were raised more than two weeks ago when Mano Menezes recalled Kaka to the Brazil squad. He had been called up for a pair of friendlies last year, but sat them out with injury. It had been thought that his only chance of getting back in was to prove himself by playing regularly in the first team. Menezes, though, trusted reports that Kaka was starting to recapture his spark in training. The day before his name was read out, by which time the decision to recall him had surely been made, he scored a hat-trick in a friendly against Millonarios of Colombia. Mourinho commented that Kaka had given him something to think about.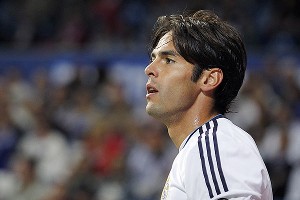 Angel Martinez/Real Madrid/Getty ImagesKaka has not been at his best since arriving at Real Madrid, and he'll need more first-team football to re-ignite his career.
After a brief run out in the Spanish championship, the Brazilian gave his best performance for Real Madrid (in the opinion of the local media) in a thumping win over Ajax in the Champions League. He had, though, been picked only to rest key players ahead of the Clasico against Barcelona, in which Kaka was brought on for the last 10 minutes. It seemed a slender basis for an international recall.

Was Kaka really ready?

He was certainly ready enough for Iraq. In a friendly played in Sweden on Thursday, Kaka made a triumphant return to the Brazil team, scoring an excellent solo goal and setting up another, putting Brazil on their way to a 6-0 win.

Moreover, it became clear why Mano Menezes had opted to bring him back. In tactical terms, Menezes has in the past month been moving away from the idea of playing an out-and-out centre forward. Instead, he wants more mobility from his front players. Hulk ran the right flank, Neymar cut in from the left, and Kaka and Oscar took turns to break into the centre forward position. The pair make an interesting contrast: Oscar the more complete midfielder, proficient at dropping deeper to orchestrate the play, and Kaka more of a support striker, direct and full of thrust in the last 30 metres.

A recurrent theme in the more than two years of the Menezes reign has been the problems experienced by Brazil's home-based attacking talents when asked to step up a level. Unaccustomed to playing in reduced space as opponents squeeze the play, they have struggled technically. Also, searching for the right option at pace, they have struggled psychologically, a problem that was especially apparent in last month's scratchy 1-0 win over South Africa, when the home crowd were quick to turn against them.

This, of course, is the kind of pressure they will have to put up with in much more daunting quantities 20 months from now when the World Cup comes to town. The hope, then, is that the experience and level-headed personality of Kaka will take some of the strain off Neymar & Co.

It is a theory, though, that needs to be tested against opponents far more demanding than Iraq. Tuesday's game against Japan promises to be fascinating for exactly this reason. The Japanese will pose more of a threat, and will also defend much better than Iraq was able to.

It is way too early to know if Kaka will be able to round off his international career with a fourth World Cup. Injuries could strike, loss of form and lack of playing time with his club could all be a problem. But Tuesday's game will give us more of an indication of whether Kaka will need his hand-held camera to record everything that goes on in Brazil in June and July of 2014.

Tim Vickery is an English football journalist who has lived in Brazil since 1994 and specializes in South American football.