Top Tenner: Dreadful misses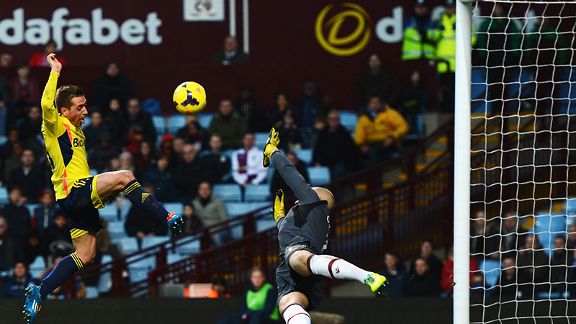 GettyImagesEmanuele Giaccherini misses from close range.
Inspired by Emanuele Giaccherini's jaw-dropping effort for Sunderland against Aston Villa last weekend, here is a few of Top Tenner's favourite misses of all-time.

Steve Stone, for Nottingham Forest versus Reading, 1997 -- The art of a great miss comes in the emotions. The expectation and premature joy of the player thinking he is about to score. The resignation of the opposing fans, reduced to a mass of shrugging acceptance at what will surely happen shortly. Then the moment the spirit leaves the body of the unfortunate player, squeezed out of his body by failure. The surprised, delighted schadenfreude of those same fans who seconds earlier were contemplating which of their players to lynch for allowing the assumed goal to happen. The relief of said defenders. This one, by Steve Stone for Nottingham Forest against Reading in 1997, had all of that. Stone's expression was generally that of an eager to please, but ultimately doomed to the lower rungs of management NHS administrator at the best of times, but at the moment his shot skewed wide of the open goal, his face was a picture of deflated despair.

Cristiano Ronaldo, for Real Madrid versus Rayo Vallecano, 2012 -- The commentators' handbook directs you to wryly muse, when a player of Ronaldo's class makes a mistake like this, that "He's human after all!" While that's obviously infuriating piffle, it is occasionally worth reminding yourself that even the best are capable of the worst.

Noah Hickey, Central United -- Alas the time and opponent of this one seems to have been lost in the mists, but that hardly matters. Hickey's miss would be appropriate leading a Channel Five documentary called something like "When Showboating Goes Wrong." Already 3-0 up in the game, Hickey decided that a simple old goal just wouldn't do, so tried a little step-over/backheel thing after rounding the keeper that... well, it went very wrong indeed. Hickey retired from football in 2007, apparently sick of the daily grind of it all. Maybe that's why he tried to spice this particular game up a little.

Boti Demel, for Zestafoni versus Merani Martvili, 2013 -- Never mind convenience, information and money, the really good thing about the Internet is that we can become aware of slapstick acts of football much more often than we would before. Occasionally they might crop up as an "And finally ..." segment on Trans World Sport, but 20 years ago we would probably not have been aware of this miss, by Ivorian Boti Demel playing for Zestafoni against Merani Martvili in Georgia. We would never have seen the goalkeeper's initial rick covered up by Demel's initial miss, the hope as it rebounded to him, then the utter heartbreak as it ricocheted wide of the post. And where would we be then?

Peter van Vossen, for Rangers versus Celtic, 1996 -- What's worse than missing an open goal in a game against your team's most hated rivals? Missing an open goal in a game against your team's most hated rivals in front of their baying fans, of course. In Glasgow, Peter van Vossen's name is not associated with the 22 games he played for Rangers, nor even his place in Ajax's 1995 Champions League winning squad, but that miss in an Old Firm game at Celtic Park. Jorg Albertz breezed through the Celtic backline, weighed up his options and took the charitable route by handing Van Vossen an easy goal. Turns out he should have unleashed Der Hammer, after Van Vossen skied the ball into the thin Glaswegian air. "Nobody said a word to me in the dressing room afterwards," he said, proof that sometimes, you just don't know what to say. Still, Rangers won both that game 1-0 and the title at the end of the season.

Rui Miguel, for CSKA Sofia versus Cliftonville, 2010 -- Sometimes commentators will say it was easier to score than not. Usually that can be filed alongside such nonsense phrases as "He hit that too well," but in this case, it's absolutely true. Miguel defied physics by somehow shovelling the ball over the bar from barely a yard out, via his thigh and some other part of his anatomy. The sort of miss that a man would see every time he closes his eyes at night. Oh, and he was offside as well.

Ali Sami Yachir, for MC Alger versus CR Belouizdad, 2013 -- This one is like some form of incompetence karma. When the Belouizdad keeper tumbled over the ball when attempting to clear the thing (and you can't blame him -- he could hardly have expected something as hazardous as a football to be in his way), the opportunistic Yachir swooped. But then, as if the universe was punishing him for being so underhand and capitalizing on a fellow pro's calamity, a divot appeared in the pitch, causing the striker to slice wide from a seemingly impossible position. At least he had the decency to apologise. At length.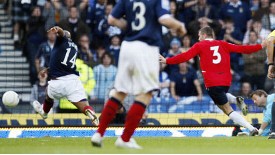 GettyImagesChris Iwelumo produced a horror moment against Norway.
Chris Iwelumo, for Scotland versus Norway, 2008 -- This is all terribly amusing, but it's worth remembering that misses like the ones on this list genuinely scar people. Take Chris Iwelumo, who even his own mother would describe as a "journeyman" striker, making his international debut for Scotland in a World Cup qualifier against Norway. Gary Naysmith broke into the area from the left, crossed low and laid the chance on a plate for Iwelumo, around 3 yards out, where the big striker appeared to lose control of his own limbs and somehow shunt the thing wide via his heel. After the game, Iwelumo watched the incident over and over, like Ray Finkle in "Ace Ventura: Pet Detective," before his wife made him delete it. "There was a fear that this was how I was going to be remembered," he said shortly afterward. "It was my debut and if we'd gone on to win then it could have been laughed off -- but we didn't." It stayed with him, too. "It was probably the lowest point of my career," he recalled this year. "Even now I still get a bit of stick from away fans, but that's part and parcel of it all. Now it makes me laugh. It is what it is."

Veria FC versus Levadiakos, 2010 -- Some pieces of football would just be enhanced by playing "Yakety Sax" over it. The names aren't important in this portion of slapstick, just sit back and appreciate not one, not two, not three, not four but five misses by this group of Greek players who may or may not have taken to the field that day wearing clown shoes rather than football boots. When people say football is a simple game, show them this clip.

Ronny Rosenthal, for Liverpool versus Aston Villa, 1992 -- There have probably been worse misses. Some players have contrived to scoop the ball over the bar from 2 inches. Some have hit the post from the very centre of the goal. Some have kicked it backward when only a forward push was required. However, very few players have been defined so clearly by a miss, as Rosenthal was by this one. Let us not forget that Rosenthal won 60 caps for Israel (setting up the three goals that prevented France from qualifying for the 1994 World Cup), he played in the top leagues of three countries and won league titles in all of those nations. But what's the first thing that comes up on Google, after his Wikipedia page? Well, let's just say it isn't the 1988 Belgian title win with Club Brugge.

Rosenthal told The Guardian in 2008: "Looking back, I look at it as fun. I can understand that it is shown a lot on the television, it's a funny moment. I always have jokes with people about this, it's always a chance to laugh. The moment when it happened I was embarrassed and I didn't know what to do. It was a bit of a strange feeling. But if you ask me, if you had the chance would you go back in time and change this, I would say why? It happened one time, it's OK. Obviously you don't want this to happen so many times."