Allen the odd one out in Liverpool's midfield
It was the greatest Merseyside derby in two decades. It ended with Brendan Rodgers' best buy, Daniel Sturridge, rescuing a point for Liverpool after Roberto Martinez's finest signing, Romelu Lukaku, had struck twice for Everton. Yet the game turned when Rodgers' flagship recruit erred.

With Liverpool 2-1 up, Luis Suarez darted through the Everton defence and picked out Joe Allen. Twelve yards from Tim Howard's goal, he sidefooted his shot past the post. Cue the inevitable Everton comeback. It was, some said, the miss of the season and, if that was an exaggeration, it may have felt that way on Merseyside. In the context of a campaign in which Liverpool are desperate to regain their top-four status, it was huge.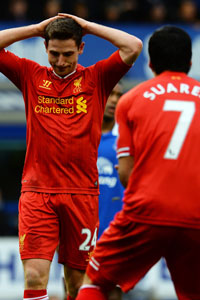 GettyImagesJoe Allen's recent miss against Everton was not his finest moment in a red shirt.
In the context of a career, it may have been equally important that Allen was there in the first place. The centre circle is his natural terrain. The penalty area used to represent uncharted territory. The sense, however, is that it may have to become rather more familiar. Much as when Charlie Adam, signed as a deep-lying playmaker, was encouraged to make driving runs forward, it is an indication that Liverpool are trying to reinvent another expensive addition. It is worth remembering that Allen's last goal, before shoulder surgery ended his debut campaign at Anfield, came after a burst into the box against Zenit St Petersburg. It seemed uncharacteristic then. It may have to become a common sight if he is to feature more frequently.

If, 15 months ago, it was impossible to envisage Allen breaking ahead of the strikers, it hinted the job description has changed a bit. Hired to be the new Xabi Alonso, he has to be a bit more like Steven Gerrard. The midfield pecking order at Anfield has altered, too: Allen has been leapfrogged by Jordan Henderson. The role model is not just the captain, but the man Rodgers was willing to sell when he took over.

All in all, it is indicative of a switch in the ethos at Anfield. The favouritism Rodgers displayed toward his own recruits at the start of last season has been abandoned. The much-trumpeted philosophy is discussed less often. Allen seemed Rodgers' favourite pupil, Plato to his Socrates, but the thinking has altered. The goal now is to score goals. When perpetual possession seemed an end in itself, Allen's pass completion rate was pertinent. Yet, camouflaged by talk of progressive principles, there was a negativity to the thinking. "Sterile domination," the phrase Arsene Wenger coined about Barcelona, seemed more applicable to some of Rodgers' sides. Not now; there is a more acute emphasis on attacking.

And while the Liverpool manager alternates between a double pivot in midfield and a sole anchorman in Lucas Leiva, his ever-changing tactics -- 4-4-2, 3-5-2, 4-3-3, 4-2-3-1 -- require multidimensional players. Allen, bought because of his ball retention, finds himself losing out to Henderson, who is faster, fitter, a better crosser and much more versatile, albeit without scoring as many goals as he should. The hybrid midfielder has more of an appeal.

The problem for both Henderson and Allen (as it was for Jonjo Shelvey, before he left) is that their preferred position remains occupied by Gerrard. None wants to be the holding midfielder, although it was a task Allen performed when Lucas was injured last season but, despite Henderson's adaptability, none is best suited to the role of a No. 10. As long as the captain continues to exert an influence from a deeper role, others have to accommodate him.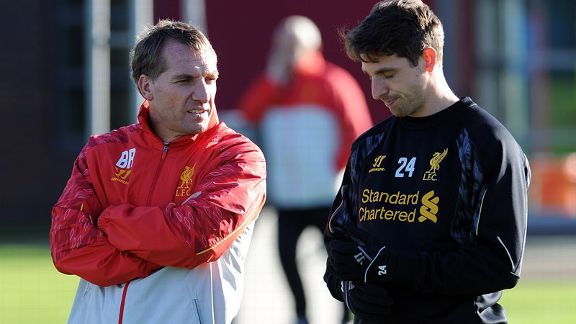 GettyImagesJoe Allen has fallen down Brendan Rodgers' Liverpool pecking order.
While Allen was compared to Alonso on his arrival at Anfield, his is a short-passing game. Gerrard, whose fondness for ambitious, diagonal balls has never deserted him, shares the Spaniard's range over 40 or 50 yards, if not always his accuracy. Aided by his set-piece prowess, he brings the promise of more goals and, while his 33-year-old legs don't permit as many box-to-box runs as they used to, he still provides more power.

The principal shortcoming of an Allen-Lucas partnership is that it offers too few goals and assists and, in the process, puts too much pressure on the remaining four forwards and midfielders to deliver. But while the Brazilian is yet to recover his preinjury form, the statistics showing Liverpool's results are superior with him in the side are no coincidence. He remains an automatic choice.

It leaves the player who seemed to symbolise Rodgers' style of football as the odd man out in the midfield. It was telling that, after making his first start of the season at Goodison Park, Allen was omitted for Sunday's defeat to Hull. To get back into the side, he will have to contribute more goals, to be less static and more dynamic. In short, he will have to prove himself a very different player from the midfield metronome Liverpool signed last summer. It is now about incision, not possession.