Batshuayi could be a good fit for Arsenal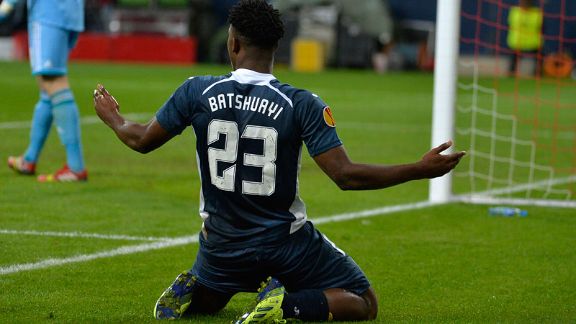 GettyImagesMichy Batshuayi: Belgium and Arsenal, take note.
Few remember this nowadays, but Robin van Persie arrived at Arsenal in 2004 for a seriously low price (just under three million pounds in fact) because Feyenoord believed it would be virtually impossible to solve his disciplinary problems. Arsene Wenger thought differently, and the rest is history as the Dutchman went on to become the Gunners' eighth-highest scorer with 132 goals over his eight-year spell.

Wenger is never afraid to take on challenging projects and try to tame difficult players who possess significant raw talent. That is why he certainly won't worry too much about the behaviour issues that threatened to derail Michy Batshuayi's career in the past. With Arsenal rumoured to be interested in signing the 20-year-old Standard Liege prodigy of Congolese origins, doubts about his character are most definitely secondary to his breathtaking potential.

Batshuayi is taking the Belgian Pro League by storm this season, scoring no less than 12 goals in 17 games, already equalling his total from last term which was achieved over 34 matches. However, in order to fully understand his talents, we have to go back to January when Standard recorded a routine 2-0 win over Kortrijk.

The forward scored the opener in brilliant fashion, his first touch at the edge of the box absolutely perfect to fool his marker. Six minutes later, though, the youngster produced a much more stunning move. Batshuayi went back to help his team in defence, stole the ball and burst down the right flank using his lightning speed and sheer athletic force, before releasing a wonderful through ball to left-back Jelle van Damme. YouTube captures the moment (ahead of the comedy celebration), and it is exactly the style of transition football Wenger and his Arsenal faithful dream of.

As you can see, we are talking about an extremely versatile player. While Christian Benteke, who made such a name for himself at Aston Villa, is a rather one-dimensional traditional centre-forward, Batshuayi is capable of playing everywhere across the front line. He is very good in the box, while his athletic body and jumping abilities make him a huge nuisance to defenders. Equally comfortable on both wings, it is clear he can outrun any defender on his way to the penalty area and his dribbling skills at speed are phenomenal.

Those qualities were first noticeable when Batshuayi was introduced into the Standard first team two years ago by coach Jose Riga, and the 18-year-old scored seven goals in all competitions. However, Ron Jans, who took charge at Liege in the summer of 2012, didn't like the young striker's attitude and rarely used him. Fortunately for Batshuayi the Dutchman was soon rather unfairly dismissed and his replacement, club legend Mircea Rednic, enabled the striker to regain his confidence. This season, under young Israeli coach Guy Luzon, Michy has continued his steady progress and seems to be fast outgrowing the local scene.

Standard's gain is Anderlecht's loss. Born in Brussels, Batshuayi wanted to play for the capital team as a kid, and his dream came true when he was accepted into the academy at the age of 13. Things didn't work out, though, because of his intolerable behaviour. An imaginative punishment system even saw the club send the kid out to help the gardener to rake leaves, but in the end they gave up.

Former Anderlecht youth coach Yannick Ferrera recently said: "Michy was a very remarkable talent then, but his attitude caused a lot of problems. We had to send him home more than once, because he didn't take training sessions seriously. With his dominant personality, he could negatively influence his teammates."

Thus Batshuayi was released from the biggest club in Belgium after less than a year, and he now understands the decision. "I was one of the best players, but Anderlecht couldn't keep me. They were right to throw me out, because I was no angel. I didn't realize then how bad my behaviour was," he told Sportmagazine.be.

Standard gambled on him back in 2008 and never regretted the decision, even though not all his problems have been completely fixed yet. Batshuayi was thrown out of the under-21 Belgium team by coach Johan Walem for inviting girls into his room during the preparations for a game against Cyprus in March, while on the pitch he sometimes tends to lose concentration and make reckless tackles, the latest coming this weekend at the start of the game against Lierse. The striker should have been sent off, but remained on the pitch and proceeded to score a brace in an emphatic 5-0 win that kept Standard four points clear at the top of the league.

Batshuayi was quick to acknowledge his fault, though, and dedicated his goals to Luzon. "I want to thank him for his support and his help," said the player, whose partnership with fellow 20-year-old Nigerian striker Imoh Ezekiel has improved significantly this season.

Luzon, for his part, is never shy to compliment his attacking duo: "They are the best strikers in Belgium. Both are fast and technically gifted, and they can only get better and better. They are just fulfilling about 40 percent of their capabilities now. I can see them succeeding at a top European club like Chelsea. People say that Michy struggles to keep focus during games, but I don't think so. He improves with every week."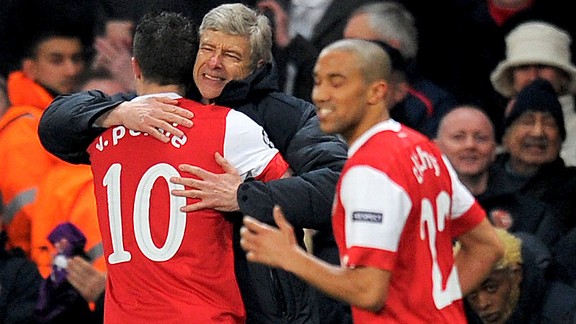 GettyImagesArsene Wenger helped Robin van Persie become one of the best.
As Batshuayi continues to score and impress, national coach Marc Wilmots is under pressure to call him up ahead of the World Cup in Brazil. With Romelu Lukaku in top form at Everton, a place in the starting lineup might not be on the cards just yet, especially after the Chelsea loanee's superb performance in Croatia in October. However, Lukaku can't be combined with Benteke in the same lineup, while Batshuayi can easily fit in if he takes a supporting role.

Kortrijk coach Hein Vanhaezebrouck, who witnessed Batshuayi's amazing skills only too well in January, said this week: "He still has to learn a lot, but he is fast, can play in many positions and fit into different systems. Michy is someone who is able to make a difference, and you need such a player at the World Cup."

If Batshuayi will indeed be given an opportunity to prove himself by Wilmots, his price tag will increase significantly, and that is one of the reasons for Arsenal to try to sign him next month when the transfer window opens. While Luzon has been the perfect coach to nurture Batshuayi's talents so far, Wenger's influence can naturally take him to another level.

Having turned the Dutch enfant terrible into one of the world's best strikers, he could try to do the same with the Belgian one. Even Olivier Giroud admitted that the Gunners desperately need another striker in the squad and Batshuayi can certainly suit the style of play at the Emirates. His name might be difficult to pronounce, but it could be on everyone's lips sooner rather than later.