Rodgers' transfer project under pressure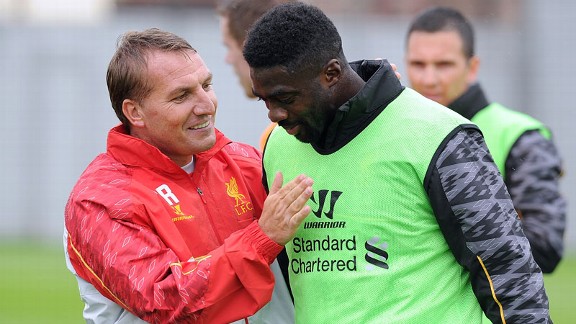 GettyImagesKolo Toure did not impress in Liverpool's Premier League defeat against Hull.
Brendan Rodgers signed a three-year contract with Liverpool in May 2012. If he lasts that tenure, it gives his "project" six transfer windows to work with. The manager is already halfway through. The evidence suggests he won one transfer window, but badly lost the other two.

Last January saw Liverpool debunk the idea that the winter window's constraints make it impossible to locate a good deal. The signings of Philippe Coutinho and Daniel Sturridge were far and away the best additions that any English club made during January.

The mistakes from summer 2012 were explained away. Liverpool's three-man transfer committee was not in session until after the August transfer window closed. Thus, Liverpool shamefacedly missed out on Clint Dempsey, a forlorn chase excruciatingly captured in "Being: Liverpool."

That left Joe Allen. Rodgers' excitable expressiveness excelled itself that time. "We paid 15 million pounds for him, and when he came in, I said very quickly that the price would double," Rodgers said upon signing the Wales international from former club Swansea. "People probably laughed at me. He will play here for many years, and the supporters will love this kid."

As the transfer tide went out at the end of August 2012, Rodgers was left swimming with one serviceable striker. He was lucky that it was Luis Suarez.

There was Fabio Borini, of course, but injuries kept him from being much use. The Italian is now loaned to Sunderland. Liverpool require some good months from him there to be able to get any of their outlay of 10.5 million pounds back. And he wasn't a striker anyway, more the type of flank forward that Rodgers kept collecting.

Rodgers' hoarding tendencies switched last summer to centre-backs. That is, once he missed out on ambitious targets like Henrikh Mkhitaryan and Willian. An absence of Champions League football precluded those deals.

Instead, in came three central defenders: Mamadou Sakho, Kolo Toure and Tiago Ilori. They were replacing the irreplaceable in Jamie Carragher, but that rather hinted at indecision. None has yet proved a success. Sakho is a national hero after pulling France from the mire in a World Cup playoff with Ukraine, but he is Rodgers' fourth-choice central defender. All for an outlay of 15 million pounds.

"Before I left the club," Toure said last week, "I told the people in charge that they would regret letting me go. People said I was finished and that I could never get back to my former level. But now I am at Liverpool and I am sure that [Manchester] City must be kicking themselves when they see how I am performing."

City have their own problems at centre-back, mostly concerning Vincent Kompany, but there have been few plaintive glances back at Kolo, save from those fans who enjoy the chants he shared with brother Yaya. While City kept a clean sheet and destroyed Swansea on Sunday, the elder Toure was twice caught flat-footed as Liverpool lost to Hull City 3-1.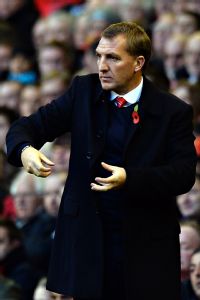 Paul Ellis/Getty ImagesBrendan Rodgers has experimented with his defensive options to varying degrees of success.
His partner, Martin Skrtel, had an even more disastrous afternoon. Skrtel was retained when it was expected he would be joining Rafa Benitez at Napoli, while Daniel Agger rejected overtures from Barcelona to stay on Merseyside. While Rodgers has twiddled with a three-man central defence, sometimes with rewards, and disastrously at Arsenal, he is yet to strike on a settled unit.

Ilori has been barely seen. The same goes for midfielder Luis Alberto, signed from Barcelona B in the summer. Ilori and Alberto were signed, as Rodgers put it at the weekend, because "we had to look to the future too."

Fine, but Liverpool's long-standing problems were not properly addressed. Now that Sturridge is injured, Suarez must soldier on alone once more. Iago Aspas, who cost just over 7 million pounds, was brought in from Celta Vigo as Suarez's understudy, perhaps an attempt to replicate Swansea's success with Michu. Aspas has looked lost in the Premier League, short of the physique or courage to succeed. He was not thrown on at Hull, even when Rodgers had a substitution left. He may well go the way of Borini.

Liverpool's early-season results were excellent, and they traveled to Arsenal within two points of the leaders at the beginning of November. Since then, it has become clear that their previous fixture list had been favourable. Talk of a title abated, and the top four became the prime target again.

Liverpool's static midfield was overrun by Arsenal's quintet of quick, skillful, creative players. The same happened at Everton during the derby on Nov. 23. The Toffees' latest signings were much sprightlier, and while Romelu Lukaku, Gareth Barry and Gerard Deulofeu are loan deals, all filled gaps in Roberto Martinez's squad. Of Liverpool's loans, Victor Moses was signed in a position where Rodgers had other options, while Aly Cissokho has proved himself an inferior left-back to Jose Enrique, and indeed to youngster Jon Flanagan.

At Goodison, Lucas, Steven Gerrard and Joe Allen were leaden, while Jordan Henderson ran himself into anonymity. It suggested that if one summer signing had been required, it was a midfielder of drive and quality. He did not arrive, nor was he targeted.

That places high pressure on the project's next transfer moves. Repeating the success of last January's sales will be difficult, while a far greater coherence of approach is badly required. The logic of Rodgers' Liverpool so far has been difficult to follow.