Giggs the perennial still burns brightly
Longevity is no substitute for genius. Otherwise, Status Quo would outstrip The Beatles. It is better to burn out than to fade away, as Neil Young once put it. Ryan Giggs, at 40, shows few signs of doing either.

- Looking back at Giggs' glorious career
- Gallery: Ryan Giggs in pictures


- FC Reviews: The Class of '92

Back in April 2011, he dominated Schalke in the Champions League semifinal first leg in Gelsenkirchen, scoring Manchester United's first as they all but booked a ticket to the final with a 2-0 win. He was a mere stripling of 37 back then. Three seasons on, Bayer Leverkusen were given the same treatment on Wednesday. Giggs was crucial to his club's best performance and finest result -- 5-0 away -- of the season so far.

Consider that Giggs is probably better appreciated outside Manchester than among much of the club's support. There remains a faction that has never quite warmed to him. Perhaps they will only truly miss him when he has gone. His facial expression can seem passionless. At Old Trafford, fans call it the "teapot" -- the hands-on-hips stance and bemused glare that he gives when faced with a stray pass from a teammate or following a flick that has failed to come off.



An accusation levelled is that Giggs never quite became the player he might have. Back in 1991, as he made his teenage breakthrough, his talent seemed limitless. He played like a veteran almost from the start, among players the same age as his own mother. City fans have never forgiven him for abandoning their set-up to join United's instead as a 14-year-old, and talked of his "cold, dead eyes." They had hit on something. Giggs seemed nerveless, without fear and had fans on their feet whenever he had the ball.

He was the latest "new George Best," the Northern Irishman still the mark that an aspirant Manchester United player must match. Giggs was no Best, but the older man was happy enough to be compared to his Welsh successor. "Maybe one day people will say I was another Ryan Giggs," Best said in September 1992 after a Best-like strike at White Hart Lane. A long ball was killed instantly, two defenders burned by a feint and change of pace before Spurs goalkeeper Ian Walker sprawled as an angled shot was drilled in.

Best is the ultimate footballing representative of that Neil Young maxim. His star burned brightest of all before he walked away from top-level football at 26. Best was British football's first superstar, his downfall the reason that Alex Ferguson shielded the young Giggs from the media until it was clear he was canny enough not to get himself into too much trouble.

Where Best's legacy is preserved in the aspic of his beautiful youth, Giggs, with temples graying and bald patch burgeoning, has 14 more footballing years on which to be judged. The idea of Best recreating himself as a central midfielder in his mid-30s is beguiling, and one possibly apocryphal story had United manager Ron Atkinson offering him the chance to return to Old Trafford to play such a role in 1981. It never happened, but Best remains the best of Manchester United.

Bobby Charlton, whose appearance record Giggs surpassed on the night of the 2008 Champions League final, is perhaps a better comparison. He too began on the wings to then move to the centre, yet Charlton, like Best and Denis Law, is a symbol of an era of the club -- the 1960s -- in a fashion that Giggs has never quite matched. Charlton, as perhaps England's finest ever footballer, was a more dominant player than Giggs ever became and remains a name known around the world to this day.

Throughout Giggs' United career, other individuals have usually been more influential. When Giggs made his debut, Bryan Robson was "Captain Marvel," and the England midfielder was succeeded by the inspirational Eric Cantona. The Frenchman was the catalyst for United's first title in 26 years at the end of the 1992-93 season. Once "Le Roi Eric" had abdicated, Roy Keane assumed perfectionist leadership as United climbed to their peak with the 1999 Treble.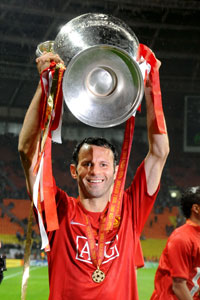 PA PhotosRyan Giggs lifts the 2008 Champions League trophy.
By then, Giggs was accompanied by his friends from the "Class of '92" and David Beckham had taken much of the celebrity limelight. Giggs, never so lost in show business, could retreat to the shadows. Behind the scenes, he became a leader, his merciless mockery providing checks and balances to those colleagues getting too big for their boots. Paul Scholes, meanwhile, became United's midfield maestro.

Only perhaps during the 1997-98 season was Giggs the true kingpin. A hamstring injury suffered against Derby Country in February all but cost United the title as, Cantona-less and with Keane suffering a cruciate injury, Giggs became the senior professional he remains. Such physical problems eventually altered him as a player. The thrilling sight of him running at full tilt became increasingly rare, precipitating the conversion to central midfielder.

At United, his wing wizardry was eventually eclipsed by Cristiano Ronaldo. A glance at Ferguson's two most recent autobiographies provides the evidence. "Managing My Life" from 1999 casts Giggs as the favourite son, right from the moment the Scot saw him as a 13-year-old who "floated over the ground like a cocker spaniel chasing a piece of silver paper in the wind." "My Autobiography," published this winter, says that Ronaldo "surpassed all the other great ones I coached at United," adding that the "only ones who could be placed near him" were Giggs and Scholes.

Giggs will be remembered, and is recognised now, as an unstinting professional, whose dedication bought him longevity, an afterlife beyond the normal footballer's peak years. He is especially celebrated on the European mainland. There, he has the status of a Francisco Gento -- who was the winner of six European Cups at Real Madrid but usually outshone by Alfredo Di Stefano and Ferenc Puskas -- or perhaps that of Paolo Maldini, evergreen and ever-present in 24 years of AC Milan triumphs.

The price of being perennial has dulled the impact of Giggs, but he enters his fifth decade as an understated Manchester United great. He continues to burn brightly. Wednesday showed he is far from fading away.