Papiss Cisse: Newcastle's not-so-potent poacher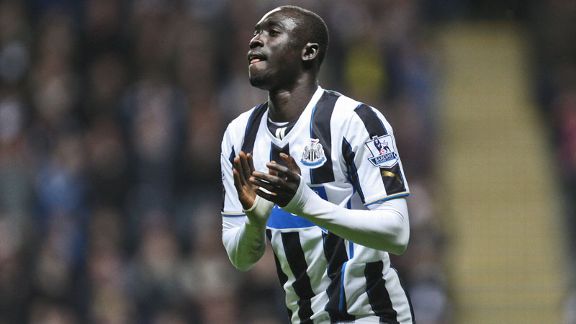 GettyImagesPapiss Cisse is yet to score in the Premier League this season.
"Eventful" is probably the best word to describe Papiss Demba Cisse's Newcastle debut in February 2012. With the game against Aston Villa delicately poised at 1-1, his instinctive finish brought the winner and a sigh of relief at St James' Park.

But he had also missed chances, including a gilt-edged header and, to observers of the Bundesliga, where he had played for Freiburg, his ability to provide the sublime while struggling with the simple was nothing new.

In the weeks and months that followed, Cisse would produce some fantastic play, notably the surreal, bending half-volley that looped over Petr Cech at Stamford Bridge. The January addition provided 13 goals in 14 games, and fans began to speculate on how good he might be with a full season in England behind him.

However, it seemed Newcastle had instead stumbled into a situation in which only one of their two Senegalese strikers at that time (the other being Demba Ba) could score.



From January 2012, Cisse had been hitting the net -- but at the beginning of the 2012-13 campaign, Ba would be the one to take the acclaim.

The latter's time on Tyneside had always looked limited. From the moment his release clause was mentioned, it became a case of when, not if, he left. When he finally departed for Chelsea in the early stages of this January's transfer window, focus shifted to Cisse to be the Magpies' primary source of goals.

But he was out of form, and manager Alan Pardew looked to crowbar him into his side, often on the right wing. He lacked the attributes for such a role, and it was often tough to watch.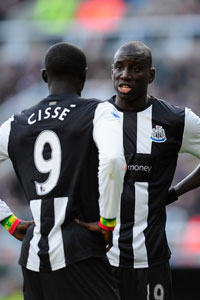 GettyImagesDemba Ba's move to Chelsea this January put paid to the partnership between him and his fellow Senegal striker.
Few, it seemed, had remembered Ba's contribution to Cisse's purple patch in front of goal in the latter half of 2011-12. Pardew saw his best results from a front three of Hatem Ben Arfa, Ba and Cisse, with plenty of chances created -- and taken -- by the latter.

Leading the club's attack last season, Cisse ended up with eight Premier League goals, five of them in the second half of the campaign -- not as potent as his first six months in a black-and-white shirt.

Frustratingly, he has often been vulnerable to being caught offside, something that was again in evidence in Saturday's home win over Norwich. Offered a two-on-one opportunity in the second half, he was unable to time his run to stay onside.

As a former incumbent of the Newcastle No. 9 shirt, Malcolm Macdonald has urged him to improve, noting that the Magpies' current leading light Loic Remy is providing a shining example for Cisse.

"[Loic] Remy's doing exceedingly well, he's very quick and he gets his timing right," Macdonald told Sports Direct News. "I just wish Papiss Cisse would take notice of what Remy does, because Cisse doesn't understand the offside rule and how to work it as a forward. Either he's got to come 10 or 15 or even 20 yards onside, or the opposition will keep playing him into an offside trap."

Remy's complexity as a striker makes him the bigger threat. With his pace troubling defenders, his ability to carry the ball is something Cisse cannot provide. His goal against Tottenham showed the rapid pace and clever movement that the Sengal forward lacks.

Newcastle have moved on tactically from Cisse's opening months at the club. During the 1-0 home win against Norwich in 2012, he received the ball in the box four times from open play -- on Saturday, against the same opponents, that was reduced to just once as Newcastle looked to build attacks from deeper. His inability to adapt to this approach has cost him his place.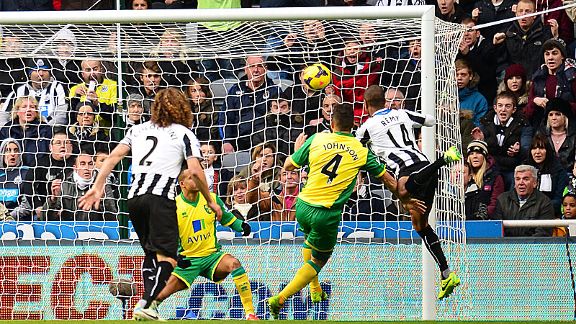 GettyImagesLoic Remy has upstaged Papiss Cisse so far this season.
Cisse is a traditional poacher who offers little outside his threat in the penalty area, and even that has eluded him this season. During the trip to Cardiff, he should have broken his duck for the season -- but only two of his five attempts were on target. Only West Ham's Mohamed Diame has had more shots without a Premier League goal.

It's at this point conjecture begins over the mental side of his game. Few can doubt the impact the preseason disagreement over the club's shirt sponsor Wonga had -- he initially refused to wear the new shirt on religious grounds before being pictured in a casino and subsequently rescinding said refusal -- and his passion this season has appeared absent.

With each passing fixture, that purple patch of 2012 moves a little further into the distance. Pardew has cited Fernando Torres as a player Cisse can learn from in trying to end his barren spell. But Newcastle can ill-afford to accommodate a less-than-potent poacher.