Looking back at Giggs' glorious career
Ryan Giggs, who made the first of his 953 appearances for Manchester United as a 17-year-old in March 1991, celebrates his 40th birthday today.

Since coming on for Denis Irwin against Everton 22 years ago, Giggs has won 13 league titles, two Champions Leagues, four FA Cups and four League Cups. In 2008-09, he was named Professional Footballers' Association (PFA) Player of the Year.

Here, a selection of ESPN FC writers recall their own memories from the career of United's No. 11.

Andy Mitten on facing the teenage Ryan Wilson

He was the best player in our league, the star of Deans, from Swinton in Salford, near Manchester.

I played at right-back and marked him several times. Or tried to. He destroyed me every time we met and more than once I was substituted at halftime, with my father, who got paid to play semi-professionally, cringing on the sidelines with embarrassment.

My manager would look at me with pity and say: "I told you he was fast." Honestly, I couldn't get near him, although the team I played in was a good one which used to regularly beat Deans -- albeit with me on the touchline in a tracksuit.

Iain Macintosh on a veteran's view of the up-and-coming youngster

I never actually meant to discuss Ryan Giggs when I interviewed Viv Anderson. I was there to ask him about Brian Clough. But conversations with a man so ebullient have a habit of wandering and it wasn't long before he was telling me about the day in the late 1980s when Alex Ferguson asked him to mark a promising youth team player in a training session.

Anderson was nobody's fool. He won two European Cups and a league title with Nottingham Forest, the League Cup with Arsenal and the FA Cup and European Cup Winners' Cup with Manchester United.

He also picked up 30 England caps along the way but, that day, he couldn't get near a 14-year-old Ryan Giggs.

"Who the f---ing hell is that?" he wailed, as the teenager zipped past him. "Who is it?!"

It wouldn't be long before the world knew the answer.

Miguel Delaney on an early goal that showcased his ability

At this point, Giggs' main legacy will be his endurance. But, for some, the enduring memory will always be those blasts of lightning he displayed after first breaking into Manchester United's first team.

There were few better examples than a goal he scored at Tottenham in 1992-93, the campaign in which he fully announced himself.

In a split-second, Giggs used mental alertness to pounce on an error, sheer acceleration to beat two defenders and goalkeeper Ian Walker with just three touches, and unerring accuracy to score off the post from an awkward angle.

Mark Payne on the next big thing living up to the hype

There was a time that, it seemed, would never pass. It was the period in which every new prospect from Manchester United's youth ranks was hailed as "the new George Best." It would typically follow one decent cross or mazy run from a callow youth, who would then be hailed as the player to lead United to glory once again.

In 1991, people around the club knew about Ryan Giggs and were expectant when he debuted in the first team. Still, there was much to prove.

Two years later, Giggs was a first-team regular and had already won the PFA Young Player of the Year award. But the glory of a first league title since 1967 continued to elude the club.

In January 1993, with United leading Queens Park Rangers 1-0, Giggs rushed on to a long Denis Irwin punt forward, before outsprinting two defenders and lobbing the onrushing goalkeeper.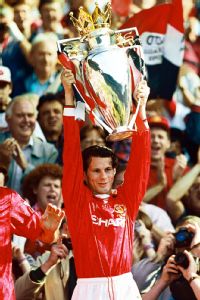 John Peters/Manchester United/Getty ImagesGiggs lifts the Premier League trophy in 1994.
It was a moment of outrageous skill, balance and panache. And it was then that United fans realised what they had been hoping for all along. They wouldn't need a new George Best, they had Ryan Giggs. The first Premier League title duly followed in May, with another coming a year later.

John Brewin on a shining display in a losing effort

Chat to European players, fans and journalists and they almost always talk about Giggs. An impeccable continental reputation derives from saving his best for the Champions League.

In November 1996, when European Cup holders Juventus came to Old Trafford, United were an amalgam of kids and experienced professionals.

By contrast, Juve had a collection of supermen, including Zinedine Zidane, who strolled across the turf, and Alessandro Del Piero, whose early penalty proved to be the only goal of the game.

Nearing his 23rd birthday, Giggs was still capable of the full-pelt sprints that would later be hampered by injury. Moreno Torricelli was left with twisted blood, and coach Marcello Lippi eventually had to double up on United's flying winger.

Juve departed in relief. In defeat, though, United had proved they were capable of frightening the best. It was a vital step in their development as a European force.

Gabriele Marcotti on Giggs turning the tables a year later

Against Juventus in October 1997, Giggs, of course, was already a star but was going through the usual arc. Having been celebrated as a young prodigy, he was now being questioned for, supposedly, poor finishing.

The game started in similar fashion to the encounter of the previous season when Del Piero scored straight away. United battled back to lead 2-1 but Juve were pushing for an equaliser.

Then, in the 89th minutes, Teddy Sheringham laid the ball into Giggs' path as he made a surging run into the penalty area. Mark Iuliano came out to meet him but was beaten by a shimmy and a turn of pace, after which Giggs was free to unload a vicious left-footed strike to make it 3-1.

Zidane pulled one back in stoppage time but it was a historic win for United against a team that, Sir Alex Ferguson later admitted, had intimidated them.

Musa Okwonga on taking the fight to Madird

My favourite performance of Giggs' career came in a match when he seemed thrillingly unrestrained.

For the first half of a 3-2 Champions League quarter final second leg loss in 2000, Giggs tore at the Real Madrid defence with exhilarating wildness, swaying, surging and swerving through a midfield diligently policed by Fernando Redondo, whose audacious backheel would later take the headlines.

This, though, was Giggs at his finest: jousting with, and thoroughly unsettling, the very best opposition in Europe.

Michael Cox on a remarkable appearance off the bench

In February 2003, during the dreadful era when UEFA persisted with a second Champions League group stage, Manchester United travelled to Serie A champions, Juventus.

With three wins from three, United were cruising through, and Sir Alex Ferguson was happy to rest Giggs. Except the plan didn't quite work.

Giggs was on after five minutes when Diego Forlan was stretchered off and, within ten, he opened the scoring, sidefooting home a Juan Sebastian Veron pass.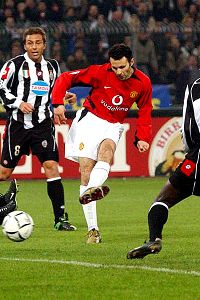 John Peters/Manchester United/Getty ImagesGiggs scores his second goal in United's 3-0 win at Juventus.
Shortly before halftime, he collected the ball on the left flank, before powerfully dribbling diagonally across the pitch, into an inside-right position, and rolling his shot into the opposite corner, past Gigi Buffon.

Three minutes after the break, he trotted off, replaced by Ruud van Nistelrooy. Job done. He hadn't started or finished the game but he had decided it.

Richard Jolly on a decisive role in a momentous Manchester derby

Sir Alex Ferguson labelled United's 4-3 win over City in 2009 as probably "the best derby of all time" and Giggs was its outstanding player.

Michael Owen scored the 96th-minute winner but the provider was Giggs, who steered a pass with languid precision into the substitute's path, through a hole in the City defence.

Giggs was involved in all of his side's goals -- Darren Fletcher scored twice from his pinpoint crosses -- highlighting the scale of the mistake City made when letting their local rivals pluck the teenager from their clutches, and it was a game to indicate why he has lasted so long.

Operating in time-honoured fashion as an out-and-out left winger, the soon-to-be 36-year-old accelerated away from Micah Richards -- a decade-and-a-half his junior -- at will, once again demonstrating his ability to influence major matches long after many of his contemporaries had retired.

James Horncastle on the mutual respect for Giggs from another forty-something

It was in an interview with La Gazzetta dello Sport that Giggs revealed: "The most difficult opponent I've ever faced was Javier Zanetti. I played against him for the first time in 1999, in the quarterfinals of the Champions League. He played right-back and I was on the left-wing. He impressed me with his qualities. He was quick, powerful, intelligent and experienced."

Zanetti reflects on those comments in his autobiography, not out of modesty but because for him those encounters went to the very essence of what sport is about.

"Giggs won those matches, I lost," wrote the Argentine. "But Ryan understood that the pride of his success derived from the quality of his opponents and for this I appreciate his opinion. Inter, though beaten, stood out for the determination they put on the pitch, and for this Giggs praises me and I can't but praise him back. It's the law of sport."

For Zanetti, the consummate professional, it's about the work you put in, the spirit of competition and the love of the game. He recognised that in Giggs and the feeling -- and respect -- was reciprocated. With attitudes like theirs, perhaps it is no surprise they are both still playing into the forties.

Ian Darke on a moment when opposing fans showed their respect

The moment that said it all about Ryan Giggs came in a Champions League game at the Bernabeu last season.

As Giggs was announced as a substitute, the whole crowd burst into applause. This was not Old Trafford, remember. This was rival fans showing respect -- almost reverence -- for an astonishing trophy-laden career as man and boy at Manchester United.

Such tributes are reserved for only special players.

And finally…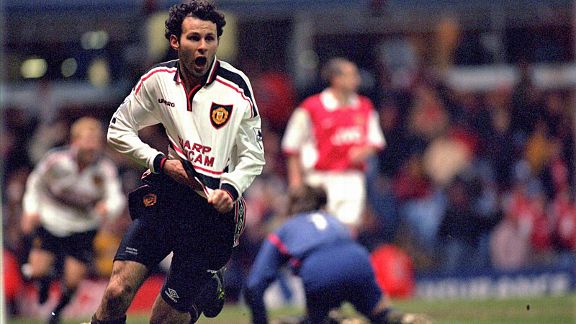 AllsportGiggs celebrates his FA Cup wonder goal against Arsenal in 1999.
The signature moment of Giggs' Manchester United career was his goal in the 1999 FA Cup semi-final replay against Arsenal.

Who better to tell the story than the man himself, who looked back at the goal in "Giggs – the Autobiography" (2005, Penguin Books Ltd):

"… I fastened on to a loose pass from [Patrick] Vieira, ten yards or so inside our own half. I'm told the gaffer was on his feet, screaming for me to run at Lee Dixon, but in all the din I wasn't aware of that.

"It would be nice to say that I had it all in my head, what I was going to do, but it doesn't happen like that. It unfolds too quickly to think. Instead, instinct and feel take over. It seemed to pan out in slow motion. When Vieira tried to get back at me I just dipped my shoulder and went past him, then others came and went the same way until I was in the box.

"Dixon and [Tony] Adams tried to get to me, but I got away from them, and then I'm up against David Seaman. Now I did pause for a millisecond and thought, 'Just hit it.; And I did, firing the ball up past the England goalkeeper and into the roof of the net. It was the kind of amazing finish you dream about."