Crystal Pulis faces battle to keep record intact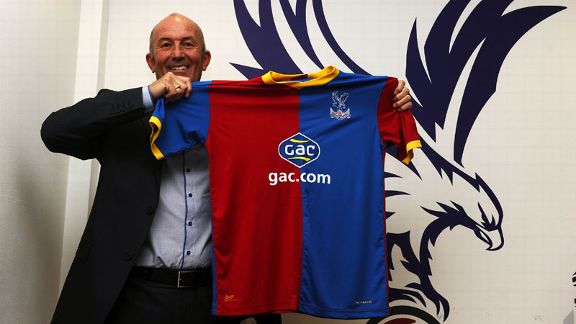 PA PhotosTony Pulis is excited about the challenge ahead at Crystal Palace.
As one of the many who have managed Crystal Palace this millennium and a man who has fought his fair share of relegation battles in the Premier League over the past dozen years, Steve Bruce was well placed to appraise Tony Pulis after his appointment at Selhurst Park. "He has been there, done it and got the T-shirt," came the Hull manager's cliched response. The temptation, given the Welshman's attire at Stoke, was to add he has got the tracksuit and the baseball cap as well.

Except that Pulis appears to object to that kind of stereotyping. In his unveiling at Palace, he returned to football after a six-month break, railing against his image as a long-ball dinosaur and a relegation firefighter, presenting himself as a renaissance man with a hinterland that stretches as far as a Rory Delap throw (which, once again, is pigeonholing him). If mentions of Genghis Khan and Napoleon Bonaparte proved rather more eye-catching than his views on, say, Damien Delaney and Dean Moxey, it was partly because they were so unexpected.

And yet, given how great his interest in history appears, Pulis should realise which part of his past explains his allure to Palace. It isn't his record of winning promotions, Stoke's appearance in the FA Cup final in 2011 or their participation in the Europa League the following season. It is his famous ability to keep clubs up, no matter how unprepossessing the situation is or how poor the players are.

Perhaps his most pertinent piece of escapology came at Plymouth in the 2005-06 season. He inherited a team that had taken only five points from its first eight games -- better than, but comparable to, Palace's seven from 12 now -- and steered them to the safety of 14th place in a 24-team Championship. As Plymouth averaged well under a goal a game, it made for painful viewing. It was also highly effective.

If securing six successive seasons of topflight football for Stoke was impressive, the most relevant precedent was their debut Premier League campaign. Consider many of the personnel regularly involved -- Andy Griffin, Danny Higginbotham, Liam Lawrence, Salif Diao, Richard Cresswell, Mamady Sidibe, Andy Wilkinson -- and survival appears a still greater achievement. These were Championship footballers, not merely in their calibre but in the factual reality that they had played for Stoke in the second tier a year earlier.

Which brings us to Palace. Ian Holloway's scatter-gun spending brought 16 new players to Selhurst Park in the summer. Caretaker-manager Keith Millen selected only three of them -- Barry Bannan, Dwight Gayle and Marouane Chamakh -- in the starting 11 at Hull on Saturday as Palace recorded their best result of the season.

It was an indictment of the former manager's investment. It was also an indication of the path Pulis is likely to take. It is no secret that he prefers players with a greater commitment to the collective cause to individuals who may have more ability but who can exert a negative effect on a side's shape and solidity.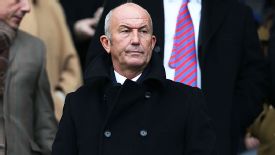 GettyImagesTony Pulis was at the KC Stadium to watch his new team Crystal Palace take on Hull City.
Palace were at their most organised and industrious with men whose loyalty to the club was proved last season. The snag is that there is a reason why most were plying their trade in the lower league to begin with. The task, in short, is to stay up in the Premier League with a Championship side. Given the disparity in quality, Pulis' trademark focus on set pieces will become still more important: They offer essentially uncreative sides a method of scoring. Considering how rare goals at the right end may be, clean sheets are required at the other; Stoke kept nine before Christmas last season.

The other factor that could prove decisive is the January transfer window. Once again, Palace can savour the parallels with Stoke. Like Holloway this summer, Pulis made mistakes in the transfer market immediately after promotion; signings like Dave Kitson, Ibrahima Sonko, Andrew Davies, Michael Tonge and Tom Soares made a negligible impact. However, his January additions, James Beattie and Matthew Etherington, had a catalytic impact in the run-in.

Given Palace's problems scoring, something similar is required at Selhurst Park. The probability is that Pulis has inherited the least talented group of players in the Premier League, a squad whose unity, if only temporarily, was disrupted by the influx of random recruits. Palace are already seven points behind Hull, six adrift of Stoke and Cardiff, and four short of Norwich, all potential relegation rivals. Theirs is not so much an uphill task as the job of climbing Mount Everest.

It is why a man never relegated in 21 years as a manager was targeted. Much as Pulis objects to the one-dimensional interpretation of his record, much as Stoke weren't always as direct or as defensive as they were perceived -- some of their high-octane victories over the elite at the Britannia Stadium made for compelling viewing -- he has been hired precisely because he has been typecast. Rather than the man with hidden depths Palace presented on Monday, they need Tony Pulis to be the Tony Pulis we all imagine him to be.