Chelsea miss the chance to rotate and stay fresh
"A bad performance, a deserved defeat ... the only positive thing is that we go through."

There was no mincing of words from Jose Mourinho following Chelsea's setback at Basel on Tuesday. It's rare to hear the manager take it on the chin so hard -- in part because, like most managers, he knows how to spin defeats, and in part because, simply put, he doesn't lose very often.

You might add another positive here. It's the Champions League group stage. As long as you qualify and do reasonably well in the knockout stage -- say quarterfinals or better, without getting steamrolled by one of the big boys or tripped up by a minnow -- nobody will remember two defeats to Basel.

In both 2008-09 and 2009-10, Mourinho's Inter Milan side won just two of six group games. But it didn't matter because he won the competition, and these days only Inter nerds recall losing at home to Panathinaikos or drawing 3-3 with something called Anorthosis.

- Lythell: Chelsea struggle through
- Mourinho won't blame players
- Chelsea wait for Eto'o injury news

Of course, this only works if Chelsea actually improve, relative to what we saw Tuesday night. Because while few of their performances this season have been quite as dire, it's something you could see coming looking at the club's November run.

They were poor and probably outwitted by Newcastle. They beat Schalke 3-0 in a game which saw them largely on the back foot and which turned on an absurd goalkeeping error. They drew with West Brom at home, thanks only to a highly controversial last-ditch penalty. They pummeled West Ham at the weekend 3-0. And then there was Tuesday night.

That's one good performance in five -- West Ham – which is not good enough for Mourinho's standards, or for the quality in this squad.

Seasoned Chelsea-watchers will tell you that it's a November thing, that in recent years the Blues have always faltered this time of year. Look at their point totals:

2010-11: 10 in 7 games
2011-12: 7 in 6
2012-13: 7 in 7
2013-14: 7 in 5

See? It's over now. Nothing lasts forever, even cold November rain.

Well, I don't believe in voodoo and I don't buy these kinds of stats.

While it's true that five different managers -- Carlo Ancelotti, Andre Villas-Boas, Roberto Di Matteo, Rafa Benitez and Mourinho -- took charge of Chelsea in those November games over the past four years, and they all struggled to varying degrees, there is no curse linked to the 11th month of the year.

What we do have is a team that isn't clicking, and the issue becomes what Mourinho can do to address it.

The Basel game stats were a horror show. Chelsea were outshot 15-2 and, in terms of shots on target, 7-0. As Mourinho himself highlighted, he made some mistakes which compounded the problem.

The most incomprehensible one was to not use this as an opportunity to rotate. We're not talking "11 out, 11 in" League Cup-type stuff. Just a few tweaks to give someone else a run-out, given how close Chelsea were to qualifying.

Instead, he made one change from the weekend, bringing in Willian and switching to a three-man midfield. Who got rested from the weekend? Eden Hazard, who is 22 and has played 90 minutes just twice in the past month.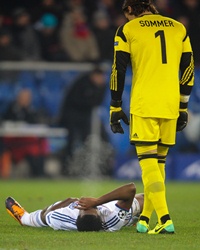 GettyImages / SEBASTIEN BOZONEto'o was carried off in the 41st minute.
Who played back-to-back games? Samuel Eto'o, who is 32 and battle-worn (and promptly hurt his hamstring, coming off just before halftime). And Frank Lampard, who is 35 and, among outfield players, has played the sixth-most league minutes for Chelsea this season.

Who else? Oscar and Ramires, both of whom started against West Ham and played friendlies in Honduras and Brazil the week before. Plus John Terry, who is 32 and has played every minute of every game in the Premier League while starting four of five Champions League games without ever being substituted.

Want more? How about Branislav Ivanovic, the bionic man who has played every single minute of every single Chelsea game this season (except for the League Cup). Oh, and Cesar Azpilicueta, who lined up out of position at left-back, despite the fact that both Ryan Bertrand and Ashley Cole -- proper left-backs -- travelled to Basel.

Incidentally, Azpilicueta's heat map versus Basel shows just how ineffective he is in terms of providing offensive width when he's on the wrong flank; Ivanovic was easily the more marauding of the two.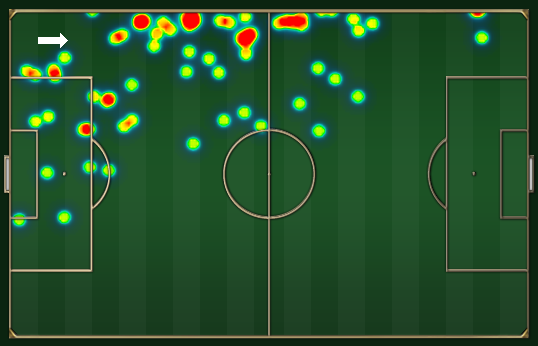 Azpilicueta struggled to get into advanced positions from left-back.
Maybe a few changes might have been in order? Perhaps Fernando Torres, who is just coming back from injury, or Demba Ba could have started. Maybe Andre Schuerrle. Ivanovic could have been given a breather, with Cole or Bertrand at left-back and Azpilicueta on the right. Possibly even Juan Mata could have been given a game.

Those six guys had played a combined total of 156 minutes for Chelsea since Nov. 2. Might have been good to get them into the mix, no?

To his credit, Mourinho admitted this after the game:

"When you play as well as we did against West Ham, you're tempted to keep the same team and build confidence. Maybe I should have made more changes. We were tired out there, and when you're tired you make mistakes."

Mourinho has a big squad for a reason. He's shown the ability to handle big squads in the past, and he has the charisma and intelligence to do it and draw the benefits: fresher legs down the stretch, fewer bruised egos unhappy at playing time, etc. He needs to rediscover that.

The other point on the night was tactical. It is best summed up by this tweet from Colin Trainor, one of the better analytics types out there.


@honigstein @OliverKayTimes Could certainly throw the proverbial blanket over their attackers last night anyway pic.twitter.com/GxhwgbGmxg

— Colin Trainor (@colinttrainor) November 27, 2013


As you can see from the average positions on the pitch, Chelsea had very little width and were bunched in the middle of the park. Now, that's not always a problem, but it becomes one against an opponent that pushes their full-backs right up -- Kay Voser and Taulant Xhaka turned into Cafu and Roberto Carlos for the game -- and it's not the cleverest thing to concede the flanks to a team fielding a 6-foot-6 center forward (Marco Streller).

Don't expect Mourinho to make this mistake again. However, the challenge is working through the other hurdles in Chelsea's path.

It's too easy to go back and spot the imperfections in the squad that were not addressed in the summer. Central midfield is undermanned, mainly because Marco Van Ginkel -- who was expected to eat some minutes -- is injured, and Mourinho doesn't seem to trust Michael Essien the way the manager once did. Since August, Essien has played 216 minutes for Ghana in World Cup qualifying and seven for Chelsea in the Premier League.

The three-headed strike force hasn't produced the way it can (or should, given the players behind them). And there is lingering unease at the situation with Mata and David Luiz. Just last week, Duncan Castles, a journalist very close to Mourinho, reiterated that the Chelsea manager would have liked to sell him in the summer.

Some of that can and will be addressed come January. In the meantime, though, Mourinho's focus will presumably involve going back to his strengths and the football he wants to play, based on quick transitions, exploiting the counterattack, organized defending and set pieces.

Those are basics his teams have traditionally done very well. He has the personnel to do it, and it's not particularly complicated for players to understand and get on board. Mourinho's strength doesn't lie in exotic, brilliant schemes; it is seen in simpler tactics, albeit executed very well.

To do that you need physical and athletic freshness, which will come with a better approach to rotation and doling out minutes. Plus, you need a squad that is united and buys into your message: Apart from the end of his stint at Madrid, that bit has never been a problem in the past.

The good news is that, even with Chelsea well below capacity, they are still just four points off the pace set by Arsenal in the Premier League and through to the knockout stage in the Champions League. If Mourinho's fixes can take them to the next level, competing on both fronts shouldn't be difficult.