Solskjaer learns from season of change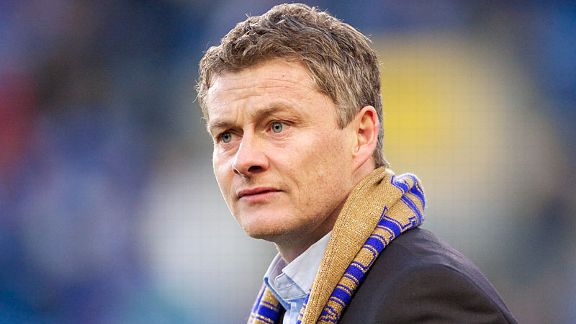 GettyImagesOle Gunnar Solskjaer was appointed as Molde manager in November 2010.
For a young, aspiring manager, there are a variety of ways to improve and cultivate your coaching acumen. Andre Villas-Boas sought to shadow one of the greats, Sir Bobby Robson. Gennaro Gattuso voraciously digested sports papers and game tapes. For Ole Gunnar Solskjaer, the route was less conventional.

"When I played for Man United, I relaxed by playing 'Football Manager,'" the 38-year-old told Norwegian website PressFire. "It's a fantastic game. I have learned a lot about football."

"Football Manager" allows the player to pursue managerial dreams within a virtual setting; if things ever get too tough, you can always quit and reload your game, or even start over completely. However, as Solskjaer is fully aware, that safety net is not available in real life.

"We've had a tough season," Solskjaer told Norway station TV 2 recently, and his appraisal is fair. Molde have been slow starters in their previous two seasons but went on to win the league both times. However, as his third season at the helm began, it took until their fifth game to secure a first point. The first win would follow three games later.

Solskjaer was granted mitigation because of the significant changes to his squad. He lost the heart of his title-winning back four for a time, with Vegard Forren's transfer to Southampton making a far bigger impact at Molde than at Saints; the defender eventually returned to Molde midway through the season after failing to make a single appearance for the English club.

Forren was joined on the preseason departure list by Davy Claude Angan. The striker had proved potent for Molde, scoring 22 goals in 55 Tippeligaen games, but when an offer from the Chinese Super League arrived, the chance to treble his wages at Hangzhou Greentown proved too good to turn down.

As a manager who has an eye for young talent, Solskjaer attempted to correct Molde's early-season wobbles with Aliou Coly and former Fulham striker Lauri Dalla Valle. The fact that the latter is now in the second tier of Belgium football with Sint-Truiden -- he hasn't scored a goal for either club -- indicates how successful an experiment it was, with the midseason signing of Fredrik Gulbrandsen far more astute.

Solskjaer's midfield was not safe from being pillaged as 23-year-old Magnus Wolff Eikrem -- a player coaxed from Manchester United's reserves -- was sold to Heerenveen in June.

To compound the issue, Molde's rivals grew stronger. Rosenborg added Danish pair Nicki Bille Nielsen and Tobias Mikkelsen, while eventual champions Stromsgodset continued to enhance their growing reputation with a tight-knit squad built over a few seasons.

Yet among the departures, there was one arrival with the ability to provide hope for the future. Mats Moller Daehli is another from the United production line who Solskjaer has been able to lure home to Norway. At 18, he is younger than Eikrem and boasts considerably more potential. "He reminds me a little of Paul Scholes," Solskjaer told TV 2. "When Paul Scholes played the game, it was he who decided the pace. Mats is a bit the same way. He has the same presence."

Though Solskjaer has called for patience, his excitement at the youngster's emergence is clear. The manager has suggested the youngster could have been playing for United's first team by now if he had remained at Old Trafford, and compared him to Adnan Januzaj. Daehli is already a senior international for Norway and was named the 2013 Statoil Talent of the Year and, while he still has much to learn, he is likely to be the fulcrum of Molde's midfield next season.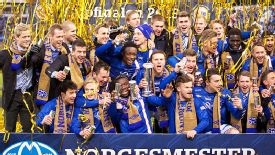 GettyImagesMolde won the Norwegian Cup this month
Daehli credits his manager as "an important factor" in the pace of his progress in Norway. "He puts demands on me, lets me be myself and knows what buttons to press," he added. "He has meant a lot."

Others will not have such important roles to play next season, though, and Solskjaer -- whose inability to name a consistent starting XI in the last campaign proved an issue -- will no doubt look to trim a bloated squad containing over 30 players as he seeks to bring about a return to the form that brought back-to-back Tippeligaen titles.

He clearly has the ability. Molde did make a marked improvement after their poor start last time around: They ultimately finished sixth in the table and went on an eight-match unbeaten run from the start of September. They also ended the season with silverware, and a place in the 2014-15 UEFA Europa League, as they came back from 2-1 down to beat Rosenborg 4-2 in the Norwegian Football Cup final.

"There's no secret behind what we did," Solskjaer told Norway's NRK. "It's all about hard work and many good players who have a lot of character."

Those sentiments were echoed by Knut Olav Rindaroy, who was among the scorers for Molde in the cup final. Citing simple but good psychological tactics by his coach, he told NRK that Solskjaer simply convinced the players to believe they could win. Solskjaer, who had been willing to absorb the criticism when times were tough, was more interested in crediting his squad in their moment of glory.

The coach has already attracted interest from the likes of Aston Villa, Middlesbrough and Bolton, and the struggles of last season have done little to hinder his reputation. With his identity as a quality coach now well-established, a move to a major European league seems inevitable.