Revitalised Nasri coming of age
Samir Nasri was introverted and out of form. He was unhappy and under-performing. He was the bete noire of the French media and public and sent Roberto Mancini into a black mood. The Manchester City manager said he wanted to thump him. The French FA did ban him.

Last year was the nadir for Nasri. This season he has been revitalised, returning to his best. The smile is back on his face, the skip restored to his step as he dances past defenders at will. It is a remarkable reversal in his fortunes. Having begun the campaign on the bench for City, now he is arguably the outstanding left-sided midfielder in the Premier League.

Curtis: City's healthy habit

The key to the change, he said, was a summer bout of soul-searching and a conscious decision to be happier and more open. He had bottled up his problems after Euro 2012, when France's quarterfinal elimination at the hands of Spain preceded Nasri's expletive-laden outburst at reporters. The French Football Federation responded by suspending him from the national team for three matches. Then, as his performance level for City deteriorated, he was displaced by James Milner and was one of the greatest disappointments in the club's season of underachievement.

"It was a tough season," Nasri said. "After the Euro championships and the beef with the French journalists, for months I refused to speak to anybody. I had a lot of bad press in France and I wasn't involved in the national team. It was a little difficult.

"In my head, I wasn't the same. I didn't play well for City and lost my spot in the squad and at the end of the year, I looked at my season and realised I was not myself. Keeping things to yourself is never good so I talked to the people I love and I decided to smile and be happy and do what I do best: play football."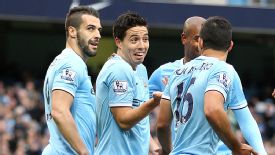 PA PhotosManchester City players celebrate against Norwich.
He confided in his parents, mother Ouassila and father Abdelhafid, and his agent Jean-Pierre Bernes, taking them into his confidence after putting up a wall of silence last season. "Even at the time, I refused to speak to them," he added. "I didn't want to talk or explain myself. I didn't want to talk about the situation because it was really difficult and it was inside me. So you spend all the time thinking."

Besides communicating, Nasri realised he had to confess, if only to himself. "Sometimes when you do mistakes, you don't want to admit it," he explained. "That was my biggest mistake."

He emerged, he believes, stronger and better, learning the lessons from his misdemeanours and missteps. "I am not looking for another incident like this to grow up again," he said. "But as a player, as a person, I grew up a lot."

The more mature Nasri has embraced forgiveness. He has openly admitted how much he enjoys playing for Manuel Pellegrini, a manager who prefers not to criticise his players in public, but he exonerated the outspoken Mancini, whose attempts at tough love backfired when Nasri frustrated last season.

He is not concerned, he said, that the emotional Italian claimed that he wanted to punch him. "It was just a word," he said. "Managers have different ways of working. Some like to say things in the press to make players react and some like to say things face-to-face. Some players see things in the press, it touches their ego and they react. Everything he was saying was difficult for me to accept. It wasn't his fault; it was just me because I wasn't in a good place."

Nasri, who is set to bring up a century of City appearances when they face Viktoria Plzen in the Champions League on Wednesday, is in an altogether better position now than he was three months ago, let alone last season. When the campaign kicked off, Jesus Navas, bought by Pellegrini, had replaced him in the team. His response was to oust the World Cup winner, who only returned to the side when David Silva was injured.

Before then, Nasri and Silva dovetailed beautifully, kindred spirits combining to create. "We like to play with each other," the Frenchman added. "He is someone who likes to play the same way so we have a lot of freedom." He has been liberated, paradoxical as it sounds, by Pellegrini's orders. "I have a good relationship with the manager," he added. "I know what he wants from me and I know when I am doing good or doing wrong."

There can be very little in the debit column. The criticism of City is that their mediocre away form is preventing them from topping the Premier League. Instead, Nasri's old employers lead the way. He was among those who left the Emirates Stadium to win trophies. Now, in keeping with his attitude toward his former managers, there is no bitterness when he sees Arsene Wenger and Arsenal in pole position

"Good for them," he said. "I am happy for the players and the manager because he is a good person." The sense, too, is that Samir Nasri is both a better person than he was 12 months ago and a far better player.