How can we help refs? By cutting them some slack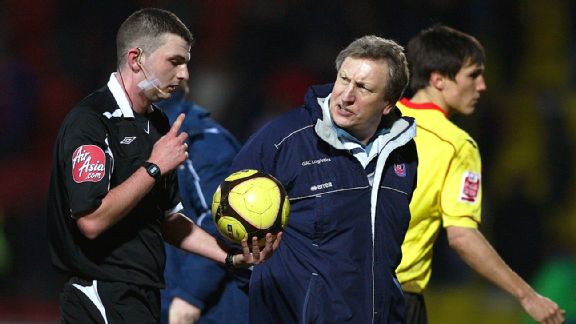 Ryan Pierse/Getty ImagesNeil Warnock has made a habit of criticizing referees. If managers weren't allowed to scrutinize officials so publicly, the quality would improve.
Let us turn, as we do so often when faced with an issue of head-scratching complexity, to the pages of The Gaffer, the tome bestowed to posterity by Neil Warnock.

Warnock devotes an entire chapter of his memoir to his relationship with referees. It clocks in at 13 pages. Hazard a guess at how many of those detail how proficient he feels football's match officials are, for the most part, and how they do a broadly excellent job under the circumstances.

Though he does express some sympathy for the referees' plight in a game played at a frenetic pace and governed by a variety of fluid, inexact rules, the interpretation of which seems to change on an almost monthly basis -- "the way the laws are applied now means they are not allowed to use the 18th law, common sense" -- but broadly, the journeyman former Sheffield United and Queens Park Rangers firebrand is as critical in print as he was in the dugout. Time has not salved his burning sense of injustice.

Two points, though, stand out among the invective. The first is this: "[Referees] know, deep down, if they give a decision in favour of Manchester United, few notice. If they give a bad decision against them, it's worldwide headlines."

The second comes a paragraph later, describing Warnock's reaction to a decision to give a corner that cost his Crystal Palace side a win against Aston Villa in the FA Cup. "In the TV interview I said the officials had thought: 'We don't know which way to give it, so we will give it to the Premier League team, as they're losing.'"

Warnock does not seem to join the dots between these two statements. Referees are only human, even if several of them seem to have come as part of a multipack. They probably are conscious, on some level, that giving Manchester United a penalty means rather less exposure than awarding one against them.

The reason for that, at least in part, is that the Manchester United manager will then go and do exactly what Warnock did: moan about a decision costing his side the game. United's fans will then froth and spit and scream blue murder, there will be calls for investigations into the standards of refereeing, the newspapers will bemoan the imminent collapse of civilisation because Jonny Evans was deemed to have played the ball first -- not the man -- and the referee will be excoriated and humiliated and will have to sit in the dark, rocking back and forth, hoping he never, ever sees a whistle again.

Let me be clear: There are problems with the standards of officiating in football. This weekend illustrated that perfectly as Phil Dowd and Neil Swarbrick did not send off Kevin Mirallas, Wayne Rooney and Gary Medel for offences that seemed to merit red cards, while Kevin Friend did send off Sunderland's Wes Brown for causing an overly aggressive ripple in the air around Charlie Adam.

It was just the weekend that Mike Riley did not need.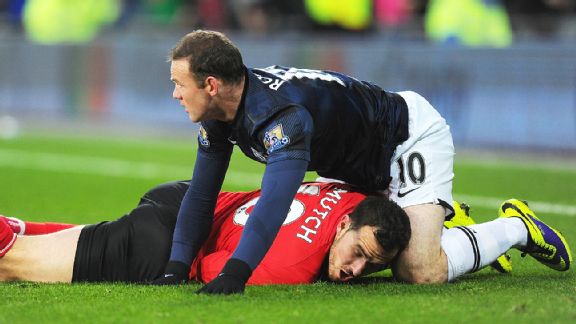 Stu Forster/Getty ImagesReferees will always make mistakes, just like Wayne Rooney's foul on Cardiff's Jordon Mutch that went punished with just a yellow.

Riley, you will remember, is the head of the absurdly grandly titled Professional Game Match Officials Board, which is the organisation responsible, essentially, for allotting a few dozen referees to a few dozen games, once or -- at a push -- twice a week.

Before the international break, Riley called Steve Clarke, the manager of West Bromwich Albion, to talk over the events of his side's 2-2 draw with Chelsea. This has happened for almost a decade: The referees' chief will talk to managers who feel they have a bone of contention in a bid to create a dialogue between the two sides. It is just that Clarke told everyone about his conversation with Riley in such a way that suggested there had been some sort of apology for the decision.

That was dangerous, and a little foolish. Jose Mourinho, the mature and responsible 50-year-old that he is, immediately demanded reparations from Riley for all the injustices he has ever suffered at the hands of officials. After this weekend, Brendan Rodgers, Malky Mackay, Mark Hughes and David Moyes would all have considered picking up the phone and seeking signs of contrition. We can but hope that Riley had a charger with him.

All of those cases highlighted one problem or another with refereeing circa 2013. The Mirallas incident seemed to be a fine example of the consequences of the obsession with two-footed challenges. Everyone knows now that you are not allowed to challenge with two feet off the ground, even though it is sometimes perfectly safe to do so. The effect of this, as Mirallas highlighted, is that referees assume that anything that is not two-footed cannot be considered overly dangerous. To be blunt, this is stupid.

Meanwhile, Brown was a victim of the reverse: He was showing his studs, so Friend decided he had to go. The fact that he does not seem to make any contact with Charlie Adam -- despite Hughes' insistence to the contrary -- didn't matter. Studs up, off you go. Again, stupid.

The Rooney episode is a different beast. To most, it looked as though Rooney kicked Cardiff's Jordon Mutch. The England striker described it on Twitter as a tackle, but it is not clear what he is tackling him for.


Just watched game back. I agree mine was bad tackle and ref dealt with it. And Martin Tyler didn't shut up about it all game.

— Wayne Rooney (@WayneRooney) November 24, 2013


The ball is nowhere near either of them. Is it a preventive measure? Was Rooney in the grip of a powerful hallucination? Does Mutch's shin look like a ball?

Or did Rooney just, you know, kick him? Because if he did, that has to be a red card -- and we know Swarbrick saw it because he booked him for it. But Swarbrick must know that kicking someone is a red card. So why did he not produce one? The temptation is to suggest that this is a manifestation of Warnock's theory that referees fear the consequences of such headline-grabbing decisions.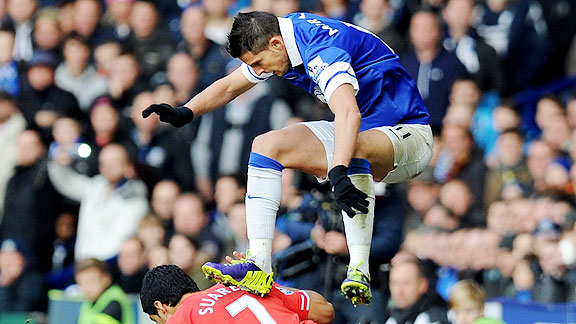 John Powell/Liverpool FC/Getty ImagesEverton's Kevin Mirallas was not sent off after making this challenge on Luis Suarez.

So yes, there are problems with refereeing and ones that need to be ironed out in consultation with Riley, the clubs, the players and the officials themselves.

But this is not new. In his book, Warnock suggests that "we seem to have gone back 10 years" in terms of the level of ability, but that would take us only to 2003.

My memory is not what it was, but I don't think 2003 was some sort of golden age for the men in black. I think managers still complained about officials' ineptitude in 2003. Just as they did in 1993, and 1983, and 1973. Managers complain about referees. It is and has always been their default setting, upon defeat, to suggest that the game was decided by a single moment, a single error of judgment, by the one person trying to be impartial, even though the logical conclusion of that argument is that you don't actually need a manager because they are incapable of overcoming one instant, one interjection of cruel fate. This is a pathetic stance, and it should be banned.

Far from encouraging referees to speak and explain their decisions, managers should not be allowed to talk about referees. It is lazy, frequently inaccurate and actively unhelpful.

Warnock and his peers used to be invited to mark an official's performance after a game. He confesses that he once gave Jon Moss a perfect score so that he would be promoted to the Premier League and would never have to officiate one of Warnock's fixtures again. Unsurprisingly, that practice has now been discontinued. Managers cannot be trusted to assess officials' performances and as such, they should not be allowed to construct a narrative around them.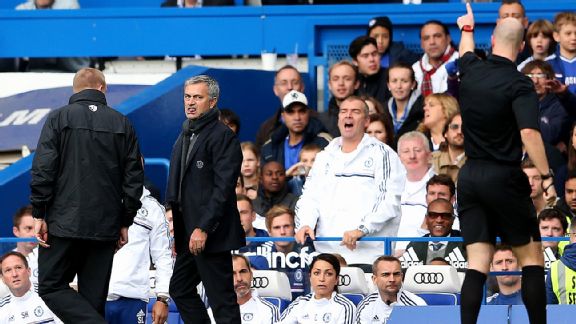 Scott Heavey/Getty ImagesJose Mourinho is extremely vocal when it comes to referees. Yet if the men in the middle were afforded some protection, it might help them think clearer.

This sounds hackneyed, but it bears repeating: Broadly, referees do a good job. Studies show that around 94 percent of decisions are correct. John Henry, Liverpool's principal owner, rates the efficacy of the officials in an incredibly demanding environment as one of the most impressive things about football.

That is not to say they are perfect. They are not. They are, as previously intimated, only human. Even Lee Mason. They are flawed and weak and craven, as the trend for officials to see their job as "game management" proves. This is marketing speak/jargon/gibberish. They should not know the players' names or engage in a dialogue with them.

Referees are not there to "keep 11 men on the pitch." They are there to ensure for the fans that the game is played according to the rules and is adjudicated fairly. If that means sending people off, that means sending people off. Referees are not arbiters of what is entertaining. They are law enforcers, nothing more.

But even so, they have to be helped to do their job, which is taxing, complex and -- by definition -- imprecise. Referees will never be flawless. They will always make mistakes. But they probably make fewer than players and managers and therefore, perhaps, they should be cut a little slack. It may even make them better.