Russian pride and Italian passion lead to a lose-lose-lose situation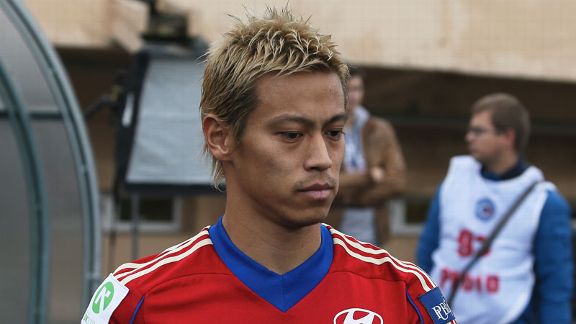 GettyImagesKeisuke Honda has had to see out the final months of his CSKA Moscow contract.
Cultural differences can lead to significant problems in the negotiation process. Just look at the curious case of an Italian club trying to sign a Japanese star from a Russian team.

On paper, everything looked pretty much straightforward in the summer. Keisuke Honda's contract with CSKA Moscow was due to expire in December 2013, at which point he would have become a free agent. According to the rules, the player was allowed to negotiate with other clubs in June, so he duly pursued his greatest dream -- playing in Serie A.

Conveniently, AC Milan desperately needed a playmaker and were therefore keen to sign him. Naturally, selling Honda was a logical solution for CSKA as well, as they could cash in on a very valuable asset that would become totally worthless in a matter of months. Milan just needed to table a decent offer, CSKA needed to accept it, and Honda had to keep quiet until everything was done and dusted.

However, it all fell apart, leaving all concerned disappointed.

Honda believed that logic should prevail and, more importantly, expected that his club would treat him with respect and would not deny him the chance to move to the team of his dreams. He mentioned that fact on various occasions at the beginning of the year, and after performing brilliantly and scoring a brace in a 3-0 win over Zenit St Petersburg in the Russian Super Cup in July, the midfielder openly stated to the press that his mission in Russia was fulfilled. "I am proud that such a big club is interested in me," he said. "It is not a secret that I want to try myself in a bigger league. I've spent three and a half years at CSKA, and now it's time to move on."

Shinji Kagawa's move to Manchester United in June 2012 was a guiding light for him. Borussia Dortmund didn't want to lose their Japanese star and tried to persuade him to stay, but coach Juergen Klopp understood that he couldn't stop the player from going after his ambitions. "We cannot take away Shinji's childhood and his Japanese culture," he told Sueddeutsche Zeitung. "Where Shinji was born, the Bundesliga means nothing -- there is only the English Premier League." Thus Kagawa was off to Old Trafford, for a very reasonable 17 million pounds, and the deal was done early in the summer, so that everyone would have enough time to make necessary adjustments.

That was a deal involving Germany and England, however. Russia and Italy make for a completely different story. For Milan, currently in the midst of financial difficulties, the most important thing was to get a good deal, and they thought it would be wise to put significant pressure on CSKA in order to get it. Honda played his part in publicly speaking of his desire to leave, while the Italian newspapers were constantly fed with "reports" about the expected completion of the negotiations.

It was a huge mistake. Russians can be very sensitive about their pride, and Milan's behaviour was perceived by CSKA president Yevgeni Giner as disrespectful. Originally, the Army Men were prepared to sell Honda for about five million euros, while Milan started by offering three million euros. If only the business had been done far from the public eye, the sides could easily have come to a compromise, but Milan believed they had an upper hand given that CSKA would have to lose the player anyway. In the end, CSKA were simply left with a desire to teach the Italians a lesson for what they saw as arrogance.

Then came the Chinese, and they behaved in a manner the Russians admire and adore. Shandong Luneng Taishan FC put a cheque of 12 million euros on the table for the Brazilian playmaker Vagner Love. That was an offer CSKA simply couldn't refuse, and the veteran star was immediately shipped eastwards.

In his absence, Honda suddenly became pivotal to coach Leonid Slutsky's plans; unless a new offensive midfielder was signed, he was all but irreplaceable, and Slutsky made it clear to Giner that Honda was needed for the Champions League. Even then, there was a decent chance of him moving to the San Siro if Milan could understand what was needed of them. That was never likely to happen, though, as CSKA were faced with constant reports in the Italian press claiming that a deal was imminent.

In early August, Giner decided to put an end to the saga. "I am fed up with the speculation," the president told Bobsoccer.ru. "We waited for the Italians to realise that and change their attitude, but unfortunately that didn't happen. We made our position very clear -- Honda will not be sold to Milan. Full stop. We are more than willing to release our players to Europe, and there are many examples of that, but there are certain ethical norms when holding negotiations. Our club will never tolerate being treated with disrespect. Milan and the agents tried to blackmail us and to provoke a conflict between CSKA and Honda."

Bizarrely, Milan didn't appear to understand that Giner was serious. The Italians believed that such statements were part of the mind games, and that Honda would still eventually join them on the final day of August. They found themselves taking Kaka on loan from Real Madrid instead.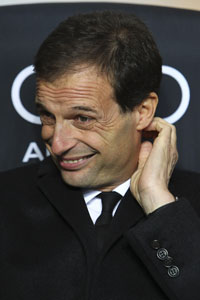 GettyImagesMassimiliano Allegri's AC Milan have endured a miserable start to the season.
While the Brazilian star has made a positive impact upon his comeback, it is crystal clear that Milan's midfield still lacks creativity, and that is one of the major reasons for their current crisis. The start of the season has been something of a catastrophe, with Massimiliano Allegri's team languishing in 13th place in Serie A, a whopping 20 points behind champions Juventus with just 13 games played.

CSKA have also ended up losing out. Their stubborn behaviour left them with a disappointed and unmotivated player who believes he was badly mistreated. Honda's form suffered, and his final months in Russia are damaging his legacy. After playing a significant role in winning the league and cup last season, the Japanese has by and large been a mere shade of his former self this autumn. He clearly doesn't want to be in Moscow anymore, and has not hidden his feelings when on the pitch.

Giner claimed in August that Honda's performances in the Champions League could help CSKA to earn more than the four million euros they might have received for him in the summer, but his hopes were dashed. Honda was ineffective when the Russians were thrashed in their away fixtures at Bayern Munich and Manchester City; in the home game versus the English side, played on a dreadful pitch that had to be painted green, it was fitting that Honda was the player who missed a great chance to score an equaliser in the dying moments.

The final game of Honda's career in Moscow will be played on Wednesday, when CSKA host Bayern at Arena Khimki. When signed from modest Eredivisie side VVV Venlo in January 2010, as Slutsky's first significant purchase, Honda had dreamed of playing in the Champions League, and he immediately made a huge difference, assisting Tomas Necid and scoring a majestic free kick himself in a sensational last-16 win at Sevilla. That remains one of his best games for CSKA.

This time, the Army Men have no chance of progressing to the knockout stages, but their fans hope that the Japanese will give them a farewell present. After all, the last away defeat for the Bavarians in Europe was in Belarus, when they went down 3-1 to BATE Borisov in September 2012. If the Belarusians can do it, why not the Russians too? With his mission completed after three more away games, Honda will pack his bags for Milan.

He will arrive too late to rescue the Italian side's domestic season, and he will be ineligible for the Champions League. The Russians missed out on a good fee for a player who will now leave for nothing. The Japanese, meanwhile, has practically wasted half a season of his career, which -- for a 27-year-old -- is not insignificant.

Everyone has ended up on the losing side. Will any of them learn a lesson for the future?