Pressure mounting on Andre Villas-Boas
As Spurs slip to a worrying ninth place after a six-goal mauling at Manchester City, alarm bells sound and awkward questions are being asked.

- Fitch: Spurs shoot themselves in foot
- Crace: Flaws can't be ignored

Tottenham essentially sold a big star and bought a new chorus line when they cashed in on Gareth Bale and brought in $150 million of new players in the summer. Going into the new season, many good judges felt this would rid them on their "one-man team" reputation and give them a better all-around squad with which to attack the glittering prizes.

But here is a team who can neither score nor entertain in the famed Spurs "glory, glory" traditions. Frankly, some of their games have been drab bores. Spurs have scored only nine goals in 12 Premier League games so far, fewer than Fulham, who are in the bottom three. That damning statistic is even worse when you consider that three of the goals were penalties, meaning that, in open play, Andre Villas-Boas's team are managing to score only once every three hours on average.

Already, there have been shock home defeats by West Ham and Newcastle. How soon before some of the country's most demanding fans start to pile the pressure on AVB, who has to answer the accusation that his teams are a little drab and cautious? Chairman Daniel Levy and Joe Lewis, the power behind the throne, must be concerned.

Plenty of arrows are being fired at new striker Roberto Soldado, who has scored only once in open play, but he suffers from a chronic lack of service. Attacks are often built at pedestrian pace despite the threat posed by England's new darling, Andros Townsend, on the right.

Early in the campaign, it looked as if the deft and artistic Christian Eriksen might be the one to give Spurs that creative spark. He had Spurs fans drooling with a sensational entrance against Norwich City, but rather drifted out of the picture and is now out injured.

A club-record $45 million was splashed on Roma's Argentine international, Erik Lamela, but he has struggled badly to settle and looked horribly lightweight in his first league start at City. Lamela threatens to be an expensive flop.

Until Sunday, the consolation for the manager was that his defence looked watertight with only six conceded all season. That figure was doubled as City ran riot at the Etihad, destroying a defence which struggled with the returning Younes Kaboul at its heart.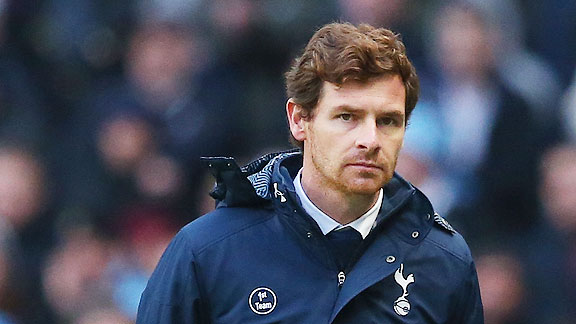 Alex Livesey/Getty ImagesAndre Villas-Boas' Tottenham side have failed to entertain the home fans at White Hart Lane.

Villas-Boas now has a huge week trying to rebuild confidence and restore faith ahead of a Thursday date in Europe and a clash with Manchester United at White Hart Lane on Sunday. With Spurs already eight points behind leaders Arsenal, hopes of a first title since 1961 might already be out of the window. A place in the top four will be the minimum expected of the manager after such a heavy outlay.

AVB faces a week of soul-searching about how best to deploy the undoubted array of talent at his disposal. He certainly needs to consider giving Soldado a strike partner, which would mean a change of shape and system. But does this manager do flexibility? As ex-Spurs striker Clive Allen says: "I get the impression AVB is making players a slave to his system rather than finding one that suits them. There's just no invention."

For example, Jermaine Defoe has been prolific in Cup games but is apparently not trusted in the Premier League lineup, while Emmanuel Adebayor was back in a cameo appearance from the bench on Sunday.

The next week threatens to be the most testing yet of Villas-Boas's reign. Frankly, his side were rather ordinary last season, too. But, back then, he had Bale's match-winning heroics to fall back on and a few vital goals from American Clint Dempsey, who left for Seattle. Nobody has really stepped forward to fill the void.

The Tottenham fans, who have seen their team score only five times in six home games this season, will expect something rather more exciting in Sunday's High Noon showdown with United.

Villas-Boas needs a win -- preferably one laced with some bright attacking play -- to change the mood music down at the Lane.