Boyhood Blue Stubbs craves special Merseyside derby moment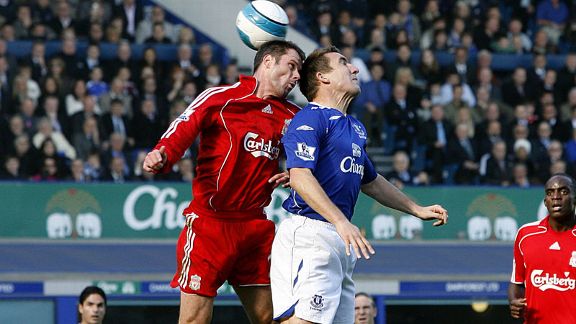 PA PhotosAlan Stubbs has supported, played for and now coached Everton in Merseyside derbies.
Standing on a crate to help get a better glimpse of the hallowed Goodison Park turf, an 8-year-old Alan Stubbs took his first breath of Everton and began an association that would stand the test of time. Born into a family of Toffees, there was never any choice for Stubbs; his blood was Blue. His formative years were whiled away watching his idol Pete Reid and forming a clear dream: to turn out for Everton.

A professional football career beckoned, but it was to be Bolton where he got his break. Six years at Boundary Park were followed by five at Celtic before, finally, at the age of 29, Stubbs' boyhood ambition was realised. The circumstances behind the tough-tackling centre-back's homecoming, however, were down to a dose of real life rather than Roy of the Rovers.

In 1999, a routine drugs test at the Scottish Cup final revealed Stubbs to have testicular cancer. Fortunately he had caught it early and after quickly fighting back to fitness, was playing football again soon after. But less than two years later, he was told he had another tumour, on the base of his spine. Having battled back once, Stubbs was ready to do so again despite the severity of the second diagnosis. His Everton hero Reid was among those to get in touch, telling him: "You're a fighter. You are going to get through this." Thanks to the help of family, friends and teammates, Reid was right.

Overcoming cancer for a second time, Stubbs was able to return to football and found a rich reward for his astonishing rehabilitation, sealing a switch to club he had supported for more than two decades. Closer to his family, playing football at his spiritual home, Stubbs quickly settled into the heart of Everton's defence under Walter Smith, and then David Moyes. From the drugs test that found his first tumour, to the support he received from Celtic, Rangers and the wider game -- football helped save his life.

"Before I had cancer I would never have been comfortable even mentioning the word," Stubbs tells ESPN in his role as a Movember ambassador. "But you lose your machismo and talking about it becomes the natural thing to do. When I was diagnosed, my teammates were a bit reluctant to talk to me about it at first. Just like anyone, what are you supposed to say to someone who has been diagnosed with an illness? Ask how they are feeling? Sometimes it makes you feel a bit daft. The word 'cancer' is a conversation breaker because you don't know what to say.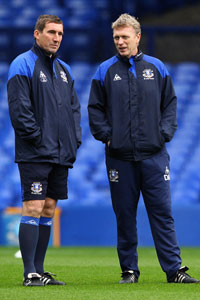 PA PhotosStubbs has witnessed firsthand Everton's transition from David Moyes to Roberto Martinez.
"But they began to become inquisitive and they wanted to know 'How did you find it?' 'What happened?' 'What were the symptoms?' The conversations became a lot easier then and it seemed as if the black cloud had been lifted. The support I received from players and supporters -- even fans of Rangers! -- was phenomenal. One of my first games when I went to Celtic was an Old Firm derby and the level of hatred I witnessed that day, I have never come across it in my time as a footballer. But when the cancer happened, it proved that no matter what goes on and what club you support or what your religion, it all comes down to the fact that we are all human beings."

That sentiment is one that has famously long been associated with meetings between Everton and Liverpool, with the match known as the "friendly" derby because many families are, unlike Stubbs', bipartisan. The notion was perhaps best exemplified in the wake of the Hillsborough disaster, when the city and its football clubs came together in mourning, while for many years it was not unusual for opposing fans to mingle on the terraces.

Stubbs' return to Merseyside with Everton in 2001 enabled him to step out in a match he had only ever previously been involved in as a supporter.

"It's very hard to describe pulling on the jersey of your boyhood club," says Stubbs. "As a kid I had one dream and that was to play for Everton. The derby games were always massive. I actually cannot put into words how special it is to be honest. You walk out and there are forty-odd thousand fans cheering you on. The hairs on the back of your neck are standing up, you have got butterflies in your stomach. Are you nervous? Yes. Is it emotional? Yes. Is there excitement? Yes. As a player, you just want to cross that line and hear the referee blow that whistle and let the games begin -- big games and big atmospheres, that's what it is all about."

The increasingly cosmopolitan nature of the Premier League has seen the number of Liverpudlians representing each Merseyside club diluted significantly over the past two decades, though Stubbs proudly led Everton's Scouse contingent during his time as a player, alongside Tony Hibbert and Leon Osman. A trio of local players remains ahead of the 221st edition of the Merseyside derby, with Osman expected to feature at Goodison -- Kirkby-born Leighton Baines and Wavertree's finest Ross Barkley complete the triumvirate.

"I always felt that, as an Evertonian, I had an extra role for the derby games because I was a local lad," explains Stubbs, who is now a first-team coach at Goodison. "We had me, Tony and Leon who were back then and I think it's fair to say it meant more to us than the other players. That's not a negative reflection on the others, it's just natural as we were brought up in the area and we knew what it was like. I think the players still know the importance of the game and what it means to the fans. They are very conscious of that, but just not on the same scale to us."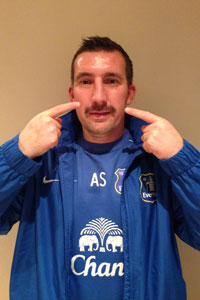 OtherAlan Stubbs has mo' reason than most to be targeting a Merseyside derby victory on Saturday.
Barkley's emergence has lit a bright Blue beacon of expectation among the Everton faithful and, as a dyed-in-the-wool Toffee, the teenager's popularity is wholly understandable according to Stubbs, who feels the much-maligned decision of David Moyes' not to risk Barkley last season made sense.

He said: "There will always be, when you are a local lad, an air of excitement around you whether for Everton or Liverpool. The fact that it is one of your own always gives you a little buzz, especially when you have come through the ranks and you know what it means to be an Everton fan. It will also sometimes give them that added pressure. I don't think Everton fans would wish for any more than to see someone come through the ranks, go into the first team and become a star.

"Ross has had that type of impact this season and the manager has been really good in giving him that opportunity and he has come onto the scene and taken teams by surprise. Suddenly he finds himself within the England set-up and Roy Hodgson has given glowing reports on how impressed he has been. He finds himself coming on against Germany and I think that shows how much he has come on in such a short space of time.

"A lot of people ask why he wasn't in the first team sooner. But when you look at last season, we were pushing for a top-six place and David Moyes didn't feel it was the right time to put Ross in. To be honest, there were plenty of people who agreed with that decision. Ross performed really well in preseason and I think that is why it was easier for [current Everton manager] Roberto Martinez to give him an opportunity early on. The manager thought it felt right and he was ready for it."

Having watched Merseyside derbies as a fan and competed in them as a player, Stubbs' position is now in the Goodison Park dugout, where he still mentally jumps for every header and slides for every tackle, particularly on derby day -- exercising restraint is always that extra bit exacting when Liverpool roll into town. Having earned his coaching spurs under Moyes, he has witnessed first-hand a time of major upheaval at the club as his manager and a number of coaching colleagues departed for Old Trafford in the summer. Stubbs himself was interviewed for the top job before Roberto Martinez took the reins, with the Spaniard's decision to keep Stubbs a real reflection of the former defender's loyalty to the club.

"I think a lot of people might have thought that it was too early in my career to apply for the Everton job but I wouldn't have put myself in that position if I didn't feel it was right. The board made a decision and the chairman was brilliant with me -- I had a conversation with Roberto when he arrived and if he didn't feel he could work with me, he wouldn't have taken me on. He's had a great start and has set a foundation of what he wants for the team and what he wants to play -- it wasn't going to change overnight with what he was trying to instil in the team. The fact that we have got results has made that transition a lot easier. When you're winning games, it is always easier to instil your philosophy."

Martinez's new, passing-centric Everton are being readied for their first derby test, and Stubbs is hoping for the sort of result that too often eluded him during his playing days.

"Over the last 10 or 15 years, Liverpool have had the edge over us and they have been the team who have been able to spend more. But we have made good progress in catching Liverpool and I think now we are at a stage where we can challenge Liverpool. We finished ahead of them last year and we can hopefully do the same again. Any game you win against Liverpool is special; I just wish I would have snuck a few more special moments. Hopefully we'll have one this Saturday."