Top Tenner: Magic on Merseyside
Ahead of Liverpool's trip to Goodison Park on Saturday, Top Tenner reviews the most exciting Merseyside derbies of all time.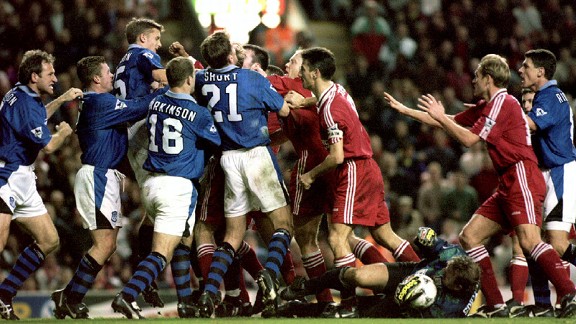 Reuters/Bob CollierThe Merseyside derby has always provided passion in abundance.
10) Goals galore -- February 1933

If you're the league champions, you've got Dixie Dean in your side and you score four goals away from home, you would justifiably expect to win. Not this time though. Dean bagged two for Everton with his team-mates helping him out with another pair, but Liverpool replied with some gusto, Harold Barton helping himself to a hat-trick as Liverpool won 7-4 in a game that remains the highest-scoring Merseyside derby in history. And, one suspects, will remain so.

9) Ian Rush was pretty decent, you know -- November 1982

Rush was merely on his way to becoming a legend at Anfield in 1982, two years after joining Liverpool from Chester City -- a transfer we should not just walk past. There are of course myriad different ways to measure how football has changed in the last 30-odd years, but the biggest club in the country signing one of the greatest forwards in their history from Chester is up there with the most striking of them. In this Mersey derby, he showed why he would be so revered, scoring four as Liverpool battered their rivals 5-0 at Goodison. The other goalscorer? Mark Lawrenson.

8) Everton break the streak -- October 1978

In the 1970s, Liverpool cast a shadow over everyone in England, not just their local rivals. The Toffees suffered more than many though, and as Liverpool won leagues and European Cups aplenty they also went 15 games undefeated, stretching back to 1971, against Everton. That streak was broken at the start of the 1978/79 season (at the end of which Liverpool would regain the league title), when Andy King scored a spectacular goal to secure a 1-0 win. King was famously bundled off the pitch by a policeman as a reporter tried to interview him.

7) Robbie Fowler 'eats the grass' -- April 1999

There are excuses and there are excuses. 'I lost it.' 'I got mugged -- there were thr...fo...seven of them.' 'I slipped and fell on it.' And then there's Gerard Houllier explaining how Robbie Fowler wasn't in fact mocking those Everton fans who for years had suggested he was fond of the old Colombian conversation-stimulator by doing something that looked suspiciously like snorting the goal line after scoring. A goal.

Houllier claimed Fowler was 'eating the grass' saying: "It was a joke, it was a goal celebration he had been taught by Rigobert Song when he was playing for Metz in France. I can understand what people might think but it was nothing to do with the taunts he's had from Everton fans." For reasons passing understanding but which speak to the precious nature of some football fans, the police investigated Fowler after a spectator complained. He was fined and given a four-game ban by the FA.

6) The FA Cup final that nearly didn't happen -- May 1989

Liverpool -- the city, not just the club -- was numb after Hillsborough. Debate raged over whether the FA Cup final, against Everton, should even have been played. That the rearranged semi-final took place between Liverpool and Nottingham Forest, just three weeks after the disaster, seems to render that argument moot. "We listened closely to the players, who had been in close contact with the relatives of the deceased," chairman John Smith said. "They convinced us that an overwhelming majority of people in Liverpool wanted the match played." It was considered part of the healing process.

John Aldridge gave Liverpool the lead in the fourth minute, which they held onto until the 89th minute, when Stuart McCall equalised. Ian Rush put Liverpool back ahead five minutes into extra-time, McCall levelled again only for Rush to score the winner two minutes later. "This game has meant more to me than any other game in which I've been involved," said Kenny Dalglish afterwards. "It was an emotional experience, one that gave me a deep sense of happiness."

5) The first game after Hillsborough -- May 1989

Indeed, that was not the first time the teams had faced each other after Hillsborough. Aside from a charity game to raise funds for the victims' families against Celtic, the first game Liverpool played after the disaster was a Merseyside derby, on May 3 at Goodison. The score was 0-0, but the game didn't really matter. "The city really bonded together after the tragedy," said Colin Harvey, then Everton manager, years later. "I know Kenny (Dalglish) and the Liverpool players went to many funerals, while myself and (Everton coach) Terry Darracott attended some too."

4) Gary Mac comes up with the goods -- April 2001

Stop laughing at the back, but Liverpool had genuine designs on the Premier League title back in Houllier's day. Gary McAllister, 35-years-old and recently out of contract at Coventry, was not the sort of signing that a team with genuine designs on the Premier League title generally go for, and was greeted variously with head-scratching and mocking. However, Gary Mac was a surprise hit at Anfield, playing a big part in some big games of the trophy-laden 2000/01 season, not least in this derby at Goodison.

Houllier picked McAllister in place of Steven Gerrard, who was rested for a midweek game against Barcelona, and like the signing itself, the decision paid off handsomely. Emile Heskey gave Liverpool the lead, Duncan Ferguson equalised then Markus Babbel put them back ahead. It looked like Liverpool had thrown away the win by giving David Unsworth a penalty, then up stepped McAllister, spotting Everton keeper Paul Gerrard expecting a cross from a 40-yard free-kick. The cross didn't come, rather a shot into the bottom corner.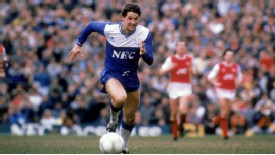 PA PhotosEverton claimed a double of sorts in 1985.
3) The Everton double -- May 1985

Everton have never achieved the double, but they wrapped up a double and simultaneously celebrated in front of their rivals at the end of the 1985 season, the most successful in the club's history. The league title was already well won by the time Liverpool crossed Stanley Park, Everton having outstripped their rivals by a whopping 13 points. Indeed, Everton already had the European Cup Winners' Cup in the bag, and were denied a remarkable season by their defeat in the FA Cup final to Manchester United the previous week. The game itself wasn't especially memorable (Everton won 1-0 thanks to a Paul Wilkinson goal) but it was, for one of the few times, a confirmation that the blue half of the city was far superior.

2) The Liverpool double -- May 1986

These days, after Manchester United, Arsenal and Chelsea all achieved it in relatively recent times, the double doesn't seem like a massive deal. Back in the 1980s, it very much was, as only four teams had achieved it before, and two of those were Preston and Aston Villa in the 1890s. Liverpool joined those two, Tottenham 1960/61 and Arsenal 1970/71 by sealing the FA Cup a week after pipping Everton to the league title via Kenny Dalglish's goal at Chelsea. Howard Kendall's team had been in the title race all season, and indeed were eight points clear at one stage, but they were overhauled by Dalglish's men. They looked like they might take revenge after Gary Lineker gave them the lead at Wembley, but Ian Rush grabbed a brace (and nearly got a hat-trick) and Craig Johnston scored the other, and the double was won.

1) Goals, goals, goals, goals, then Kenny resigns -- February 1991

An extraordinary game for what occurred both during and after it. In this FA Cup fourth round replay at Goodison, Liverpool took the lead four times, only for Everton to equalise four times. Peter Beardsley got two while John Barnes (a majestic curling right-footer) and Ian Rush also found the net, only to be pegged back by braces from Tony Cottee and Graham Sharp, the game ending 4-4 after extra-time. A Dave Watson goal would be enough to win the second replay for Everton a week later, but not before perhaps the most surprising announcement in Liverpool history.

When a press conference was called for 11 a.m. on the morning of February 22, nobody really knew what was going on. There was speculation that a player might be leaving, or that one would be arriving, but it was to announce that Kenny Dalglish had resigned, the pressures of the job and the residual stress of Hillsborough, less than two years previously, proving too much to take. "The stress that comes right before and after games has got the better of me," he said. "Some might have difficulty understanding my decision but this decision stands. I would be betraying everyone if I wouldn't let them know there is something wrong."