Meulensteen may remedy Fulham's malaise
If you've ever been to Fulham's Craven Cottage, you might have witnessed the wind that rumbles through the ground. It's a meteorological consequence of being in such close proximity to the River Thames. However, following the arrival of Rene Meulensteen at the club, it is now hoped those winds are also symbolic of the change in fortune the club so desperately require.

Fulham have struggled this season and currently sit in 18th place. Now in his third season, the likable Martin Jol has seen his managerial acumen questioned as he has struggled to inspire weary patrons of the Cottage. In a bid to stem the flow of points escaping the club's grasp, they have brought in a man Robin van Persie described as, "truly one of the best in the world."

With two spells at Manchester United on his resume, Meulensteen is not short of admirers. As Arsene Wenger confirmed, the 49-year-old helped convince Van Persie to take up a residency at Old Trafford.

"He is truly one of the best coaches in the world," Van Persie said of Meulensteen. "I have had a lot of good trainers, but it is the way he prepares our team for games. Every match is different, so every training session in the buildup to games is unique."

Elevating himself through the ranks of Manchester United, beginning at youth level, his time at the club crescendoed as assistant to Sir Alex Ferguson. As he became more involved with the senior side he also provided personal sessions for the likes of Rudd van Nistlerooy and Ryan Giggs. With Ferguson keen to delegate the duty of training, Meulensteen survived at a club that has neither the space nor desire to carry passengers.

Leaving not long after Ferguson chose too, Meulensteen ventured to Eastern Europe (deciding not to take up David Moyes' offer of a role in the youth setup). Moving to the affluent Anzhi Makhachkala, he served as second-in-command to Gus Hiddink. Few could have predicted the subsequent implosion at Anzhi -- least of all the newly arrived Meulensteen -- as players including Samuel Eto'o, Lassana Diarra and Christopher Samba all were sold off.

Thrust forward into the manager's chair he would last just days -- 16 to be precise. Linked with the manager's job at Fulham, it was around the time of his appointment at Anzhi that his last spell in management thrust itself into the spotlight.

Revealed via the autobiography of Per Nielsen -- a Brondby legend -- it provided a clutch of anecdotes pertaining to Meulensteen's brief yet eventful time managing the club in 2006.

Had Nielsen chosen to accept a lucrative offer from Rosenborg at the time, the stories might never have entered the public domain (the defender revealing it was his new coach that convinced him to stay). Signing two former United players (Mark Howard and Adam Eckersley) as his first act, his eccentricity bore itself early as he began to change every facet of operations.

That included the hallway leading to the team's dressing room. Draped in the yellow of Brondby, Meulensteen demanded green, claiming it relaxed the players returning to the dressing room after an exciting first half.

As if trying too hard to be innovative, and without the senior figures of United to rein him in, Meulensteen continued. During training sessions he would watch for players juggling a ball before jumping in front of them and shouting "Boo!" This was an attempt to prepare them for the grand stadiums in which they would play.

What Meulensteen had not factored in was that his players had sampled the 40,000-seater stadium of FC Copenhagen and were somewhat accustomed to the atmosphere such situations provided. "I think he was surprised how many spectators went to Danish league games," Nielsen wrote in his book. "And that he had players in the squad who were used to playing big games with their national teams and in the European club tournaments."

It did not end there. Arguably most perplexing of Nielsen's stories occurred during a UEFA Cup tie against Frankfurt. Gathering his squad in front of the blackboard he asked them what kind of animal they wanted to be on the field? As captain, Nielsen felt obligated to answer first. Opting to be a snake, it did not garner the hoped response.

"No no, Per, god damn it. That won't work. Snakes are slow animals, we cannot have snakes in our defense, the Germans will outrun us then," Meulensteen replied.

"Then I'm a tiger. Is that okay?" Nielsen asked, in hope rather than expectation.

"That's perfect!," Meulensteen enthused. "Tigers are brave, fast and strong. That is exactly what we need from a captain."

He finally departed the club in January of his first season. An unmitigated disaster is how many still describe it, with Meulensteen denoting no more than a sentence to it on his personal website.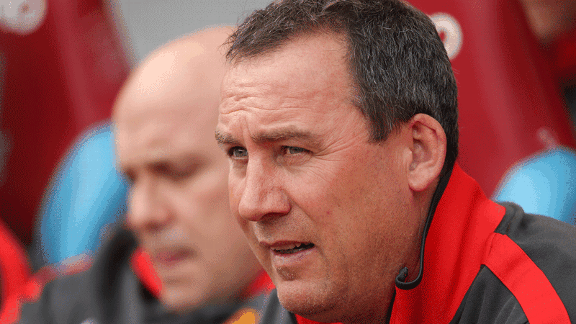 GettyImagesRene Meulensteen has a new challenge in front of him at Fulham.
Now arriving at Fulham after a destabilising period at Anzhi, the Cottagers' issues pertain solely to the playing surface. With the club's hopes revolving around the mercurial Dimitar Berbatov, Meulensteen is adamant he can reinvigorate the Bulgarian after working with him at United.

And already the signs seem positive, with Adel Taarabt telling the club's official website, "I'd heard about him but I didn't know him as a person or a coach. I've worked with him now for five or six days and he's unbelievable. The sessions he puts on are amazing. He understands the Premier League and how important it is to keep possession of the ball. Everything is intensity, intensity, intensity and working on in-game situations. It's what we needed and I think he'll bring a lot to Fulham."

With speculation at the time rife that Meulensteen was set to succeed Jol, it seems unlikely Fulham fans would be too disappointed with such an outcome. A likable person, Jol has seen opinion turn of late. Categorically ruling out the return of Clint Dempsey, he urged fans to lower their expectations for the club -- the recent 4-0 drubbing at Liverpool proving a significant low point.

However, now that Jol is able to delegate training to a pedigreed coach, there is no reason for Fulham to continue floundering. Theoretically two compatriots should steer the club away from troubled waters, so long as Meulensteen does not take umbrage with club mascot Billy the Badger.